Close enough to call it that... unhuh!
Picked up some Aussie 3 Minute Miracle, hoping it would take me back to my Montana days. I used to use it waaaaay back in the early '80s and really like the stuff. Well. Nothing stays the same and I was a bit sad that the aroma is not the same at all, but it sure leaves my tresses very smooth and soft and silky!
Getting the urge to trim, as I always do at this length! Drats! But I must make it to 30 inches. I have to, I just have to.
elvea rose
1c / ultra fine / i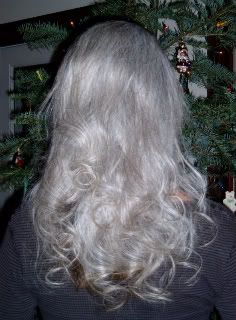 "...like the soft light of the moon,
silvering over the evening of life."
~a quote by Johann Paul Friedrich Richter
My hopes ~
Tresses to my hips and mock faerie-tale endings,
but what I need is a hefty dose of patience... and tyme!
And this is why...
June '07~ my last color enhancement treatment
March '09~ 23" all natural tresses
December '09~ 26" **first goal**
August '10 to May '11~ 28" **unwittingly kept there**
July '11~ 29"
Second goal... 30 inches
Third is 33 inches
Lastly... tb