I like what they have to say about the care of their hair... "less is more." But still I wish I knew more detail. Favorite products, their way of doing things... you know, all the little details we toss back and forth here on the Loom
Undeniably, they have a beautiful testimony for the Lord through their music. And the vow they made to never cut their hair because of their love for Christ is a remarkable one. Not too many would or can do this, and even if it were done... few would have such "remarkable" hair.
I am pondering a bit on this.
elvea rose ~ guardian of faerie mist tresses
1c / ultra fine / i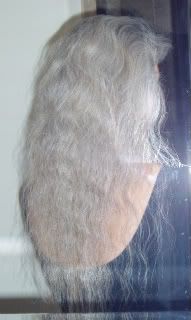 "...like the soft light of the moon silvering
over the evening of life." ~ a quote by
Johann Paul Friedrich Richter
My hopes ~
Tresses to my hips and mock faerie-tale endings,
but what I need is a hefty dose of patience... and tyme!
And this is why...
June '07~ my last color enhancement treatment
March '09~ 23" all natural tresses
December '09~ 26" **first goal**
August '10 to May '11~ 28" **unwittingly kept there**
Last trim ~ Autumn's beginnings
October ~ 29 1/4"
Second goal... 30 inches
Third is 33 inches
Lastly... to tag bcl