Here's mine.  I was trying to get my bangs to stay back in it, so it's not as far to the side as I would like.  And wrapped into a bun.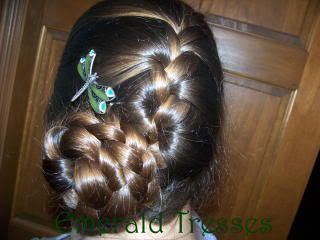 My hair journal:
http://www.network54.com/Forum/496746/
1bniii Hair Type - Length:45 1/2" Goal: 48" Products - Currently Using:
Organix Shampoo & Conditioners
CV & Lush Shampoo Bars w/vinegar rinse
Monoi or Virgin de Coco Creme on ends daily
Shea Butter Creamy Souffle as pre-wash conditioner. Wash 1-2 times a week. Wide tooth wood & bakelite combs. TT on wet hair. BBB sometimes. Braid before bed and oil ends.