Hi Everyone!
Just thought I would share pics of the braid that I did today. I have done this one a couple of times before, and I am really liking the way that it looks. It's actually a very simple braided style to do...but the end result looks very complex and pretty! This style also takes up a lot of your length; for example, when I do a regular braided ponytail, it hangs almost to my waist....with this style, I "lose" about 4" or so.
I start by pulling all of my hair up into a ponytail. I like to do a high ponytail, but this style looks equally nice in a low ponytail as well.
After I have got it into a ponytail, I section it off into 3 sections, just like as if I was going to braid them. Next, I braid each of those 3 sections (standard english braid). After all 3 sections are braided, I then braid those together (standard english braid). I try not to braid the 3 individual braids together real tightly, because the end result will be kind of lumpy and weird looking. I try to keep them as flat as possible, as I braid them together.
This braid looks cool by itself, or by putting it up in a bun. I ended up putting mine up in a bun about halfway thru the day, just because it is too painful for me to keep it in a ponytail like this for very long.
Below is the braid, an up close of it, and the bun. Please excuse the fuzz in the bun pic...I just put it put quickly to show how it looked!
Hope you like this style!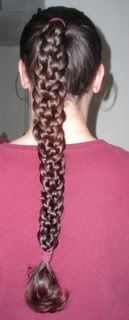 ~Misty
Joined 8/26/2010
Hair Length: 35.25" (when left curly)
36.75" (when straightened out)
Hair Type: 3cnii
Naturally curly
Goal Length: We'll see how long it will get!
Main Goal: To have my hair be
healthy
and
long
***One hair on the head is worth two in the brush***
Please visit my Etsy shop:
http://www.etsy.com/shop/SilverHeelsTradingCo
My Website:
http://hotrodangel.webs.com/