I get annoyed, but I frankly don't care what anybody thinks except myself and my boyfriend, and there are very few men who prefer women with short hair. I grow my hair because I want to, not because of someone else, and I am the type of person who most people only insult once or twice. But I know there are some people here who are harped on constantly. My mother used to make fairly frequent comments that once I hit 40 I will "have to" cut it. I informed her that I have no intention of looking like one of those "puff heads" I see running around. I told her that I don't plan to ever cut my hair because I have always thought that pictures I've seen of old women (not that 40 is old, but that seems to be her cut-off age for long hair) with white or grey long hair tied in a bun look much more dignified than silly little old ladies whose heads look like a dandelion gone to seed. And I aspire to look dignified when I get old.....so I don't hear about my hair anymore.
Another tactic that works with a lot of people is to tell them what your goal length is, and that "Maybe" you will cut it once you've reached that length. Give them some vague story about how you "always wanted" to have hair of a certain length. For some reason, I have found that a lot of people suddenly get really supportive that I want to get to classic length and those who were originally saying I should get a flippy "chic" little 'do, or made some other comment about cutting my hair, have now invested themselves in my hair's progress. The majority of them have even decided that maybe I should keep it long once I reach my goal.
So it depends on the type of criticism you are getting as to what the best response is.
Mostly it depends on the type of criticism you are getting. Some (probably most) people need to be ignored or given the "maybe I will cut when..." story and they will eventually back off or even want to help you in your growing. Some people need to be told point blank that their comments are hurtful, because they genuinely think they are somehow "helping". And some people need to get the same kind of nonsense they're dishing out. ("Why don't I cut my hair? Well why don't you grow out your hair? You wouldn't look so much like someone's grandma." Or "Why don't you grow out your hair? It would hide your double chin"). I don't generally advocate being rude, but some people are relentless, and when nice tactics don't work, being rude right back at them tends to quiet them down. People who are making hurtful comments for hurtful reasons can always dish it out, but they can't take it when they get the same sort of thing.
Whatever tactic you choose, if you stand your ground long enough, the naysayers will eventually find someone else to go pester.
Sorry this was so long, but I don't know what kind of issues you are having, so I thought I'd include the most common ones I've run into.
Happy growing!!!
1cF/Mii
CO washing most days, shampoo 1 or 2 times a week. Detangler as needed. Deep condition about once a week with jojoba or plain ol' coconut oil. Regularly use coconut oil on ends when the weather is dry. Exfoliate scalp with sugar mixed into cheap conditioner whenever I feel like I need it. Heat styling (dryers/curling iron) used probably 6 times a year only for special occasions.
23/32.25"/tailbone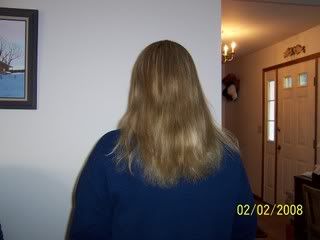 My hair right about the time I started, I had tried to dye the bleached ends to match the roots, but as you can see from the next pic, the dye didn't hold very long.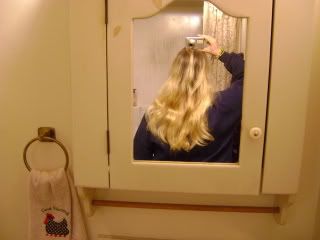 November 2008 since I started using cassia. Not much growth since August but I Love the shine I'm getting from the Cassia and it seems to really be protecting my ends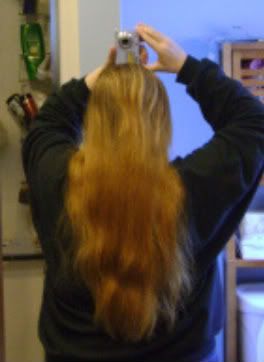 April 2011