Before and after. I love your color too, very lucky you are!
elvea rose ~
guardian of faerie mist tresses
1c / ultra fine / i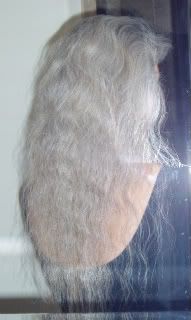 "...like the soft light of the moon silvering
over the evening of life." ~ Johann Paul Friedrich Richter
My hopeful goal is ~
Tresses to my hips and mock faerie-tale endings
... or the real ones someday...
My hair does well with Sweet Almond Oil for everyday oiling,
it's blended with Rose Geranium and Rosemary.
EVOO for deeper treatments.
Every so often I soak my tresses before I wash with a diluted batch
of Napa Valley Oak Aged Organic White Wine Vinegar.
Love Alba's Acai shampoo and conditioner.
When I remember, I massage a little of Desert Lily's aloe vera
gel on my scalp just before a shampooing.
Winter's dawn '11, tresses fall at 28.5 inches.
Springturn '12 after a trim, nudging 30