I have grey hairs here and there.
Most of the women on my side of the family are redheads (and so am I), so the grey stands out more than I would like. I like to use cassia to turn it into strawberry blonde highlights, so I let the cassia sit overnight to get better color out of it. I use the lemon juice to "activiate" the cassia the same way I would use it to activate henna. Does cassia not work the same way? I could be doing an extra step I don't need, if so.
I didn't get coverage as good as when I don't use the coconut milk, but it made my hair so soft I almost don't mind.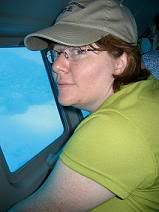 Growing my hair out after chopping it off.
Fia's Hairtyping System
2b - shorter, more distinct S-waves (similar to waves from braiding damp hair)
N - Normal. Strands are neither fine nor coarse.
ii - normal volume
Age: 33