MY CONGRATULATIONS to OUR BELOVED COUPLE PARK SHIN YANG & KIM JUNG EUN for winning the SBS DAE SANG AWARD (GRAND ACTING AWARD) last DEC.31, 2004....
DAE SANG is the highest acting award during STATIONS ACTING AWARD...and it is normally given to only one person..but since PSY & KJE did a very good job in portraying their role of TAE YOUNG & KI JOO..they both deserve to receive the GRAND ACTING AWARD.
Kim Jung Eun wasn't expecting to receive the award...that was why she was really shocked and overwhelmed...i will post some of the highlight of the show....
my CONGRATULATIONS also goes to LEE DONG GUN for winning hte BEST ACTOR AWARD for his portrayal in YOO RI HWA(STAINED GLASS), his current SBS drama....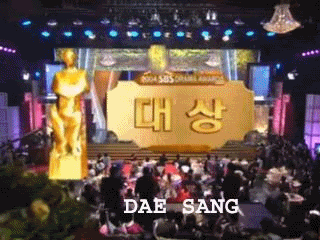 here is the transcript of their speech..
from now on is the translation of their accepting speech at sbs's site
2004 SBS Grand Acting awards....goes to Pari eh Yun in...Park Shin Yang and Kim Jun Eun ssi...
Pls come onto the stage...
Their performance was in Pari eh Yun in...many people are congratulating them...
Pls accept the awards...and give your thank you speeches...
the two of you look...KJE looks like she doesn't know what to do...and even shed many tears...
Let's ask Park Shin Yang ssi to tell us his thoughts...
"Kim Jun Eun ssi...su go-e soyo!" (KJE ssi...you've worked hard!") (just like when Taeyoung went to work at GD on the first day, Kijoo said it to her at the elevator)
We have both worked hard...and to have such a wonderful conclusion...really...really very happy...
Let KJE ssi say a few words now...
Honestly, i thought i should be able to get a small award...but now to get this Grand award, i really don't know what to say...
it is really an honour to be able to receive this award together with him...i really feel very happy...
and i am really very grateful to him...
it was tough during the filming and there were many difficulties...
but to have such a good piece of work to show for... and to be able to work with such good stuff and good actors...i really feel very happy...
i want to thank the two PDs of Pari (and she thanked a whole lot of people after that...)
Can i say a bit more? it is already 2005...(she thanked the people at her agency...)
thanks to my dad and mum and aunties...grandma i love you...
and thank you all you audiences of pari eh yun in...
Let us ask Park Shin Yang ssi to say a few more words...
Thank you for the love you have shown Pari eh yun in...
i want to thank the staff of Pari, the actors...
because of time i can't thank each one of you (in the end he still rattled off a few names...)in my mind, i kept thinking of the people who gave me the strength when i didn't have any...
Also i want to thank my staff, manager, family and relatives...
and the family that is in my heart...