at the site and there are good suggestions there. I just love your hair. 44 inches is so long! It's inspirational! Is it classic length on you? Thigh length? The picture of your hair in that chair is awesome!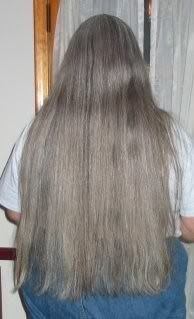 Olive oil 2x a day.
Shampoo every 5 days with Clairol's Shimmer Lights
Follow up with Suave for kids 2 in one shampoo no more tangle formula.
No loyalty to conditioner, yet.
Experimenting with ACV, CWC, honey, and cholesterol.
Started measuring August 06
1cCii ~ Natural Silver
36.5/39.5/Classic