Packistan clearly isn't islamic enough already.
*****
RE: tell me kafir... what is islamic about Pakistan?... apart from it's label.
why cant you piss drinkers think for a change? already you are the biggest indian idiot i ever came accross
---
Pakistan Airforce: The largest distributor of Indian airforce parts in Asia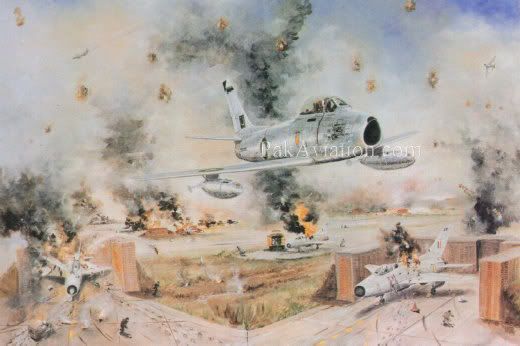 Pathankot Strike
8 F-86Fs of No 19 Squadron led by Squadron Leader Sajjad Haider struck Pathankot airfield. With carefully positioned dives and selecting each individual aircraft in their protected pens for their strafing attacks, the strike elements completed a textbook operation against Pathankot. Wing Commander M G Tawab, flying one of the two Sabres as tied escorts overhead, counted 14 wrecks burning on the airfield. Among the aircraft destroyed on the ground were nearly all of the IAFs Soviet-supplied Mig-21s till then received, none of which were seen again during the War.
http://www.youtube.com/watch?v=PFHlzP69n9c
---