Khan predicts 'revolution' in country's politics
Buoyed by huge turnout at Lahore rally, cricket legend vows to fight corruption and to negotiate with the Taliban
Guardian News
Published: 00:00 November 12, 2011
Be the first to comment
1
.
Lahore: At the height of his cricket glory days, Imran Khan would visualise winning, standing on the podium, cup held aloft and propelling Pakistan to victory. Last weekend, standing before a sea of supporters in Lahore, he had a similar epiphany about his political career.
"As I stood there, watching them, I knew the moment had come," Khan, who is the leader of the Pakistan Tehrik-e-Insaf party, said. "Now nothing can stop us. This is a revolution, a tsunami. We will not just win the next elections we will sweep them."
Whether the former cricket captain can translate rhetoric into reality is hotly debated. Yet few doubt that last weekend's rally sent shockwaves across Pakistan's moribund political system.
More than 100,000 people crammed into a historic Lahore park. Many were middle-class Pakistanis, young, urban, educated, drawn by Khan's rhetoric and their anger at conventional politics.
"This is the emergence of a new force. The cry for change is resonating across Pakistan," said Ayaz Amir, a parliamentarian from rival Nawaz Sharif's party, who was there. "Young, old, professionals, women I've never seen such people at a public meeting in Pakistan before."
The sight, Amir added, had "scared the living daylights" out of his own party.
But others are sceptical that Khan represents real change. "We've heard this rhetoric many times before," said Badar Alam, editor of Herald magazine. "I'm cautious about it. I don't know what agenda he is really promoting."
Khan is visibly buoyant. For years he has campaigned on a platform of what some call "anti-politics" virulent criticism of the graft and patronage that infect Pakistani politics. Now, he says, he has been proved right.
Sitting on the veranda of his hilltop farmhouse outside Islamabad, he pointed across the city at the presidential palace. "[President Asif Ali] Zardari is a crook, nothing more," he said. "We've broken all records in corruption."
His plan for the economy is to "inspire" Pakistanis to pay tax. Currently only two per cent do so. "We just need to have some austerity and collect taxes. If we do that, we can balance our budgets," he said.
In power, Khan said, he would cut off American aid. "I want to be a friend of the Americans, not their lackey. Aid is a curse for a poor country; it stops you making the required reforms and props up crooks."
Many Pakistanis dislike their leaders
Although a self-styled "revolutionary", Imran Khan's politics are far from the fevered streets of the Arab Spring. The difference is democracy: whereas across the Muslim world, dissidents are fighting for the right to vote, Pakistanis already have it. But many dislike the leaders those elections have thrown up, hence the current upheaval.
President Asif Ali Zardari is an accidental leader, propelled into the job after his wife, Benazir Bhutto, was assassinated in December 2007. Zardari has struggled to shake off the "Mr. Ten per cent" moniker a reference to alleged corruption while deteriorating economic and security conditions have plunged his poll ratings into the low teens.
But the main opposition challenger, Nawaz Sharif, has failed to capitalise on this misfortune. His party, which controls the Punjab government, has grown unpopular for failing to contain an outbreak of dengue fever in recent months. Sharif is also estranged from the powerful military, which launched him into politics in the 1980s, due to his long-standing rivalry with Pervez Musharraf, the general who deposed Sharif from power in 1999. The turmoil has emboldened Musharrafs' challenge.
http://gulfnews.com/news/world/pakistan/khan-predicts-revolution-in-country-s-politics-1.928658
---
Pakistan Airforce: The largest distributor of Indian airforce parts in Asia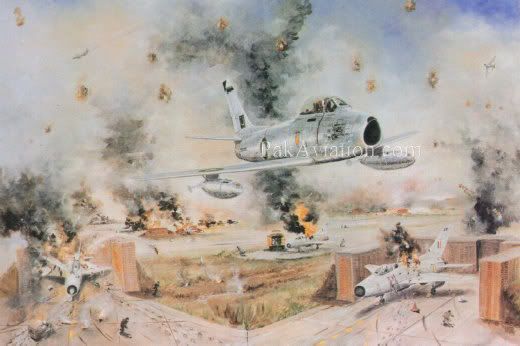 Pathankot Strike
8 F-86Fs of No 19 Squadron led by Squadron Leader Sajjad Haider struck Pathankot airfield. With carefully positioned dives and selecting each individual aircraft in their protected pens for their strafing attacks, the strike elements completed a textbook operation against Pathankot. Wing Commander M G Tawab, flying one of the two Sabres as tied escorts overhead, counted 14 wrecks burning on the airfield. Among the aircraft destroyed on the ground were nearly all of the IAFs Soviet-supplied Mig-21s till then received, none of which were seen again during the War.
http://www.youtube.com/watch?v=PFHlzP69n9c
---