Rabid rabbis and their message
These religious terrorists shield themselves behind the cloak of faith to vent and promote their murderous intent
By Tariq A. Al Maeena, Special to Gulf News Published: 00:00 November 28, 2010
Rabbi Yosef is another shade of Zionism at its worst. Politicians such as Ariel Sharon and Netanyahu who have pursued a policy of ethnic cleansing are not any better Image Credit: GUILLERMO MUNRO, Gulf News In a vitriolic attack on Israel's Channel 10 last month, the leader of the Israeli Sephardic community, Rabbi Ovadia Yosef, founder of the Shas party and a major player in the Likud coalition government headed by Israeli Prime Minister Benjamin Netanyahu, bluntly stated that "Gentiles need to die . goyim have no place in the world."
The popular Likudist rabbi, Yosef has been rambling along similar themes for quite some time and with a surprising degree of acceptance within the Israeli community. His outbursts, when not restricted to the slaughter and destruction of all Palestinians or the killing of all Christians, often dwell on how Jews can rule the world as the new master race' through the elimination and subjugation of all others.
Such terrorist philosophies are not restricted to one particular rabbi, as evidence points out to a dearth of them, and many with significant following among the Israeli masses. In the past some Israeli rabbis had decreed the Israeli army not to shy away from killing Palestinian civilians in the context of the ongoing military campaign against armed groups resisting the illegal occupation of their lands.
Writing to Shaul Mofaz, the Israeli defence minister, the rabbis stated that killing enemy civilians is "normal" during the time of war and that the Israeli occupation army should never hesitate to kill non-Jewish civilians including Gentiles or Christians..
The signatory parties to this heinous edict include Haim Druckman, a former Knesset member and leader of a large religious youth movement known as the Bnei Akiva Society; Eliezer Melamed, who heads a West Bank religious college; and Youval Sharlo, the head of another Talmudic college in Petah Tikva which combines Talmudic studies with active military service.
Another prominent rabbi, Dov Lior, in the illegal Jewish colony of Kiryat Arba'a in the Occupied Territories near Hebron issued a statute some time back stating that non-Jewish civilians may be killed to save Jewish lives, soldiers and civilians alike. The rabbi argued that non-Jewish lives had no sanctity, especially during the time of war.
Now here's a rabbi who feverishly advanced the cause of the killing of Palestinian civilians in Rafah in southern Gaza in the past, saying that "it is very clear in light of the Torah that Jewish lives are more important than non-Jewish lives".
Theological positions
What would possess these men of the cloth to justify the killing of the innocent? In articulating their murderous theological positions, Yosef, Lior and other like-minded rabbis rely on an old Talmudic maxim that states that it is an imperative religious duty to kill enemy civilians.
They quote a Talmudic ruling, stating, "Our lives come first. The Christian preaching of turning the other cheek' doesn't concern us, and we will not be impressed by those who prefer the lives of our enemies to our lives," they say.
Rabbi Lior has gone public with his praise and eulogy for Baruch Goldstein, a New Yorker Jewish colonist who in 1994 mowed down 29 Arab worshippers while they were offering their prayers at Hebron's Ebrahimi Mosque. Referring to the terrorist Goldstein as a "great saint", the rabbi stated that a "thousand non-Jewish lives are not worth a Jew's fingernail".
And while some rabbis within Conservative and Reform Judaism do not share the Orthodox and Ultra-Orthodox view of non-Jews, they have very little political influence in Netanyahu's Israel and are generally viewed with disdain by the powerful Orthodox and Ultra-Orthodox branches, which view them as inferior Jews.
Such threats bring to fore the notion that Zionism and Nazism are indeed very similar. In fact, historically there have been some very secretive alliances between the collaborating Jews and the very Germans they would later claim were out to liquidate them.
For their support, these early Zionist Nazi collaborators demanded full recognition of an independent Jewish state in Palestine and the right to emigrate to Palestine be granted to all Jews, with no restriction on numbers or because of government injunctions.
On January 11, 1941 a letter later referred to as the Ankara document, was sent from Vice-Admiral Ralf von der Marwitz, the German Naval attaché in Ankara, depicting an offer to "actively take part in the war on Germany's side" in return for German support for "the establishment of the historic Jewish state on a national and totalitarian basis, bound by a treaty with the German Reich". That letter was signed by none other than Avraham Stern and Yitzhak Shamir, who later served as prime minister of Israel.
Rabbi Yosef is another shade of Zionism at its worst. Politicians such as Ariel Sharon and Netanyahu who have pursued a policy of ethnic cleansing are not any better.
Slaughter of innocents
These religious terrorists shield themselves behind the cloak of faith to vent and promote their murderous intent. And judging from the slaughter of the innocent that is currently in progress in Gaza and elsewhere, they appear to have succeeded.
Just imagine. A public proclamation for the execution of the innocent! A message of terrorism so blatant and such an affront to humanity. If an Islamist nut were to proclaim such edicts, the western press would scorn him and Islam in front page headlines. And yet nary a condemnation in this case. Ever wonder why?
A sea of pathetic cries of anti-Semitism' would smother any bold and honest editor in the west who would dare attempt to print such truth into submission and into a different profession.
Tariq A. Al Maeena is a Saudi socio-political commentator. He lives in Jeddah, Saudi Arabia.
http://gulfnews.com/opinions/columnists/rabid-rabbis-and-their-message-1.719328
---
Pakistan Airforce: The largest distributor of Indian airforce parts in Asia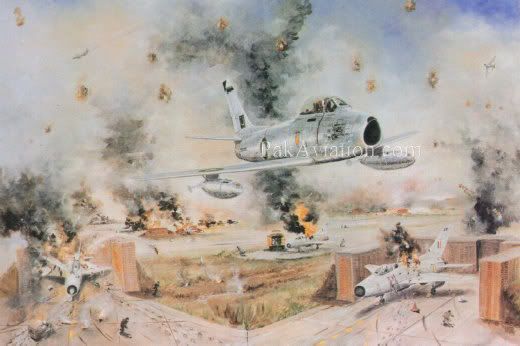 Pathankot Strike
8 F-86Fs of No 19 Squadron led by Squadron Leader Sajjad Haider struck Pathankot airfield. With carefully positioned dives and selecting each individual aircraft in their protected pens for their strafing attacks, the strike elements completed a textbook operation against Pathankot. Wing Commander M G Tawab, flying one of the two Sabres as tied escorts overhead, counted 14 wrecks burning on the airfield. Among the aircraft destroyed on the ground were nearly all of the IAFs Soviet-supplied Mig-21s till then received, none of which were seen again during the War.
http://www.youtube.com/watch?v=PFHlzP69n9c
---