http://www.defencenet.gr/defence/index.php?option=com_content&task=view&id=50252&Itemid=139
this article is in Greek you can translate it yourselves in English if you wish to do so
im sorry but im not going to spend my precious time translating articles for people like you thanks for the understanding.
Lets go on with my analysis, it is safe to suggest that Russian army did not adopt the modern tactics during their war with Georgia.
They used a large number of conventional forces and many of the systems used were not even modernized thats why they payed a high price in terms of casualtiesc coming from Georgian modern a/a weapons mainly.
I used to talk to several Russians in here who said that everything was ok since the final result was ok
Well it was not.
I mean there is not a biggest error than to ignore your mistakes and not trying to improve youself
It is out of the question that Georgians could have won a war against Russia with their limited forces, but if the opponent was much more stronger than Georgia then things might be different for Russians, yes they might have won in the end but with huge casualties.
Russian doctrine which is based on the Soviet Era does not take into consideration casualties, Russians used to treat their soldiers and they continue to do so like expendable pieces of meat
This is wrong, Russians should pay attention to this point , because yes they do have a big army and vast resources, but their human and material resources are by no means unlimited.
The outcome was in favor of the Russians but they could have avoided certain casualties if they had changed their doctrine.
Moden warfare suggests that small well armed and well trained and equipped groups of soldiers supported by adequate air support, armor , artillery etc are more than enough to do the trick
The point here is mobility , large convoys of conventional troops and armor are the perfect target of the enemy airforce.
In this case Russians had been lucky since they enjoyed air superiority, and the lack of a sufficient airforce by their opponent did not hinter the moves of their large convoys consisted of tanks, trucks and bmps
but this will not be the case if they have to deal with an opponent with a much stronger airforce.
Even with their limited airforce consisted mainly by some gunships Georgians gave hard time to Russians and they managed to keep them down in their enclaves after hammering their positions.
It was not only after the Russian airfoce energetically supported the operations focusing on diminishing the power of the attackers by destroying their modern weapons mainly tanks and artillery,, airfileds and the much dangerous gunships that Russians were able to safely send reinforcements in the battlefied.
The article claims that it was the mistakes commited by Georgians which costed them the war together with other factors.
The truth is that i disagree with that, Georgians tactically speaking, taking into consideration their available forces did not commit any serious blunders, except from the fact that they let the Rocky Tunnel intact, allowing Russians to bring reinforcements.
All other things taken into account, Georgians had the upper hand and they gave hard time to Osetians and the limited peace keeping Russian forces over there
Of course this could not last long taking into consideration the fact that Georgia was surrounded by hostile and pro Russian states which would offer their land as corridors where the Russians could send continuous reinforcements, fighting with them side by side, this together with the air superiority of the Russians and the usage of Rocky tunnel would mean sooner or later the end of their offensive.
Thats all i need to say.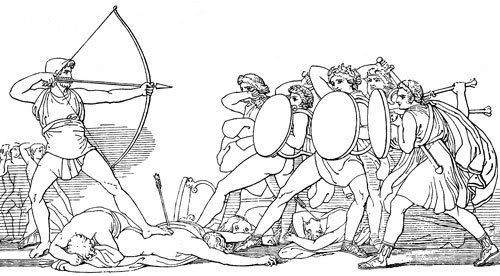 ODYSSEUS KILLING THE SUITORS