I have just realised we have a significant problem with this diagram to which Jim points: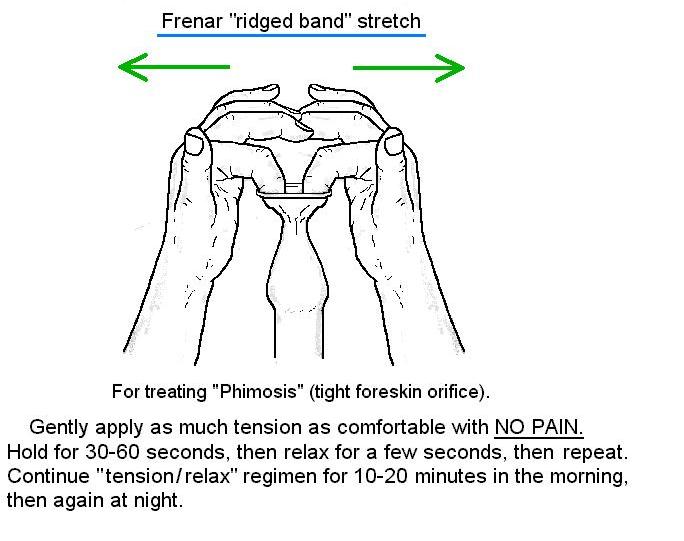 In fact, the diagram proves to be misleading in
two
ways.
Firstly, it shows the fingers
only just
inside the tight part of the foreskin opening. In practice, people complain that the fingers keep slipping out. It is
actually
necessary to get the fingers
all the way
through the tight part so that they are
beside
the glans and pointing away from it, "hooked" in and do not slip out. In this position to stretch, the knuckles should be resting
against
each other; if they separate, then another finger can be introduced so that they rest against that and the stretch is effected by this pressure, rather than pulling with the arms.
Secondly, the advice in the diagram to hold for 30 to 60 seconds and rest is
wrong
. The tension should always be held for
as long as possible
, limited only by fatigue. If it gets tiring, do release for a little while and then stretch again, but if the fingers are appropriately "wedged" in the opening, there should be minimal fatigue in the first place, you simply hold the fingers in place.
(
Why
are the instructions misleading? Well, the author is actually adapting his own instructions for "foreskin restoration" which requires
much
more intensive effort in getting the correct grip on the skin to stretch, and has no doubt found it impractical to do so for more than a minute at a time. If for the purpose of stretching the opening however, you master the correct method of "packing" fingers into the foreskin opening, it is
much
easier to do so for a number of minutes at a time and the more
consistently
you stretch, makes it
much
more effective.)
Now, I always have to challenge people very strictly on the matter of circumcision. You state that "I know at least 3 guys that had surgery to fix phimosis so i believe it's common". This is a
very
sad observation because of the risk that you take it at face value. Is it saying that "phimosis" is common, or circumcision? In fact, the latter is more correct; circumcision is "sold" by doctors to "fix problems" that do not exist. One such "problem", is supposed "phimosis" in a young boy, which is entirely fraudulent as it is normal for a young boy's foreskin
not
to retract, possibly until some time in puberty.
My supposition would be that the fellows to whom you refer were in fact victims of such a scam and were circumcised as children. I say that because if they were circumcised as adults, they would
also
be inclined to mention how much this had
impaired
their sexual function, particularly (but by no means
only
) in terms of masturbation (and let's face it, you are almost always going to masturbate more often than you have intercourse!). Only if they were circumcised
before
becoming sexually active (including masturbation) or had some
other
confusing factor, would they not realise this.
"Are the stretching exercises only recommendable in case of having more serious problems?"
The "problem" is as serious as you choose to make it. If you think you
have
a problem and want to correct it,
then
you need to do the exercises. If you don't want to "fix" it, don't bother. Your choice.
You
need
to read deeply through all the previous discussions here.
---
I also repeat my previous question with emphasis: Why
would
you have sex without a condom? Does your concept of a "normal" sex life include the likelihood of fathering children, or conveying Sexually Transmitted Diseases (which are mostly invisible)?