I just got an email from Vicki, and decided to post this here to get more people praying:

Hi All, some of you know that Aaron was admitted to Forrest General Hospital Monday with pneumonia. He is feeling much better with all the IV antibiotics he is getting. We were originally told he would probably stay 3 days before going home. Unfortunately he is not able to keep his oxygen saturations up high enough at night to come off of that, and he has to be off hte O2 for 24 hours before they will release him. Here's where you come in.
Will you please pray today that they will try to take him off the O2 while he is awake and that he can maintain at least 93% saturation today and especially tonight without it so that we can bring him home tomarrow?
Thank you for any prayers you can send him.
Vicki
"
Wife to Ryan & mom to Jeremy-15, Gabriella (Gabi)-8, & Preston- 1 Year old!! & stepmom to Christopher-13 & Anthony-11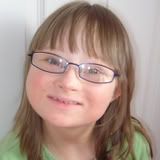 Check out our Blogs: