I got some questions that may help me and Chris:
What were the symptoms he was experiencing that had you bring him in in the first place?
Is Elliott on any medications or any type of herbals?
I would ask for further blood work like a radioimmunoassay and another for the Epstein Barr Virus (which cause mono)
"
Wife to Ryan & mom to Jeremy-15, Gabriella (Gabi)-8, & Preston- 1 Year old!! & stepmom to Christopher-13 & Anthony-11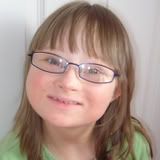 Check out our Blogs: