There is not any kindness on that if you didnt pull back your planes amidst a military exercise your planes most probably would have been shot down.
there will be times however i think that you wont get no more warnings when a patriotic government start rulling Greece according to the values of our ancestors not according to the present day "values" of theft, deception and treason.
I will be waiting this day and i hope that it will come soon if it is one thing good that came out of this crisis , it is that many of us made self criticism, a constructive one i suppose ,although there is no limits to selfcriticism and the fact that patriotism has been revived.
Despite the military provocations of Turkey, the burning of our forests during the summer fires, the fact that you have been sending us illegals made people to realize the real role of Turkey in the Balkans, a terrorist and a troublemaker so people who were in favor of Greco Turkish friendship im positive that they will reconsider it again either they like it or not.
Why? Simply because of safety reasons.
When those developments will take place and how long it will take to see patriotic policies to be applied in Greek politics it depense on the will of the people to support such policies and condemn the hypocricy of the traitors who led us to this point.
So that remains to be seen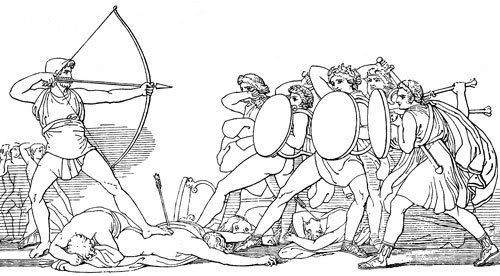 ODYSSEUS KILLING THE SUITORS