Its funny that as if the ceremony for priests. If this happen in Turkey what would happen I dont want to portray.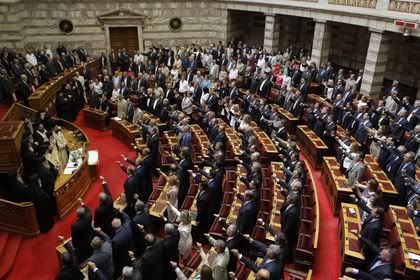 New Greek Parliament Swearing-In Ceremony Completed
By Areti Kotsel
The swearing-in ceremony under Archbishop Ieronymos, the head of Greeces Orthodox Church, for the countrys 300 MPs got underway after 11a.m. at the Greek Parliament on Thursday, eleven days after the countrys second election.
The main item on the agenda will be the election of the Parliamentary Speaker on Friday. New Democracy will propose Vangelis Meimarakis for the critical post and he will require the support of 151 MPs to take the position.
Friday will also see the election of seven deputy speakers, six deans and three secretaries. There seems to be some concern among both the coalition partners and the opposition regarding the election of the 7th deputy speaker who, according to parliament rules, must be a candidate from the fifth largest party, currently Golden Dawn (Chrysi Avgi).
As they had done when they were sworn in for a single day after the May 6 inconclusive elections when they had gained 21 Parliamentary seats the 18 Golden Dawn lawmakers remained seated when the countrys three Muslim deputies took their oath on the Holy Quran.
Among the partys (Chrysi Avgi) deputies who were sworn in was party spokesman Ilias Kasidiaris, 31, who became a household name in Greece earlier this month after slapping a Communist Party candidate during a live TV political talk show and then evading an arrest for three days until the warrant expired.
Missing from the ceremony was Prime Minister Antonis Samaras, who is recovering from recent eye surgery. Also absent were several members of the negotiating committee that are in Brussels for Thursdays EU Summit, as well as President Karolos Papoulias, who is heading the Greek delegation, replacing PM Samaras. A separate swearing-in ceremony will be held for those absent after their return to Greece.
The date for the presentation of the governments policy platforms has not been set yet but is expected after Monday. New Democracy, Pasok and Democratic Left will seek a vote of confidence for their three-party government on July 6th.
__________________________________________