Syria's ally Iran launched new threats against the Ankara Chief of the Air Force of the Revolutionary Guards Lieutenant General Amir-Ali Hajizadeh stating that if Turkish troops enter Syrian territory to their bases in Turkey will be destroyed.
Undoubtedly the Iranian threat is clear evidence of support of the Iranian regime in Syria and a possible indication that Turkish involvement in Syria would lead to escalation of the situation in the region with Iran threatening to retaliate selectively within Turkey but this would put into operation Article 5 of NATO and would lead to the involvement of NATO in the region.
http://www.defencenet.gr/defence/index.php?option=com_content&task=view&id=46471&Itemid=139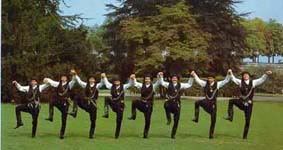 ............................................
""Maniots, known for their martial qualities, were the first to join the Greek liberation movement. The society called the Filiki Eteria ("Company of Friends") sent their representatives Perrevos and Chrisospathis to organize the Maniots. On March 17, 1821, 12,000 Maniots gathered in the church of Taxiarchs (Archangels) of Areopoli and declared war against the Ottoman Empire. The flag of the revolution was white with a blue cross in the center. On top of the flag there was a sign, "Victory or death". The Maniots were responsible for writing "Victory" and not "Freedom" on their banner since Mani was always free. On the bottom of the flag lied an ancient inscription, "With the shield or on the shield."
...........................................