Well you had your chance to provide a credible translation and instead of that
you choose to provide a fake translation.
--------------------------------------------
i dont really want to interfere at the work of the mods but if i may tell you my opinion you have overdone it with Ierax
When Nutuk was posting loads of crap in Turkish he didnt provide a translation even after i reported him, and now because Ierax said something in Greek something by the way which is very difficult to translate in English, and to be honest i wouldnt see why, he didnt say anything that bears translation, what he just used slung so the best thing for him to do would be to avoid translating it, you issue warnings against him by the kilo.
Anyway im not his attorney you are the mod and you decide how you deal with things, im just expressing my own point of view.
here is an example of Turk who did not translate his post , as it is their usual habbit and they dont get a slap on the wrist about it
http://www.network54.com/Forum/248068/thread/1341247443/last-1341251797/Turk+or+Greek+Admin+for+G-T
Husein Alli is speaking in freaking Turkish, are you going to issue any warnings against him? or maybe your warnings are confined only to Greek members?
And please dont say the very usual "if he does not edit his post he will get a warning", he knows that it is against the rule posting in any other language except from English and despite that he choose to do it
Unless you the mods want to spend your valuable time asking from anybody to edit his post, it is a given that the rule should be kept and the mod has not any obligation to ask from a member to edit his post before his punishment
Now what? is he going to get a slap on the wrist because he is a Turk, or is he going to get what he deserves?
Anyway as i said it is not my intention to interfere at the work of the mods, but when i see something that i dont like, i have the obligation to mention it to the mods.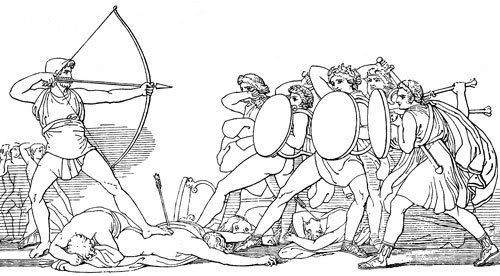 ODYSSEUS KILLING THE SUITORS