i have said a billion of times and i will continue to say so, those who were expecting any kind of sympathy to Greece from Europe and especially the Northern countries who have formed their own club and they view Mediterranian and Balkan countries as the Nemesis and beggars of the EU
are out of their facking mind, you voted NEA DIMOCRATIA because you really believed that they will renegotiate the terms of the memorandum?
did you really believed it , you collosial idiots and traitors?
well i have news for you, they will renegotiate shvit with us as Merkel, Shoimble, and more importantly Christine Lagarte recently said
you voted for our "European perspective" you brainless monkeys and your brought the guarantors of this perspective which means the traitors of NEA DIMOCRATIA and PASOK to power those who betrayed us and bowed their treacherous head to the foreigners
Now i have news for you idiots who voted for slavery , treason and humiliation
what is the news>?
THAT YOU WILL GET EXACTLY WHAT YOU VOTED FOR AND WHAT YOU DESERVE
you camel fackers.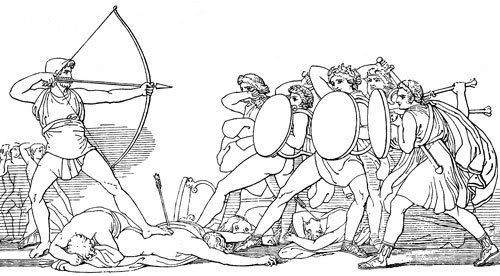 ODYSSEUS KILLING THE SUITORS