JUst because one phucking fine against Greece , you are thinking that Eu is instrument of Ankaraa..How about last 20 years, germans, frenhcs , russian and yankeees have sold us million dollar defence projects, ,,,,, Greece got billion dollar aids, funds , why did not think you that EU is instruemtn of Greece?????
------------------------------------------
quiet you Turkish bitches, did you forget your crimes against us and you ask for renunification and bullcrap?
did you pay a single damn penny for reparations to the millions of Greeks that you slaughtered in 1922? i guess not, maybe to those that you have stolen their properties in Northern Cyprus? therefore you are not entitled to a single facking penny by Greeks
Now as far as the European court and the court of Hague is concerned even minors know and understand that they base their decisions not on justice but on political criteria instead, otherwise those courts wouldnt even dare based on objectivity and historical reasons to sanctify Germans, proclaiming them innocent of their crimes, and that the countries-victims of their atrocities, are not entitled of a single facking penny for compensation.
Otherwise when they had put on trial war criminals during the Sebrenica massacre and numerous other cases , they would have probably put the political and military leadership of our beloved uncle Sam to appologize for the countless deads that they bombardments created in former Yugoslavia and elsewhere
Yugoslavia was teared apart, and the westerners made their best to bring a rapid decomposition of this entity by encouraging the differences among the several peoples, they mercilessly bombarded civilians as is the case elsewhere Iraq, etc and nobody was tried for war crimes against humanity
To conclude those courts are a joke and they support the interests of the west and especially the US and zionists who rule them and take the political and military decisions at the expense of the average idiotic and powerless American citizen who does not have a clue what the hell is going on
Americans proclaim themselves liberators of the other nations, but in reality they are killers of the nations and pimps for their own financial interests but nobody has put them on trial
about it.
When i said that the EU court is being controlled by Ankara i mean the obvious which is that this court is taking decisions based on politicial criteria and is being controlled by America
Now to take my thought a step further America was always sponsoring the entrance of Turkey to the EU, in fact, they have been in favor of you not in favor of us based on gestratigical reasons
So it wouldnt be hard for me to believe that the pseudocourt was instructed by elsewhere to give a favorable decision for Turkey for political reasons.
we had enough talking now , you Turkish dirty, bitches.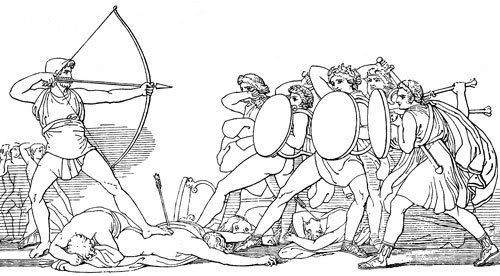 ODYSSEUS KILLING THE SUITORS