http://www.defence-point.gr/news/?p=52608
I would like to make some comments concerning this issue,
treacherous governments cannot be trusted, you suddenly remembered that we need to go on to the formation of a security council where all the high ranking officers will decide together with the politicians how they will handle more effectively a security crisis
and i say lets come back to Imia crisis during Simitis government , your councelors had been Americans and CIA, they were proposing with Pangalos the demilitarization of the islands of Eastern Aegean to Turkey
thats how you handle major national crisis with cowardice and putting the blame later on to the military leadership that you rotten politicians didnt bother to hear them.
I dont say that the formation of a security council is not necessary better late than ever, what im saying is that there is no use to form a security council if it is going to have a decorative role as it was the case with KYSEA during the Imia crisis.
There is no use to consult any military leadership if you dont have the political will to go at war if needed in order to protect your territorial rights, the rest are just big and empty words.
Now far more important than the formation of a security council is to develop a national strategy and a foreign policy adopted to the interests of the country, far more than that it is more important to equip the armed forces with modern weapons
it is unacceptable to remain iddle concerning the acquisition of Abrams, Bmps, you didnt say how you will reinforce our navy and our airforce which will become a target to the Turkish airforce after the introduction of F-35'S to their arsenal
Turks are going forward with their programs and you didnt even mention what you are going to do in order to develop our domestic industries.
More importantly you didnt mention how far you are willing to go in case that our territory is in danger, and you didnt do that because you are traitors
You didnt mention what you are going to do if Turkey sends armed aircrafts accompanying photo recon planes for spying purposes in our territory, with the danger to have more deads like Iliakis case.
You didnt mention how you are going to handle the naval violations of Turks are you going to let them reaching Sounion as PASOK did and remain unopposed?
you didnt mention it because you are traitors.
Define the term of crisis and where this security council will be needed , if the daily violations of Turks with armed aircrafts and naval forces do not consist a crisis for you then just tell us what is your definition of crisis
maybe the landing of a Turkish brigade of Marines to Lesbos?
What did you do suckers to improve the equipment of our conscripts? they still have miserable G3's old and unreliable while you should have changed them long time ago
what about their training? you reduced their training time for political reasons and now we have an army only on paper where only the suckers go to serve their time
You degraded the meaning of patriotism, nationalism, and the love that the citizens should feel for their country with you treasons.
If you want to change something better start with yourselves, and then go on with the training and equipment of our forces and leave later the easiest and this thing which does not cost anything and you can do it any time
which is the formation of a security council.
why by the way the politicians should have a saying to what kind of weapons we buy? it is a military matter and the policians instead of the fact that they dont have the expertise to decide what weapons we need based on our operational issues
they are suspectible for scandals and fraud by getting illegal commisions under the table as it is the Tsochatzopoulos case
if you dont change the above, then you are mocking yourselves and the idiots who believe that you will make reforms to the army and the way thinks work.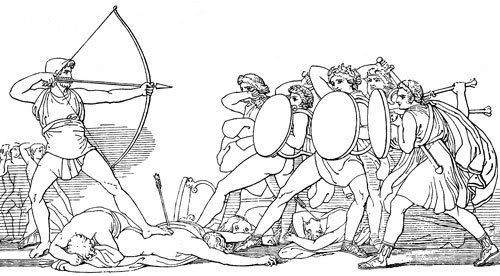 ODYSSEUS KILLING THE SUITORS