The works of skilled lapidarists, like those of photographers, can reshape our personal definitions of natural beauty. Although the tools used to cut stone are more advanced, the techniques of lapidary have not changed since early man discovered how to create and shape stone tools. Although the market for ornamental stone has grown substantially over the past few years, the world of skilled lapidarists continues to shrink making lapidary a skill highly sought after. Mr. Daniel Haas is the stone cutter who is responsible for the unique stone dials found on exclusive Jaquet Droz models and recently a small group of J*D enthusiasts had the opportunity to visit and view this master craftsman at work.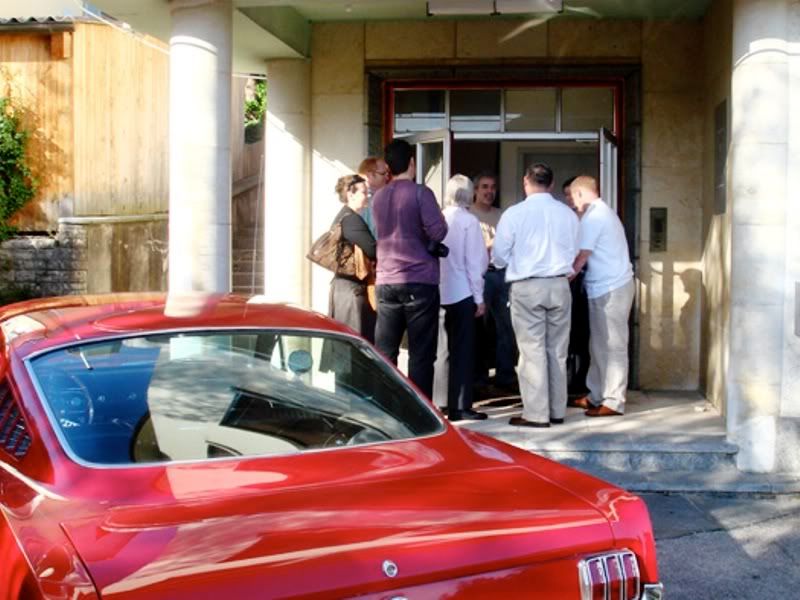 Daniel greeting the group at the door of his atelier
Working with rocks and transforming them into ornamental stones is not an easy task. Lapidary is a physically challenging artform. Besides the risk of bodily injury from flying debris and sharp instruments, these craftsmen are exposed to chronic lung diseases due to the constant inhalation of mineral dust and fungal spores while practicing their art. A master lapidarist must also have extensive working knowledge of material science and geology. Because the mineral composition and the texture of rocks differ according to varying geological history the physical properties of rocks are not standardized, not even within samples of the same category. Ordinarily these physical characteristics (elasticity, compressive strength, modulus of rupture, friability) are negligible when small stone samples are involved however they become important considerations when rocks are cut and polished into extremely thin disks. Unfortunately some beautiful stones cannot withstand the internal stresses and strains that occur in the production of large watch dials and thus delicate stones like Opal cannot be used.
Daniel demonstrating characteristics in a stons sample
One of the most important attributes of ornamental lapidary material is color. The color of a stone is a function of the light rays that are absorbed or reflected in the material. Our perception of color is also influenced by the stone's texture, luster, transparency or opacity, size, patterns or inclusions, and source and type of light. Optimizing this optical property enhances a stone's value and desirability; for some J*D enthusiasts this is the most important characteristic in choosing a custom dial.
Daniel's workshop is a machinist's heaven with ample space dedicated to producing the stone dials that J*D is known for. Daniel guided our tour through the lapidary techniques required to manufacture a stone dial: sawing, grinding, sanding, lapping, polishing, and finally drilling.
The first step is sawing through the rough rock sample. Ideally rough material should have good color/pattern, uniform texture, freedom from large fractures, and stains or unwanted inclusions.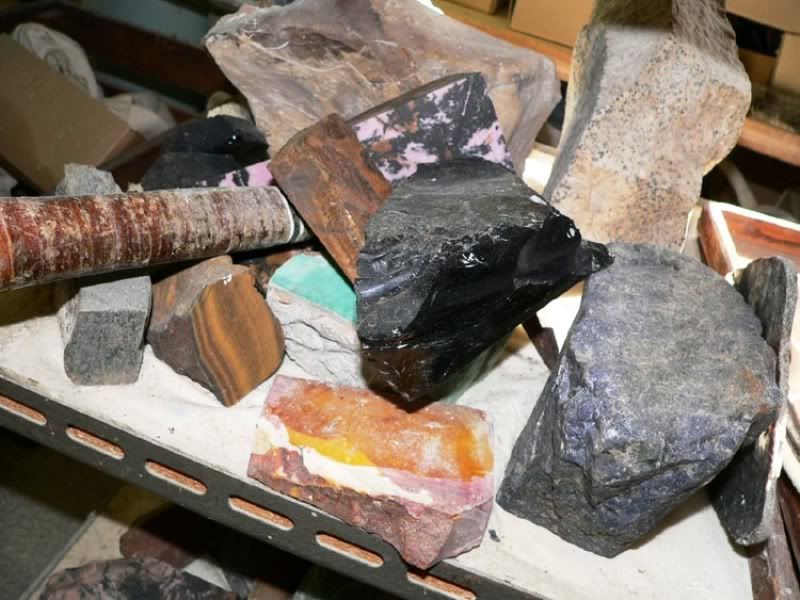 Daniel personally selects and purchases this raw material and he noted that some stones are extremely rare and seldom come to market in sufficient quality and quantity. Pietersite, a variation of tigereye for example, is extremely rare because according to South African authorities it is all mined out.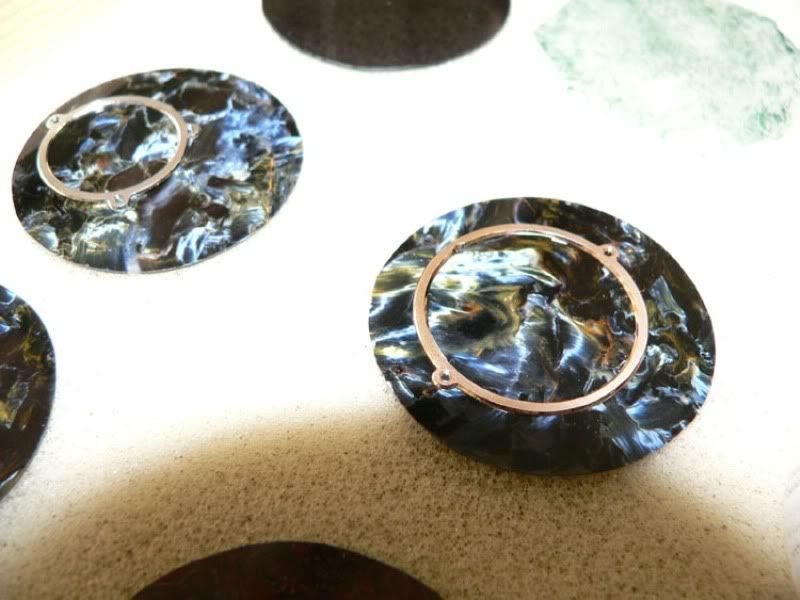 When sawing Daniel uses a thin circular blade with its outer edge impregnated with diamond grit to cut through a rough stone sample. A liquid such as oil or water is used as a lubricant and coolant to prevent thermal damage to both the equipment and stone sample.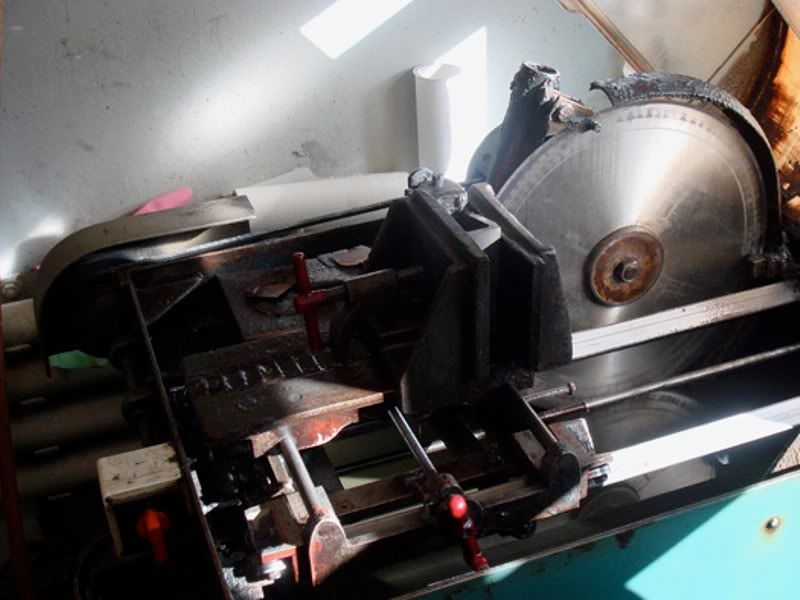 It seems counterintuitive but this initial step determines the final appearance of the finished stone dial. Cuts along different orientations or axis of the same stone may produce different color hues and patterns. An expertly executed cut will not only enhance the natural color of the stone but by respecting the natural cleavage planes, the durability of the final dial can be increased. By the end of this technique a large percentage of the original rough stone sample is discarded as waste while yielding only enough material for a few stone dials.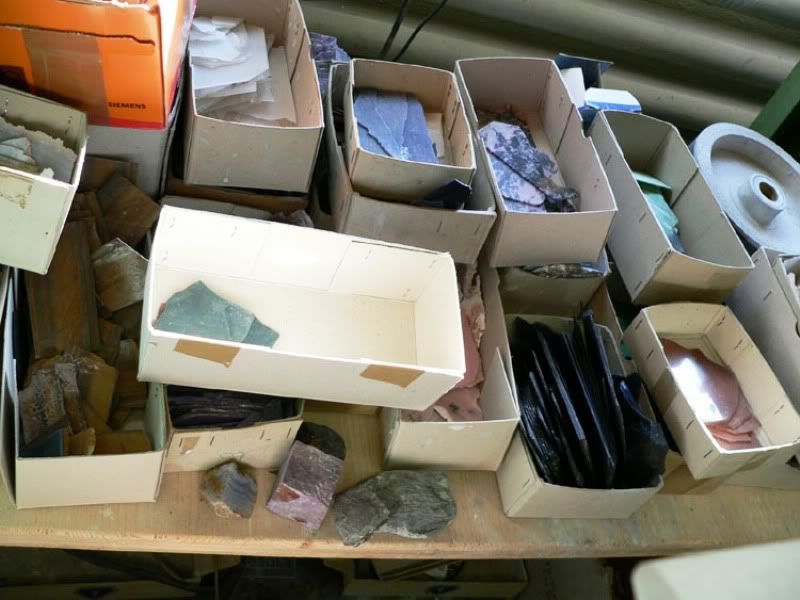 Final thin production slabs
After cutting the rough sample into the desired thin sections, Daniel outlines the shape and diameter of the Jaquet Droz dials. By grinding and subsequently sanding using finer abrasives each time, Daniel has delicate control over the shaping of these pre form stone disks and transforms them into perfect circular dials.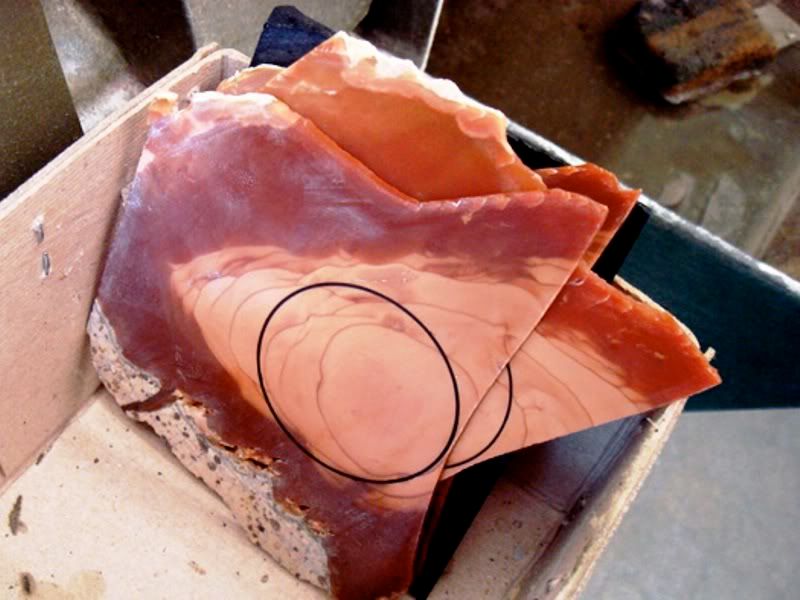 Lapping was the next lapidary technique demonstrated. Lapping is very similar to sanding or grinding, except that sanding and grinding uses abrasives which are fixed (bonded abrasives) whereas lapping employs abrasives which are suspended in a liquid carrier, and are free to move about. Performed on one side of a vibrating flat disk, lapping is used to create flat surfaces on a stone.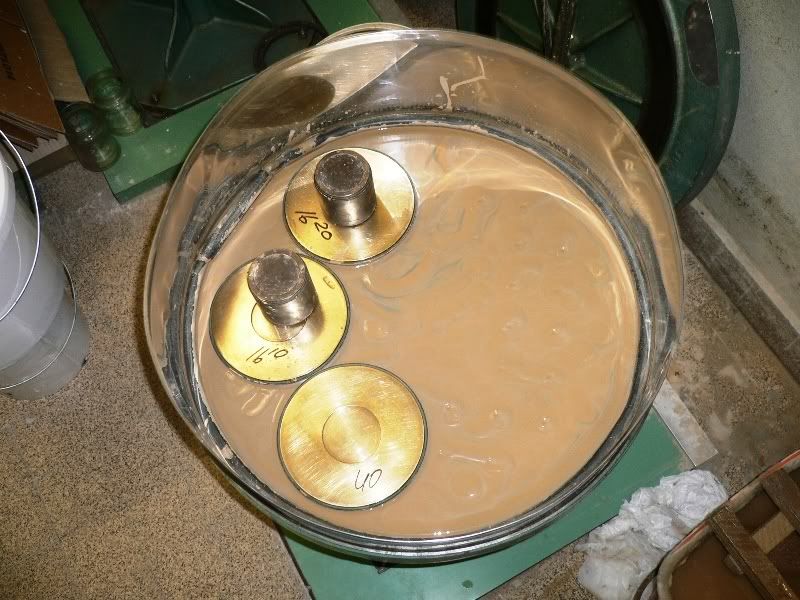 In this picture the stone dial is sandwiched between the vibrating disk of the lapping machine and a weighted metal cylinder placed eccentrically to smooth out a specific portion of the dial. The brown liquid is the abrasive while the number on top of the cylinder indicates the time required to flatten out the area of the stone disk. A stone dial undergoes this lapping technique twice: once on the front and another time to produce a parallel surface on the back. Using special techniques lapping can achieve a flatness ratio of 12 millionths of an inch and parallelism tolerances of 50 millionths of an inch!
This caliper ensures that a dial has a uniform thickness of 0.7mm. Uneven surfaces will introduce rotational forces (twist and bend) if the stone dial is screwed onto a base plate potentially causing cracks and destroying the dial.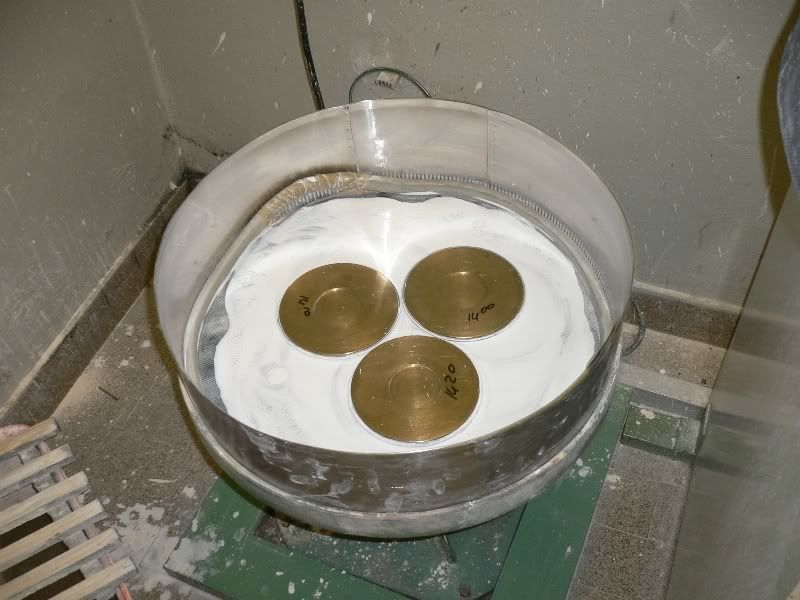 polishing stone disks using the vibrating plate
Polishing achieves a mirror like finish and helps aid light reflecting off the dial's surface to optimize its visual beauty. Polishing requires knowledge of the hardness of the stone being used. The harder the stone (Mohr's scale) the more difficult it is to polish. Although many types of fine abrasives are used: tin oxide, aluminum oxide, cerium oxide or red iron oxide this step is mostly trial and error. Specific formulas of abrasives to be used with different types of stones to optimize its visual effect are secrets of the trade. Here are the final stock dials made of different stones!
Daniel has applied the same techniques to: Petrified palm, petrified algae, and fossilized dinosaur bones.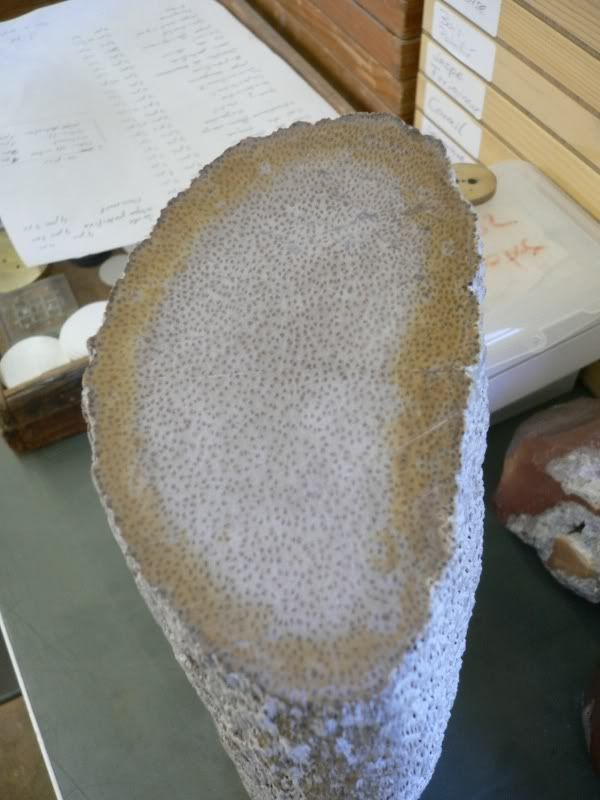 Petrified palm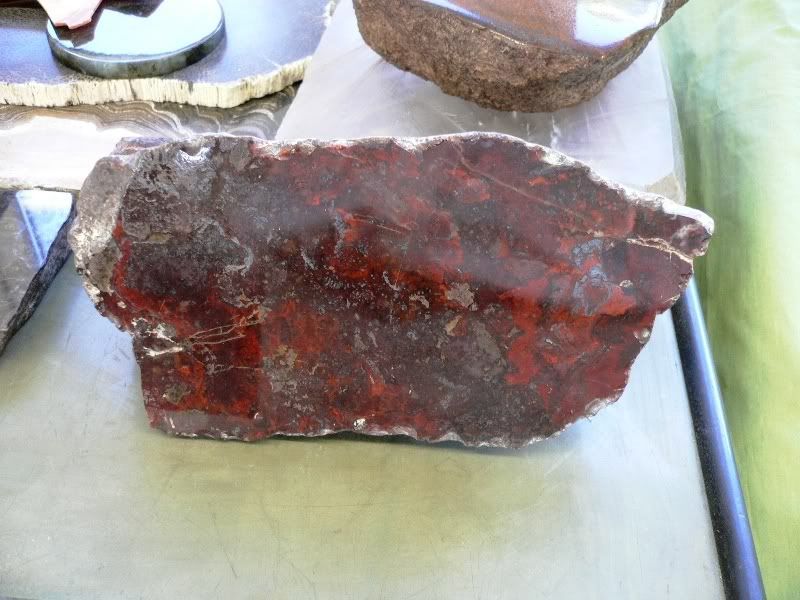 Algae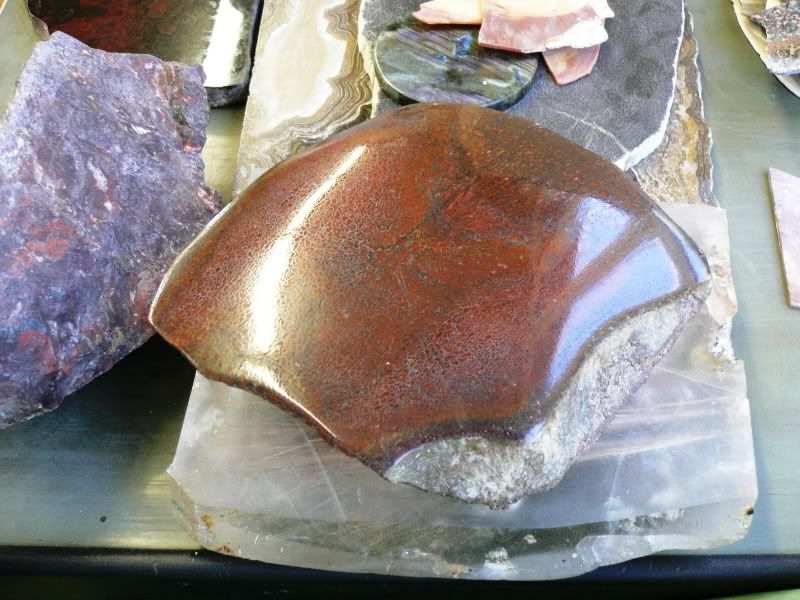 Dino bone
Most companies would have stopped after this polishing step and requested Daniel to drill a hole in the center for the canon pinion. However Jaquet Droz continues to push the envelope and risk the safety of the dial by asking Daniel to cut different shapes out of the thin 0.7mm disk. The complex "figure of eight" motif is obtained with a special cutting die (designed by Daniel) which is attached to an ultrasonic drill to carve out the shape. Date windows and other shapes are drilled out in the same way. Any inherent microscopic imperfection of the stone material will destroy the dial during this step.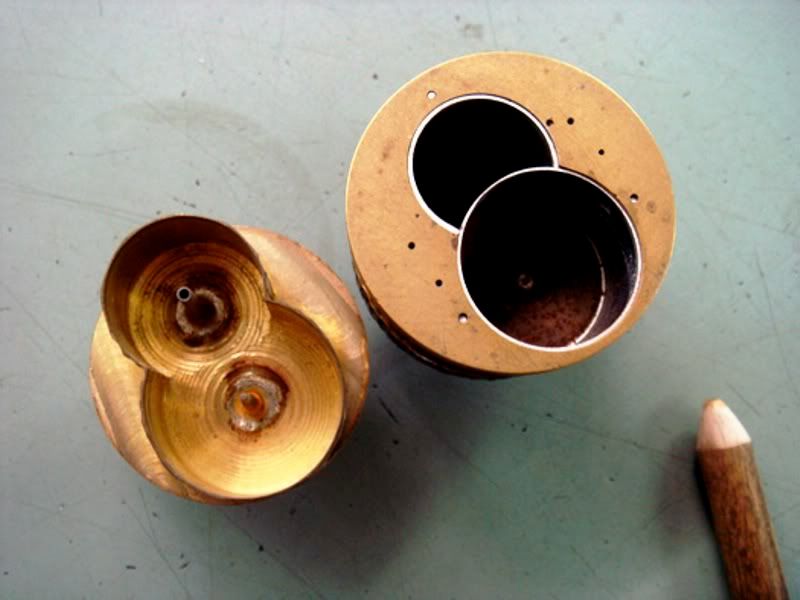 Cutting Die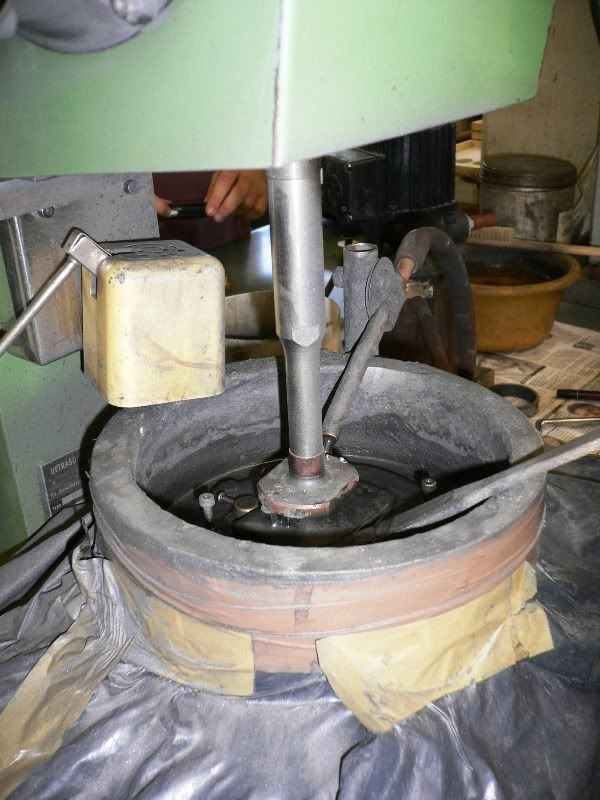 Ultrasonic drill
Here are pictures of a few different J*D dials in progress. Notice the extensive application of gold indicies on the perpetual calendar model.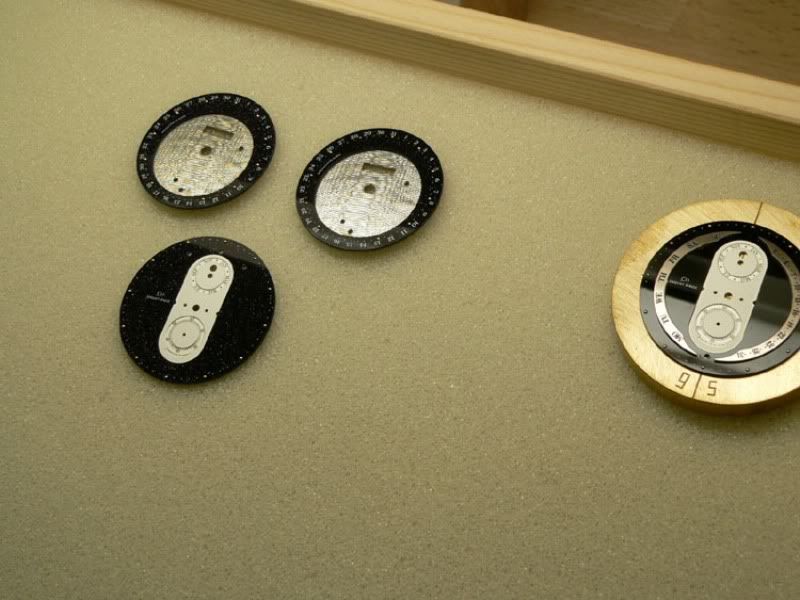 Other Jaquet Droz models will have hand finished gold rehaut rings fixed to the dial surface using blued screws to a thin 0.1 mm baseplate. Again any imperfection to the "flatness" of the dial or internal flaws of the stone material will result in the cracks as the dial is screwed down and secured to the base plate.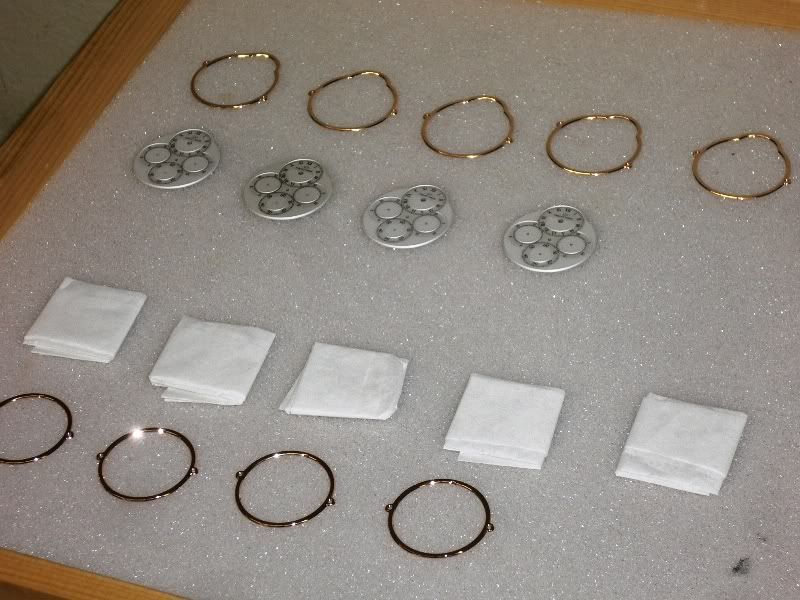 The beautiful end result!
Although different than the grand feu enamel, these stone dials take no less time or skill to produce…perhaps even more patience and knowledge is required to reveal the beautiful visual effects that only Mother Nature could create. Thank you Daniel and your staff for your time and hospitality!
As always our appreciation also goes out to Ms. Nathalie Kottelat and Montres Jaquet Droz for arranging our visit.
Thanks to Jon Vargas and Adrian Lungu for the use of their photos.