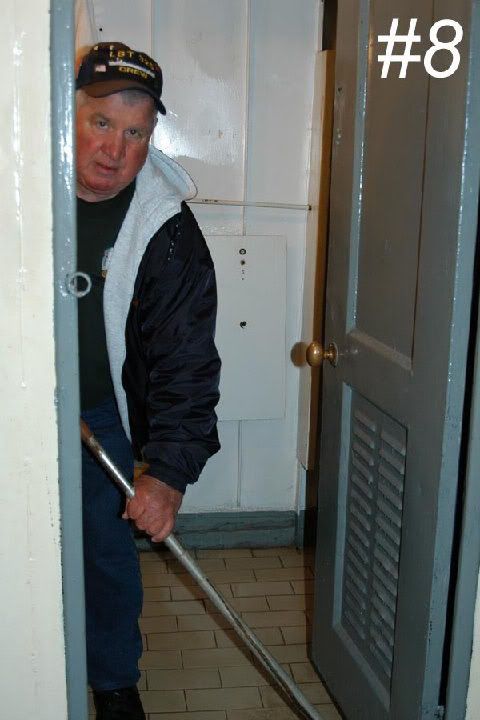 (That's Larry on the far right)
Name: Larry Hahn
City/State: Evansville, Indiana
Hometown: Evansville
1. How did you become involved with LST 325? (When, where, how did you first hear about the ship that might become/was the LST Ship Memorial)
Before I became fat, I ran throughout downtown Evansville and while running, I saw the 325 on it's first trip to Evansville. I just had an urge to be on an LST once again. I was not able to tour her on her first trip here.
My dad worked at the ship yard in Evansville during the war and I can remember the LST's being tied up at Dress Plaza after launching.
2. What is your background - do you have a connection to LSTs or the Navy? Are you a veteran or the relative of a veteran who served aboard or was transported by these ships? (If you are a veteran, please also give information as to when and where you served, the duty you had.)
I was in the Marine Corps. and had experience training and being trained on beach landings with LST's and in Amtracks.. My tour of duty was from 1958-1966 with some of that time in the reserves.
3. Have you served as a maintenance worker? What duties have you participated in along this area?
I have done needle gunning, painting, general labor and a lot of mopping. I built clothing racks and hung cabinets in the gift shop. I installed security gates in the Gift Shop.
4. Have you served as a crew member? If so, what have been your duty stations?
Just off the beaches of Virginia while in the service and was a throttle man on the trip to Louisville and back.
I work as a tour guide as well as other duties.
5. Have you spoken to others about the Ship Memorial? (One on one or to groups. What types of events?)
People are getting tired of me always talking about the ship. I always tell them one on one, if you want me to stop talking about her, come join in and then people can listen to you.
6. If you could make a specific point about LST 325 (the ship or the people), what would it be?
There are many many devoted people who work tireless hours on her. Then, there are folks who work according to what time they have to give. Many hours or not so many hours, they are all devoted crewmwmbers who love the ship.
7. What is your favorite memory/recollection of regarding LST 325?
I would say my most favorable memory was the trip to Louisville. Except for the heavy rain, it was a blast especially eating with some of the guys at Joe's Crab Shack. (that's another story)
The least favorable memory was at the Newburgh Dam on the return trip. (that is another story too)
8. Do you have a personal goal regarding your involvement with the ship? (A specific project, a personal achievement, an overall goal you want to see attained)
I am just now starting to get back into some restoration work and my hopes are to continue on another project when I get through with the one I am currently on.
What I am working on right now are some large vents right above the ships photographer's office. I get a double pleasere of getting a job done and blasting out his loud radio with the echo from the needle gun right above him. ( I know it really makes his day as well as mine )
9. What is the favorite 'sea story' you have told regarding the LST 325?
With all the sea stories you hear in the Ward room it is hard to point to just one. I try not to get into sea stories that much but to see and listen to some of the guys relive their past, it makes up for it.
I just guess it's not what is told but how it is told. I just listen better when it starts with "This ain't no %@*#".
10. What has been your favorite project regarding LST 325?
All projects that show improvement inside or out are well worth being on my list of favorite projects. To see what has been done in the crews quarters head, the stern winch, to mention a few and the look of a "job well done" on the faces of those who have done the work and have taken it personally is also high on my list of favorite projects.
11. What does the ship mean to you personally? What does it represent?
There is a strange feeling when I come aboard the ship. I guess you can day dream of what has happened in the past, the guys who fought to keep her afloat, for the guys who spent some of the best years of their lives on her and fought for the freedom we all have today. What she represents is felt and lived by all who spend time on her, have spent time on her and will spend time on her in the future.
It is easy for me just to walk through the ship and relive the memories, in my mind, of what all has happend here in years gone by.
Any additional comments you'd like to make:
What a great piece of history to show our kids, why I even showed a kid a typewriter the other day.
Larry