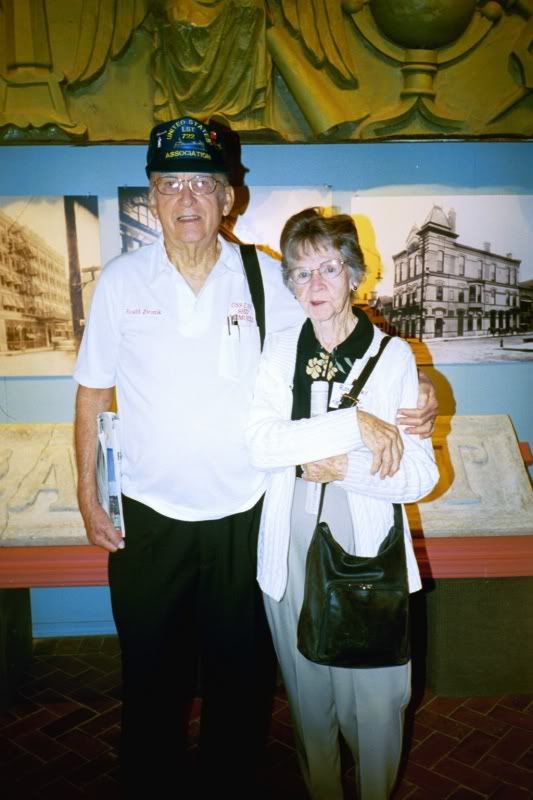 Name: Roald Zvonik
City/State: Moline, IL.
Hometown: Moline, IL.
1. How did you become involved with LST 325? (When, where, how did you first hear about the ship that might become/was the LST Ship Memorial)
I became involved in 1992 or 1993 when I joined a group of men under the leadership of Mr. Jack Melcher. Before becoming a member we had to pass a Department of Transportation (DOT) physical plus written nautical tests. We purchased our tan uniforms and acted as honor guards at many LST National Conventions. Once we purchased tickets to Taiwan to sail a LST to the USA, but the trip was cancelled 2 days before departure. Fast forward to our advance crew in Souda Bay, Crete, the LST 391 was considered but rejected in favor of the LST 325.
2. What is your background - do you have a connection to LSTs or the Navy? Are you a veteran or the relative of a veteran who served aboard or was transported by these ships? (If you are a veteran, please also give information as to when and where you served, the duty you had.)
I joined the U S Navy at 17 years old on May 9, 1944. In September 1944, I reported on board USS LST 722 at the Jeffersonville, Indiana shipyard. On April 11, 1946, we departed Yokohama, Japan for the United states via the Phillippines, Guam (where we delivered 7 Japanese war criminals who were later found guilty and hanged), Saipan, Johnson Island, Pearl Harbor and arrived at San Francisco May 27, 1946. We departed San Francisco on June 4th for Hartford, CT via San Diego, Acapulco, Mexico, Panama Canal, Staten Island, NY and Old Saybrook, CT, arriving at Hartford, CT on July 14, 1946; the 722 was decommisioned, and I was discharged at Great Lakes July 20, 1946.
See additional comments about the duties.
3. Have you served as a maintenance worker? What duties have you participated in along this area?
Served as maintenance worker in Souda Bay from August to October 2000. duties were painting, cleaning, mopping decks, clean and flush fire hydrants, working by flashlights removing hatches, fire hydrants and assorted parts from other LST's and reinstall them on the 325. Extenuating shipboard circumstances indicated a deep concern for my personal safety so I departed for home on Halloween leaving "Jonathan" in charge.
4. Have you served as a crew member? If so, what have been your duty stations?
Served as crew member on shakedown cruise in Souda Bay, Crete. Duties of 3rd Class Boatswain Mate were handling lines and other duties as assigned.
5. Have you spoken to others about the Ship Memorial? (One on one or to groups. What types of events?)
I have appeared before church groups, union meetings, civic organizations, Junior High School classes and as a former Executive Vice President of the Illinois LST Association which donates $250.00 yearly to LST 325. Major General Wade McManus signed a Certificate for a "Commander's Award For Public Service" which was presented to Messrs. George White, Don Chapman and myself in ceremonies at the Rock Island Arsenal, IL which was attended by Arsenal employees, the news media and Captain and Mrs. Jornlin.
6. If you could make a specific point about LST 325 (the ship or the people), what would it be?
I am very proud to see a WW II operational LST in this this country with so many years of hard work to achieve this goal. I am also very proud to see so many dedicated personnel working on the 325 since its return. Keep up the excellent work!
7. What is your favorite memory/recollection of regarding LST 325?
We had many good times in Souda Bay. For a couple of weeks I assisted George White in walking a mile to the supermarket in Souda Bay to purchase food supplies for the ship. Since neither one of us could understand Greek, picture labels informed us of the contents but other items were more of a challenge. The second floor of the supermarket consisted of dry goods and hardware items.
Luggage carriers sufficed for shopping carts. Many of the shopkeepers knew us as the "American Sailors". The 325 was featured on Greek National TV and Tony, the restaurant owner which was doing a thriving business from us, rented a large TV for the occasion.
8. Do you have a personal goal regarding your involvement with the ship? (A specific project, a personal achievement, an overall goal you want to see attained)
I contributed by contacting Congressmen and Senators for a special act of Congress to be passed for the return of a LST to this country. The LST 325 was considered to be a significant piece of war materiel and illegal to enter this country. My personal goal was achieved with the Overseas Support Group and the Gold Crew returning the 325. The Overseas Support Crew got the Gold Crew going.
9. What is the favorite 'sea story' you have told regarding the LST 325?
Why would a sane man pay $ 1500.00 dollars plus $ 600.00 dollars for the "Slop Fund" plus air fare and daily personal expenses in Crete to work? My wife stated that I must be crazy to pay to work, but "go ahead and enjoy yourself if that's want you want to do". My civilian job working for the U S Army took me to all posts, camps and stations in the U. S. plus Germany and Vietnam. My travel rank was between a Major and a Colonel. My wife was accustomed to my periodic paid travels lasting up to 4 months.
We were requested to bring cockroach poison to Greece because the decks were slippery from walking on them. I assumed everyone would bring the poison so I brought rat traps and had the unofficial title of "Rat Trapper"
10. What has been your favorite project regarding LST 325?
All projects are my favorite because they are for the improvement of the 325.
11. What does the ship mean to you personally? What does it represent?
An unforgettable WW II experience. It represents that a group of determined men working together can overcome seemingly impossible odds to accomplish a job well done.
Any additional comments you'd like to include:
Reference question 2.
My seaman duties consisted of hand chipping paint, painting, helmsman, gunner, mess cook, fire fighter, crows nest lookout, gangway messenger, line handler, bow hook man on the LCVP, laundryman, taking water depth soundings between 2 Japanese islands, sweeping, dogging the bow doors shut after beach retraction, positioning emergency cushioning fenders before sideswiping tanker filled with aviation fuel when we bent up boat davits, securing a road grader sliding back and forth in the tank deck, washing off anchor chain and stacking the anchor chain in the chain locker while the anchor was being raised, securing our Captain safe from sliding around in his quarters, loading ammunition, food and general supplies, train other ship crewmen on anti-aircraft guns, utilizing fire hoses to wash away sand from the ship's bow because we hit the beach at full speed ahead which caused us to miss the invasion of Borneo, plus other duties as assigned. I had ample opportunity to advance but I wanted to stay a seaman first class to enjoy fresh air and colorful sunrises and sunsets. From my battle station I observed cruisers firing broadside blasts, dive bombers, rocket ships blasting the beaches, and our troops going over the side to our LCVP's and other ships dropping depth charges after the destroyer escort next to us was torpedoed. Proud to be a "Deck Ape"! Recreation at sea was reading, watching movies several times over, sewing canvas hand bags and guncases, fashioning silver rings from quarters by tapping the edge of a quarter with a spoon to flatten it and drill hole in it, making belts from numerous strands of string tied with square knots to form decorative patterns. Assigned a "newbie" seaman to watch for a "mail bouy" to receive our mail and last but not least - card playing.