I know some of you think that because there are no pictures, there must not be anything happening onboard. Contrary to what the OOD, Mr. Cupcake thinks, the Snipes have been up to some top secret stuff. I did manage to obtain some classified photos through Wikileaks showing just that.
Here we are changing fuel rods in the reactors.
And here we just finished balancing and rotating the tires.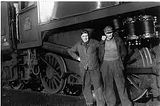 This is when the new fuel rods arrived and boy was it fun getting that down the bridge
So that goes to show you it doesn't stop even in the winter.