Sergio Martino
I met Lee in 1973, before he became a legend. I went to Hong Kong to discuss a film, arrange a meeting with Shaw, Lee and his manager, and the first impression was that Lee was a "lunatic" in that joke of the term, of course: it was great laughter, I wondered who were driving the car, he showed me his muscular stomach. We offered him a figure of around $ 200,000, but he said it 1 million! Shaw stared, stunned. We did not have all that money and then it all came to nothing. A short time later, Lee died suddenly. I laughed into account the great missed opportunity, because the film was a kind of Indian Jones forerunner, the Chinese, and I am sure it would have been a hit.
SERGIO MARTINO SPEAKS (DIRECTOR) On that movie season Europe and Italy were invaded by the tendency of Chinese film about karate.
In the summer of last year, I realized my film thriller, produced by Carlo Ponti, the Italian title of: BODIES PRESENT TRACES OF VIOLENCE Carnal, who obtained a great success with the public.
For foreign markets he chose a different title "Torso" and this title is definitely more known in the world, since the film was a great success in America.
The executive producer was Tonino Cervi, sadly passed away recently.
Some time later, the film's release, Tonino Cervi suggested to Bridges to make another movie with my directing, proposing a story, written by him, exotic atmosphere and a precursor character Indiana Jones. Bridges accepted the idea and thought of Hong Kong and the stars of karate.
The project with a few changes it could adapt to the Bruce Lee features, which was beginning to be well known in Italy in the wake of his films: in truth the film of the genre, the most successful in Italy, was played by another actor, the less nice of him, (I can not remember the name, nor the title of the film). [LO LIEH in 'Five Fingers of Violence' = 'The Five Fingers of Death']
Carlo Ponti phoned his friend Run Run Shaw, tycoon Asian cinema, one of the brothers of "SHAW BROTHERS" with studios in Hong Kong and Singapore, which immediately made himself available to the idea of ​​co-producing the film, and in a few hours I Tonino and flew to Hong Kong.
I remember that trip as a riotous experience, more than professional.
Tonino was a very cheerful and friendly, ready to jokes and satirical. A companion really pleasant trip.
The work in these thirty years has often led us in different ways, but when we had the opportunity to meet again, even after a long time away, happily ripercorrevamo episodes of that experience.
I regret that we can no longer laugh together!
Upon our arrival in Hong Kong, we found a white Rolls Royce with chauffeur, Messac available to the Chinese manufacturer.
The meeting with Run Run Shaw took place the same night of arrival. She invited us in a very elegant restaurant with a show of folk dances: it was hard to resist until late, the slow music and the allegorical dances, and especially to slumber procured by the seven-hour time difference.
Run Run Shaw was a very distinguished and elegant ladies, thoughtful and measured. His manners were demonstrating a clear British education perfectly mixed with the calmness of Chinese culture. During the evening he informed us that we would meet Bruce Lee the next afternoon.
Bruce Lee was no longer part of his "team" of actors: to let us meet with Run Run Shaw had to ask permission to competing production [Golden Harvest] for which you are working.
The Shaw Brothers was and is a giant Hong Kong cinema and the world and realized that he might have preferred to make the film with one of his emerging actors or actor can not remember the name, at that time, in Italy , he had a great success. [Lo Lieh]
The next morning we made a sightseeing tour to Kowloon and Hong Kong, and increasingly in the beautiful Rolls with a companion who was our "guide", waiting for the meeting with Bruce set for 14.
I was already in Hong Kong in June of '66 to work in the production of an imitation of the 007 movie titled DUEL IN THE WORLD and not kept them a great memory of that experience, both for the hot humid large and typhoons that repeatedly They did stop working in Hong Kong and run back to our hotel in Kowloon: back then there was still the tunnel that connected the island to the Kawloon area, which divided the British protectorate from impenetrable Communist China of the years of Vietnam war.
Above all make unpleasant experience there was also the memory of the loss on the return plane trip to Italy, a few boxes of "shot" that forced us to rebuild and reshoot scenes in Rome.
It was April, and Hong Kong now had, a beautiful climate and also was built the tunnel that connected the island to the Kowloon peninsula! The hours of the morning passed in some very pleasant tours of the island ...
By noon, however, I asked several times, our guide, if he should return to Kowloon in order not to be late to the appointment: "no problem" I always answered. We came of course, to the meeting place, a half hour late. Bruce Lee had waited twenty minutes and then it was gone, rightly disappointed! It was certainly a good start, plus the blame for the delay was not ours, but in his eyes must have seemed that! To have another appointment we had to wait two or three days.
It was an excuse to visit the studios of Shaw Brothers, where they turned more films simultaneously, using the same settings and the same actors: a real industrial cinema, so far from ours.
Admirable actors passing from one scene to the next, from one film, from character to character without going haywire! We met also on a set of the actor's most successful films in Italy (the one I can not remember the name), who showed himself amenable to interpret our history, without imposing any conditions. [Lo Lieh]
Our goal was another even if Run Run Shaw, had wanted to insist on his candidacy, but his education stopped him.
In our tour on the various sets, we were also invited two stars (two comely girls also) to accompany the premiere of their movie which took place the same evening of our visit to the establishments. [??? Maggie Lee Lam Lam in 'The Private Eye' / First: Thursday the 04/12/73]
We made a real sea of ​​people, more than five thousand people awaited the arrival of the stars out of the cinema. Something incredible and unexpected: the actress who was accompanied by Tonino Cervi was the protagonist and my friend found himself overwhelmed by a sea of ​​flash, arm in arm with her, and the girl's mother, the entrance to the room, protected by many as "bodyguards". My escort was less known and subjected to less attention, but her porcelain face betrayed not particularly envious of the other: steal emotion to an East is not easy, you know.
Finally the meeting with Bruce Lee, in an office of his manager. An environment with little light (windows do not remember) and with the deafening noise of an old air conditioner. We came first this time. We sat down on a sofa and a few minutes later arrival Bruce: unspoken even me time to get up to greet him. Someone pointed out to me right away and he came close to me and with a smile that would call aggressive, he said:
"Are you the director?"
I replied a shy "yes".
He held the hand he shook and then pulling up the Tshirt I pushed her on her stomach, inviting me to go with my finger her abs of steel.
He began to inquire on its strength and precision capabilities, its speed to bring lethal blows even before his opponent noticing it.
He opened his office door and told me:
"If you want to snap a dime between the jamb and the door, corner high, and with a jump the middle with my deadly foot, breaking it apart." I did not dare to question his claims. I thought of being in front of a character very similar to or better Mohamed Alì Cassius Clay. The same swagger and the same ironic sense of life.
It had been a long time in Los Angeles and had been the instructor of Steve Mc Queen Martial Arts, the highest paid actor and best known of those years, before returning to Hong Kong and succeed in the cinema.
Success and fame that I touched with the hand shortly after, when the Rolls, we went in a luxury hotel (I think the Hilton) where in the restaurant waiting for us penthause Run Run Shaw for a working lunch.
Below the hotel, Bruce was immediately recognized by a group of Chinese girls who flooded by requests for kisses and autographs: in a few minutes the group centuplicò and managed to enter the hall thanks to Securities of 'Hilton.
Bruce Lee was a vegetarian and did not drink alcohol and Tonino and I, after many days of beautiful and refined Chinese cuisine made difficult not to abuse dell'altrettanta beautiful and refined Western cuisine of the hotel's roof terrace.
Run Run Shaw was very polite and affable with his host, which in turn showed much interest in the story of our history of film and especially the possibility that, through Bridges, could be distributed in USA
Obviously there was no talk of compensation and sent the financial negotiations, due to the commitments of his lawyer, the next Sunday, since we could not delay beyond our return to Italy.
Run Run Shaw would have preferred the appointment in his office or at his villa, saw the need to use the public holiday, but Bruce preferred to program it into the house of his lawyer.
On the evening of that day, Run Run Shaw, our friendly host, invited us in his superb mansion that overlooked the bay of Hong Kong, for a really fine Chinese dishes and dinner served in silver cups, in the presence of a beautiful daughter, other stylish guests and other beautiful ladies.
I confess that the little familiarity with the use of Chinese chopsticks sharpened with the advantage of plates and cutlery, but in the end I handled pretty well.
After dinner, Run Run proposed Tonino not offer Bruce Lee more than $ 200 thousand for participation in the film. He believed that more than satisfactory offer and that the actor could not refuse, moreover, had him inclusion in the film, although now belonged to the "Team" from another manufacturer.
Tonino, returning to the hotel, he informed Bridges phone the terms of the deal (in Italy it was 4 in the afternoon) and our "producer" authorized him to arrive at the most to offer 500 thousand dollars (then the exchange with the lira was 600 pounds for a dollar). He had information from Los Angeles to the growing success of the actor in the world and particularly in the US market.
Bruce, along with his manager, led the way to the lawyer's house, in an area outside Hong Kong Bay in the New Territories area. [Lo and The law firm]
He was very cheerful and bright. Run Run Shaw was following us in his shiny limousine.
The Bruce Lee's lawyer had a very pale face and plump, almost a double of Peter Lorre: For a moment I thought of being in one of those beautiful black and white films of the forties. He was polite and spoke English very slowly, spoke of Steve McQueen, comparing the potential of his client to that of the American star. He also said that the great aspiration of Bruce was to emulate and eventually formulated the request for his client: $ 2 million!
The same hand of the American star of those years.
Run Run Shaw did not say a word, Tonino did not understand immediately the amount of the figure, because the accent strange lawyer (he believed it was 100 thousand dollars) and showed a certain satisfaction. The film starring Bruce could possibly do at a lower price expectations!
She whispered in Italian that he had misunderstood and that figure was two million dollars.
There was a moment of silence and embarrassment, in which the lawyer continued to look at us with his cunning eyes.
Bruce took my arm and smiling took me out to see the view of the place, pointing just off the border with China of Mao Tse Thung: the two of us did not have to discuss economic issues.
I learned later that Tonino offered five hundred thousand dollars, and the rejection of "Peter Lorre" he reserved a definitive answer, after the interview that he had with Bridges to return to Italy.
Run Run Shaw, considered excessive demand, and it seemed to me very disappointed, perhaps even offended by the rejection of the offer of $ 500 thousand by the lawyer. It not yet commented on the matter.
When he greeted us at the start, I pray to greet his friend Carlo and left us free to decide to make a further offer from Italy.
There was an agreement, and the film was made.
Three years later in Los Angeles, I was surprised to see many boys with shirts with the face of Bruce Lee, in some of his most important films. He had already become a legend throughout the world and especially in the temple of cinema.
Perhaps it would be best to find an agreement for the movie, I thought, but it was too late. [Sergio Martino]
------------------------------------------------------------------------------------------------------------
Regarding Bruce´s eating habits in Hong Kong Mr. Sergio Martino told me that Bruce was vegetarian! Run Run Shaw, Sergio Martino, Tonino Cervi and Bruce had a working breakfast at Hilton Hotel. There was an exquisite western buffet! Bruce refused meat and alcohol... this was in march 1973.
BTW - Great work, Nick!
Blaas G.
Eating habits...March 20 2005 at 1:21 PM
http://www.network54.com/Forum/256969/message/1111324861/Eating+habits...
-----------------------------------------------------------------------------------------------------------
And then the passage where Sergio Martino shares his memories of his meeting with Bruce Lee is a highlight of this audio commentary.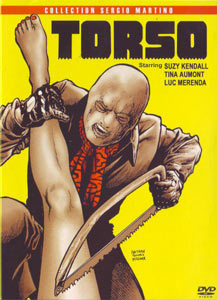 http://www.psychovision.net/films/dvd-t/1995-torso-the-ecstasy-of-films
https://translate.google.com/translate?hl=en&sl=fr
http://www.psychovision.net/films/dvd-t/1995-torso-the-ecstasy-of-films&prev=search