Mindoro, 2012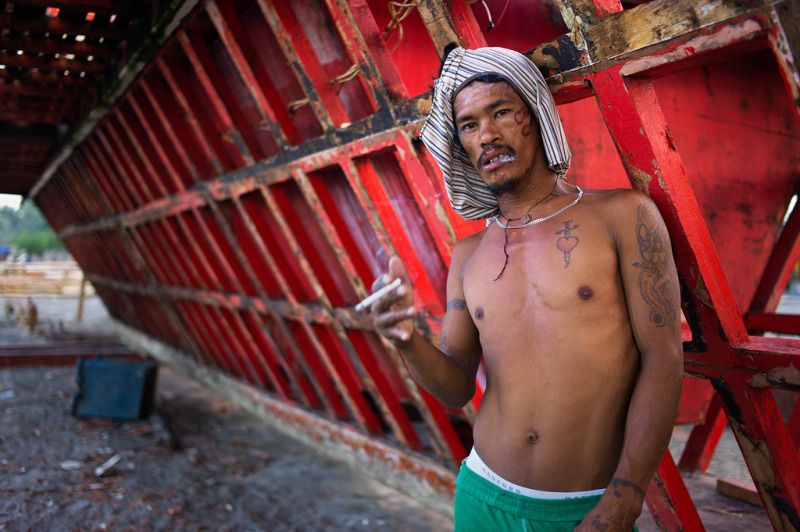 I posted this yesterday but forgot to login while I was at it!
Will repost anyway
Took this photograph during the holidays. We went to this seaport that had a Pirates of the Carribean feel to it (more like Abu Sayyaf actually) via a "guide" who was actually a locally elected public official. I saw this boat under construction and thought that it would make for a nice backdrop for a portrait. My friend pointed to this fella who was on a fishing boat ("the" Anna May) and asked if it would be possible to get his portrait. All that happened via our guide who was already in conversation with the boat's owner. He said that he wouldn't normally directly ask these folks for something as "whimsical" as a portrait but since the owner was there, off Boyong went, leaving whatever it was that he was doing on the boat to go to us amidst some "cheering" from his crew.
It was a good thing that he was game even though he knew that it was a bit uncomfortable for him posing while his crew was making fun of the whole situation.
I had a quick chat with him and asked about if they ever encountered "pirates" in the open sea. He answered in the affirmative and said that the crew and the boat has been ransomed before; 2,000USD per head and an undisclosed amount for the boat.
I confirmed it with the owner and she (yes, a lady) said that they had to cough up a lot of money for the boat in one instance when it was "kidnapped" by pirates from Malaysia.
Looks can be quite deceiving and I would never ever approach somebody like Boyong for fear of being, I don't know, stabbed? But that's bias for you. He is actually a soft-spoken individual and I did sense that the man had a good heart inspite of all those scary-looking tattoos and that fresh looking scratch on his face (I forget where he got that from).
Afer that session, we had him pose behind his boat for a bit more "context" and off he went.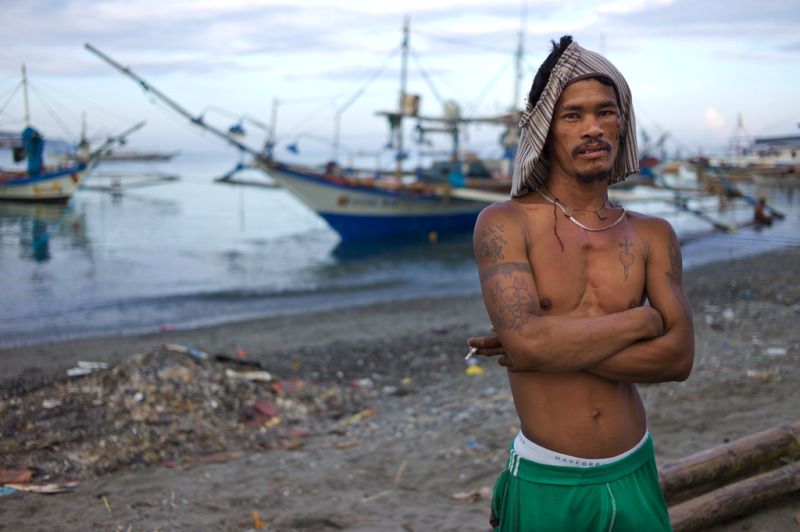 We wanted to hang around a bit but our guide wasn't too comfortable with the idea
Have a good weekend folks!
Echi
www.raulechivarre.com