Siem Reap, Cambodia, 2012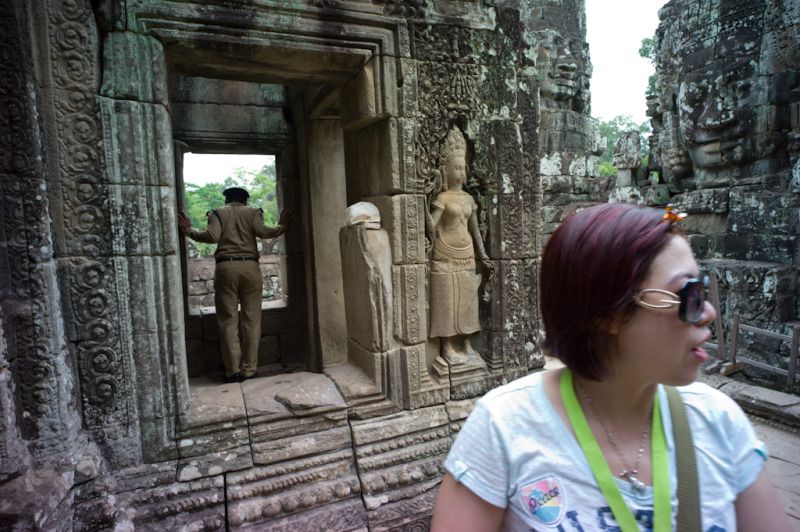 I tried my 21mm Cosina Voigtlander on the M9. Love the focal length, hated the color shift.
I got used to it even if I didn't have an external VF for it. For "street", framing can be a bit more forgiving in a sense.
The lens is amazingly sharp for the price point BUT you need to have a bit of experience with a really good lens to see that there's a reason why fancy lenses are priced the way they're priced. Otherwise, ignorance is bliss indeed. When Jeff did my wet print where I used the 21 CV, I got a sense that while a good lens "matters", it doesn't really "matter" that much after a certain level. But if you have a couple of spare pennies, why not. Tactile feel is very different with a Leica lens. You just know the focusing ring is well-calibrated like how it feels when one manually winds a really nice watch. The CV 21 was a bit loose like how Canon DSLR lenses feel loose when you manually focus with it.
HAvings said that, the CV21 will work well in bw and for the size, boy, is it fun to use. I think there was a reason why I bought a Bessa R4M with the 21mm. It was going to be a test bed for my next lens purchase. Yeah, I need to start saving up for a 21mm super-elmar
I forgot how much I enjoyed shooting with an ultra wide. The CV 21 brought it back for me.
The Bayon temple was quite cramped and packed with a lot of tourists. I had a field day with the CV 21. In fact, probably the highlight of my trip because of this revelation. I felt really comfortable and almost invisible. I thought the 18mm was going to be the natural choice for my next lens. I guess the visual dimension is a bit different with a rangefinder with the focusing distance being further for starters. The 21 felt like a 17 on my erstwhile Canon 5D.
Have a good weekend, guys.
www.raulechivarre.com