I have a nice, rare, Czech hinge handcuff for sale if anyone is interested. At the time I purchased this cuff, I was told it was one of only seven that had left Europe. These cuffs were made in the 1960's or 1970's in a Czechoslovakian prison (according to the gentleman I bought them from) and they were actually made by the prisoners they were to be used on! Pretty interesting if you ask me.
These cuffs have an internal gear that locks the movable bows which makes them shim-proof; the key has a "step" cut into it that must activate a lever inside. I don't know the internal layout of these cuffs but it is a bit more complicated than most normal high security handcuffs (S&W model 104, Alcyon 15900, etc.) The inside diameter of the cuffs is pretty large (you could get a normal size persons ankle in them) and the movable bow is really strange too. The bow is made of a cast alloy (not sure what type of alloy) and seems to come to a point and the ditching in the sides just disappears as you get toward the tip. The shape of the "teeth" are really neat as well; they are large squarish V cuts to accommodate the rotating gear inside.
*The cuffs are pictured with two keys but only come with one!!!
Not sure of the value but I paid $250.00 (USD) plus shipping from Europe. Asking $235.00 plus $7.00 shipping (US destinations) $20.00 shipping to Canada (sorry, that is what I have to pay to get them up there). International shipments, please inquire by e-mail. If interested, please e-mail me at mindhunter42@gmail.com. First come, first serve. Not interested in trades. Thanks.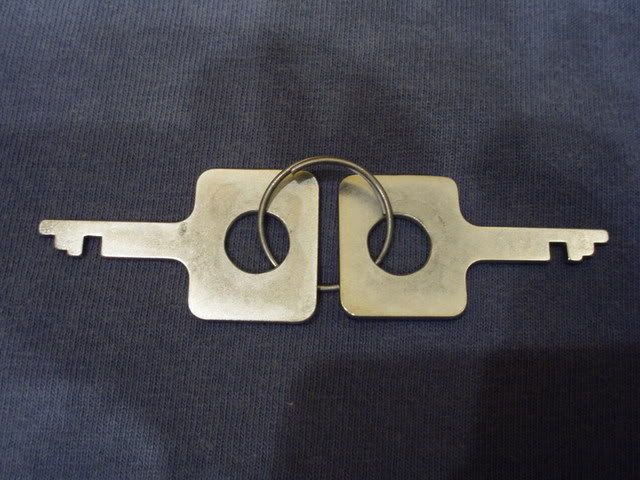 BTW, I have quite a few cuffs I am willing to sell but don't have time to photograph and write out a description that would do them justice at the moment. Short list: Tower Patent Stop Double Lock handcuffs, La Massanotte, Japanese Darley style cuffs, GDR hinge cuffs (mint), Peerless hinge cuffs from the 1980's blued model(very nice), Rivolier two key model, South African hinge handcuffs (old, solid tipped key model), Republic Arms hinge cuffs (also from South Africa), 2 different types of Fury hinge cuffs, Strauss leg irons, Bi-Circle H&R 123 style cuffs, 2 pairs of Fury leg irons, Peerless leg irons, Peerless belly chain with handcuff key padlock, S&W model 300 hinge handcuffs, Crockett & Kelly handcuffs (mint), Alpha Proj chain model cuffs (mint), Aluminum TKS cuffs (mint), Clejuso model 9 super security cuffs(mint), Clejuso model 11 (newer model, chrome plated), 2 different Clejuso cuffs from the 1960's (one is an oddball-mint with original key), Clejuso model 15 Heavy Weights, S&W model 100 blued (older model), and MORE. All work and have at least one working key. mindhunter42@gmail.com