From his "Hockey Rants" website, the following image: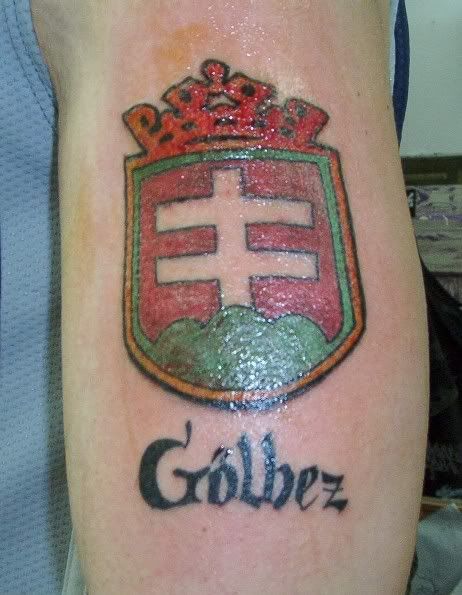 I have nothing against a tasteful tattoo, or even an ugly one like this, in the right context. What does it mean? Is that a flag? It looks like a fake, too. Why is it so shiny?
Not much that's more pathetic than a fake tattoo.
5 Weird things about the kid:
Five Weird Things
So, Mike Chen tagged moi and wants to know FIVE weird things about me.
Just five, eh?
1. I have a tattoo. That's not weird in and of itself, but I'm also an accountant. How many accountants do you know that have tattoos? Exactly.
That barbed wire crap doesn't count, either!
2. I have an aunt and an uncle who are both younger than I am. Yeah....
3. I don't show it much here, but I'm a huge baseball fan. My favourite team is the Chicago White Sox (long before the bandwagoners) and my favourite players are Carlton Fisk, Jose Valentin, and Frank Thomas.
4. As much of a loudmouth as I can be on the Internet Tubes, I am very shy and reserved in real life. Hard to believe, I know.
5. I eat the same Vermicelli/Protein Source dish every day, at least once a day. Friends are amazed that I can eat the same stuff all the time, but I'm lazy and not a picky eater.
I'll tageth The Evil Swede and The Stormbringer.
I'd like to add one more weird thing: He doesn't understand in the slightest, the obvious fact that Western Civ is in a death-struggle against militant Islam.