Was a perfect response to a post I did earlier today.
How Foreign Militaries Share Responsibility for What's Happening in Ferguson
Published on Aug 18, 2014
Abby Martin remarks on the growing militarization of America's local police forces in the midst of the unrest in Ferguson, MO, highlighting a program known as Urban Shield, where US police forces train and learn military tactics together.
https://www.youtube.com/watch?v=iYIgP6sizes
Following the shooting of 18 year old unarmed Michael Ferguson-Brown, in the suburban neighbourhood of Ferguson, Missouri, has erupted into protest with the community calling for justice and accountability. Unfortunately, the police response has been nothing short of hysterical, with officers donning paramilitary gear and pouring round after round of tear gas and rubber bullets, even enforcing a curfew banning protests after midnight.
Now while these events may be shocking to some of us, this response is in no way unique. In fact this militarised crackdown on dissent is just the way American police forces seem to be doing business these days.
Just check out how police gear's evolved over the last few decades.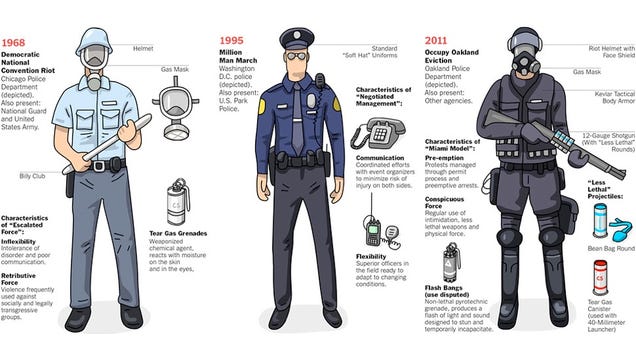 1968
DNC Riot
1995
Million Man March
2011
Occupy Oakland Eviction
Gone are the days of billy clubs and flash lights replaced with gas masks and armoured suits.
But that's just the beginning when it comes to the domestic war front. Since the 90s, the Defence Department's Law Enforcement Support Office has been beefing up local police departments with surplus military gear. This includes things like deltoid armour, the same kind of protection worn by troops on the battlefield designed to withstand rounds from assault weapons. And officers are also being issued with assault weapons themselves, AR15s. These high grade military rifles aren't only being provided to SWAT teams but are becoming a standard issue weapon for many patrol vehicles.
And with US occupations waning abroad, high grade weaponry like these are now being refitted and are given to police to wage war against local communities.
Weapons that include grenade launchers that fire tear gas or less than lethal chemical agents, not to mention state of the art technology such as long range acoustic devices, or LRADs.
These sound weapons can paralyse you dead in your tracks. And why concerns over their safety abounds, this hasn't prevented them from being deployed in American streets.
But perhaps the poster child in the American police state is the mine-resistant ambush protected vehicle, or MRAP. These babies weigh about 14 tons and were built to withstand improvised explosion devices in Iraq and Afghanistan.
With little use for them abroad, the Pentagon is literally giving them away. That means towns with populations as small as four thousand people…
…are being given armoured vehicles built to withstand IEDs.
And in Mexico, a state notorious for police brutality, there are at least 42 MRAPs currently in use.
So how does the 39th most popular state end up with 42 MRAPs?
Well, one answer to that is Urban Shield, a jurisdictional programme that began in 2007, all police departments have First Responders from around the country playing together under crises situations.
Urban Shield trains national police teams in 20 different scenarios over a continuous 50 hour simulation, ranging from active shooters, airplane hijackings and terrorist attacks.
While the event is sold as a way to better prepare First Responders, activist groups say that Urban Shield is simply a counter insurgency work shop and to fine tune tactics of repression of peaceful protests.
Evidence of this is found in the fact of the programme's adopted tactics of its closest military allies. In fact the upcoming urban shield conference will include a meeting between American and Israeli military forces, not to mention the fact that the NYPD even has offices in Tel Aviv, UK, Germany and Canada.
When it comes to repressive tactics, look no further than the Oakland Police Department which adopted many of its brutal techniques by training alongside the Bahraini military at the 2011 Urban Shield gathering, according to AlterNet.
Look, if this is the type of response we see in a town of just 20,000 people, imagine the type of response to a protest of one million.
Would it be like Bahrain? Or Gaza?
Fortunately, the public outcry about Ferguson is proving that people are waking up to the stark reality. Millions of voices on the streets and on social media are speaking out against this dystopia and saying, 'we don't want to live in fear of our police.'
It's time to call for a mass demilitarisation of law enforcement, otherwise this type of response will become normalised, because there can never be peace if officers are at war with the very communities they're sworn to protect.
Russia Today
****************************************************************************************************
What is all this militarized crackdown on dissent really about?
It's not rocket science, is it?
"COG resides in a nebulous legal realm, encompassing national emergency plans that would trigger the takeover of the country by extra-constitutional forces—and effectively suspend the republic. In short, it's a road map for martial law."
"Of course, federal law is somewhat vague as to what might constitute a "national emergency." Executive orders issued over the last three decades define it as a "natural disaster, military attack, [or] technological or other emergency," while Department of Defense documents include eventualities like "riots, acts of violence, insurrections, unlawful obstructions or assemblages, [and] disorder prejudicial to public law and order." According to one news report, even "national opposition to U.S. military invasion abroad" could be a trigger."
See also:
http://www.informationclearinghouse.info/article35281.htm
Main Core: A List Of Millions Of Americans That Will Be Subject To Detention During Martial Law
"The Earth needs rebels!"