The Account of the Controversy in my forthcoming ....
by
.... IAJRC Journal article "Bix and Benny."
Albert
The second recording session of Bix and Benny is filled with controversy regarding the presence of Bix. On June 6, 1930, Irving Mills gathered a group of outstanding jazz musicians  Ray Lodwig , Bixs roommate at the time, Jack Teagarden, Benny Goodman, Joe Venuti, Frank Signorelli, Gene Krupa and othersin the Brusnwick recording studios in New York City. The band waxed three sides, Loved One, [4]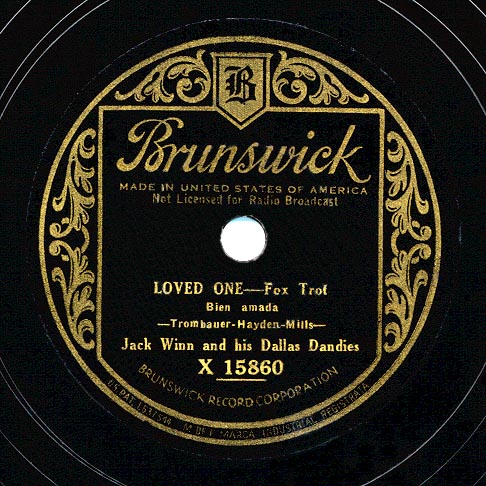 Deep Harlem, and Strut Miss Lizzie, [5] all with clarinet solos by Benny Goodman. There is no question about the presence of Benny here. The late guitarist/cornetist Jeff Healey commented on these solos, In my opinion, Goodman is at his best here. His solo in Deep Harlem is so good its chilling. [6]
Controversy has raged regarding the identity of the cornetist in these sides. They were played for some of the musicians present at the recording session, as well as for people who knew intimately Bixs style. Here are the results quoted by Phil Evans. [2]
Benny Goodman - not Bix; either Stirling Bose or Jimmy McPartland
Gene Krupa - first hesitant, then sided with Goodman
Jack Teagarden first denied being at the session, then Bix
Joe Venuti - Bix
Frank Signorelli - Bix
Jimmy McPartland - Bix
Red Nichols - first he said it was Jimmy McPartland then Bix
Andy Secrest - Bix
Leo McConville Bix
I must note, however, that Russell Connor gives a different account of Jimmy McPartlands response. In a detailed discussion of the Hotsy Totsy Gang session, Connor writes, [7]
"The recordings under discussion were played for Mr. Goodman on four different occasions over time, and he remains adamant that Bix was not on the date. He believes that either Sterling Bose or Jimmy McPartland was the cornet soloist. In 1986, a New York radio station played the sides, telephoned Benny to ask if they included Bix. He replied that he thought they did. The author challenged him about his apparent changed opinion. His reply Hell, whats the difference now.
On July 7, 1973, the author played the recordings in question for Jimmy McPartland, Bill Challis and Joe Tarto at a jazz seminar at Rutgers University, New Brunswick, New Jersey, before an audience of Jazz record collectors. Their reaction was immediate and unanimous: not Bix. (Jimmy added that he was not the cornetist, he believed it might be Bose or even Mannie Klein, "who could play anybody's style.") The author feels that no one then alive was more knowledgeable about Bix as person and performer than McPartland, Challis and Tarto. In sum, no one can state with certainty the identity of the cornetist on this session.
This opinion is not shared by several knowledgeable contemporary musicians and historians.
Jeff Healey, [6] For many years, there was a controversy as to the identity of the cornetist in the June 6, 1930 session. It seems hard to believe that Bix Beiderbecke obvious presence was ever questioned. From his heart-wrenching struggles through both takes of Loved One (this is a Trumbauer and Hayton tune recorded a year earlier by Bix and Tram under the title I Like That) to his tear-jerking delivery of the melody which he seems to feel from the bottom of his heart on Deep Harlem, to his child-like bursts of energy on Strut, Miss Lizzy, this is truly the full Bix as he was to be heard in the last two years of life.
The late Richard Sudhalter, the worlds foremost Bix expert, [8] I clearly remember the evening, many years ago, when I first heard Loved One at the home of the Ohio collector Bill Love. Two bars into it I knew beyond doubt that I was listening to a Bix solo, as sure as hearing a voice I recognized saying "hello" on the telephone.  This regardless of how well or not well he was playing.
Alan Roberts, creator of the Bix Restored series, The four remaining tracks on Side B [two takes of "Loved One," "Deep Harlem," and "Strut Miss Lizzie"] have been the subject of some controversy for years. Benny is definitely on them and takes nice solos, but who is the cornetist on these sides? Is it the fabled Bix Beiderbecke? I, among others, believe it is. Others have claimed it's Red Nichols or Sterling Bose, but Red never came closer to sounding like Bix than he did on his own recording of "Indiana." Bose does not have the drive this cornetist has. Bix was going downhill and was to last only another 14 months before succumbing to pneumonia, hence the style and tone is off somewhat compared to that produced by him the year before. [9]
I strongly favor the presence of Bix in these recordings. Bixs unique tone, attack, and phrasing are all there. Moreover, a comparison, either in sequence or by superimposition, [10] of the non-improvised 8-bar cornet solos in I Like That, recorded by Bix and Tram on April 30, 1929, and in Loved One clearly demonstrates that we are dealing with the same cornetist, the one and only Bix.
This message has been edited by ahaim on Aug 3, 2009 10:10 AM

Posted on Aug 3, 2009, 10:09 AM
Respond to this message
Goto Forum Home
Responses