The English Brunswick Issue of the Wolverines' "Tiger Rag."
by
Until I received, through the generosity of Han, a bunch of scans of Wolverines recordings on English Brunswick and started reading about English Brunswick albums, I only knew vaguely and without much detail that the first issue of the Wolverine Orchestras Tiger Rag was not just an individual record, but part of an album that included several other Wolverine Orchestras records. The following information comes mostly from Collectors Guide to Jazz  on Bootleg & Reissue 78 R.P.M. Records 1932 to 1952 by Geoffrey Wheeler, Hillbrook Press, Ft. Wayne, IN, 2009.
First a few facts about record labels and entrepreneurs.
Decca Records was founded in England in 1929.  The US label subsidiary was established in late 1934. The British branch of Brunswick records was purchased by Decca in 1932. Jack Kapp had been a Brusnwick (USA) record company executive since 1930. In the 1930s John Hammond was commissioned by British EMI to produce jazz records for distribution in England. In 1933, John Hammond was commissioned by EMI/Columbia to produce jazz records for distribution in England. Toward the end of 1935, legendary A&R man John Hammond was contracted by Parlophone Records to produce a series of American jazz performances that were to be released in Great Britain.  Parlophone arranged for Decca Records to record the sessions in New York and in Chicago. These were later (1941) issued by Decca as Gems of Jazz. Some of this was discussed in previous threads and is repeated here to illustrate the relationships between record companies, Columbia, Decca, Parlophone, Brunswick.
On Jun 20, 1924 a group of young jazz musicians from the midwest, Bix Beiderbecke (c), Jimmy Hartwell (cl), George Johnson (tsx), Bob Gillette (bj), Dick Voynow (p), Min Leibrook (bb) and Vic Moore (d), went to the Gennett recording studio in Richmond, IN and waxed three sides, I Need Some Petting, Royal Garden Blues, and Tiger Rag. The first two titles were issued as Gennett 20062. The 20,000 Gennett series were personalized records paid for by the artists who recorded them. [Vic Moore told Phil Evans in a telephone interview on 8/26/73, Jimmy Hartwell and Dick Voynow arranged to pay the Starr Company to record these Gennett records. The musicians were not paid for this date.]  Only test pressings of the third title, Tiger Rag, were made at that time.
The Wolverine Orchestras Tiger Rag was first commercially issued in England in the Spring of 1936. Tiger Rag was a side in one of the seven-disc English Brunswick Classic Swing series. The series consisted of two albums [1] of dubbings of Gennett recordings of King Oliver, the New Orleans Rhythm Kings, the Wolverines, Hitchs Happy Harmonists, The Friars Society Orchestra, and Husk OHara, BrE 02200 through BrE 02213. Six of the Wolverines recordings were included in the classic Swing series, volume 1.
02203 The Jazz Me Blues/Big Boy. Images courtesy of Han E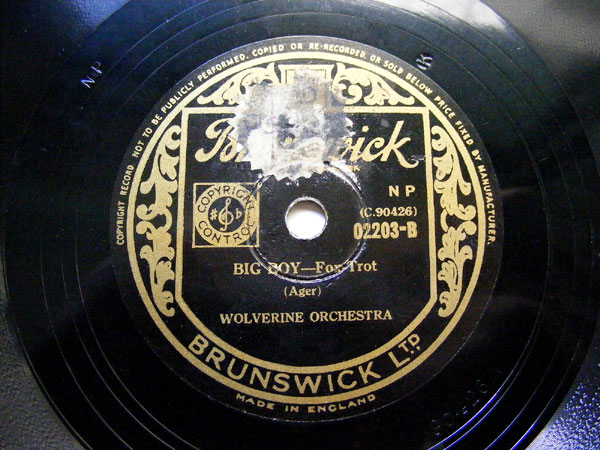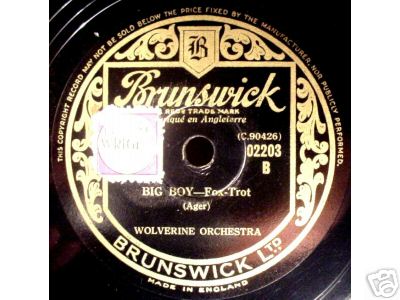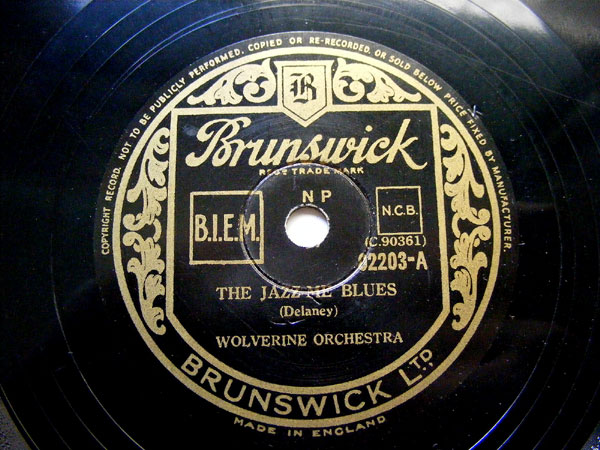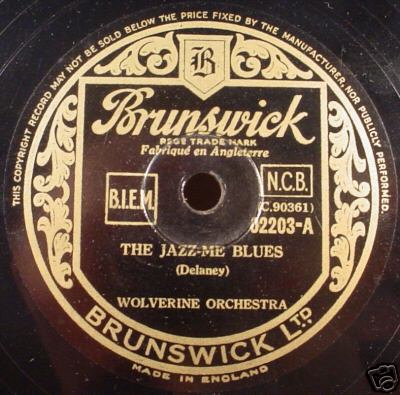 02204 Fidgety Feet/Royal Garden Blues Images courtesy of Han E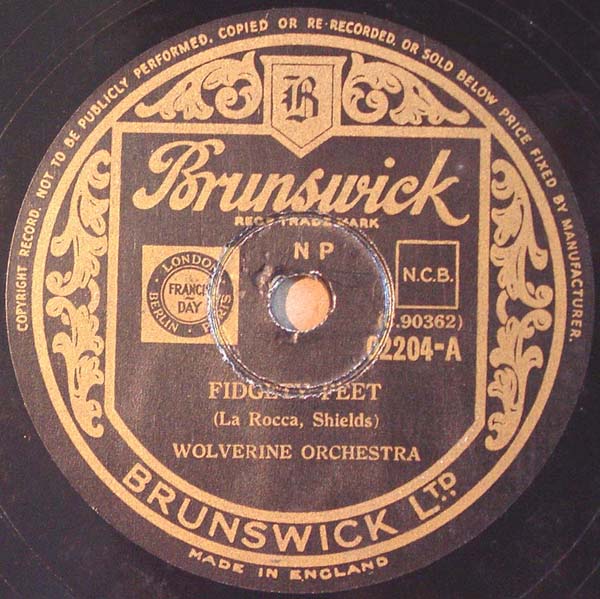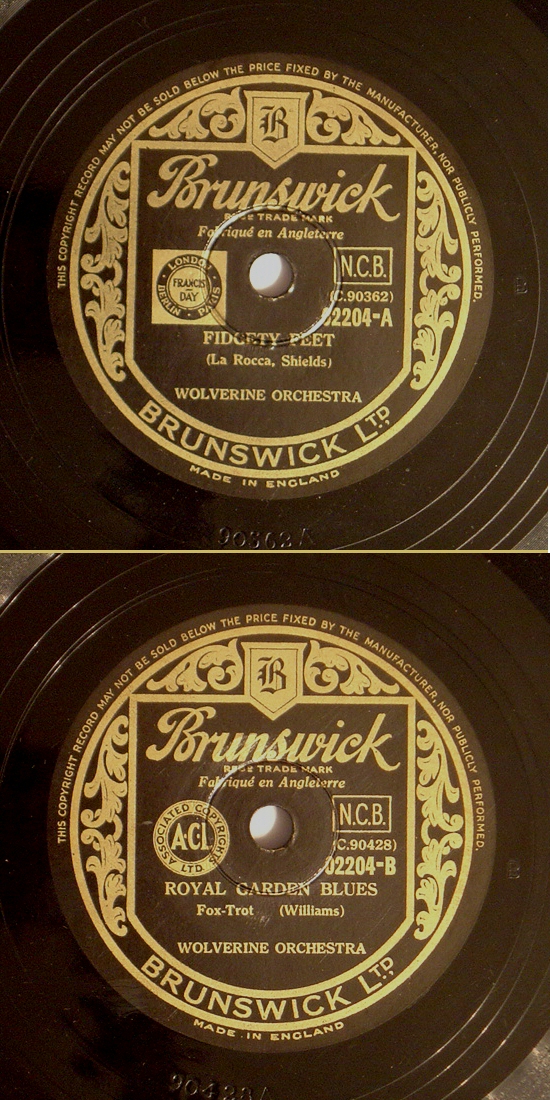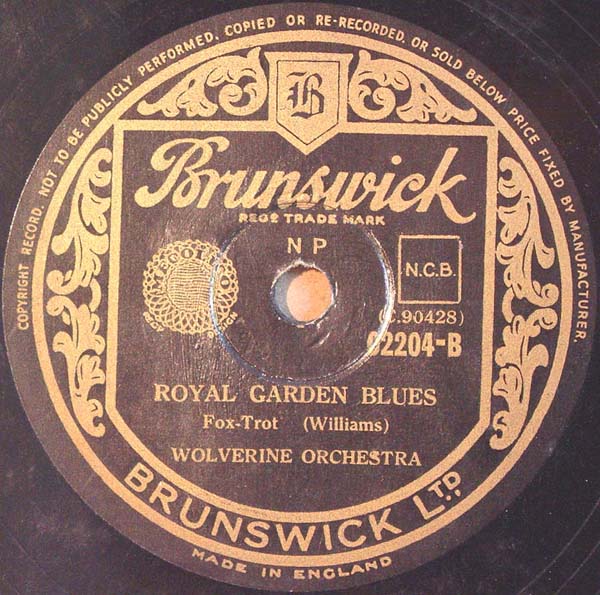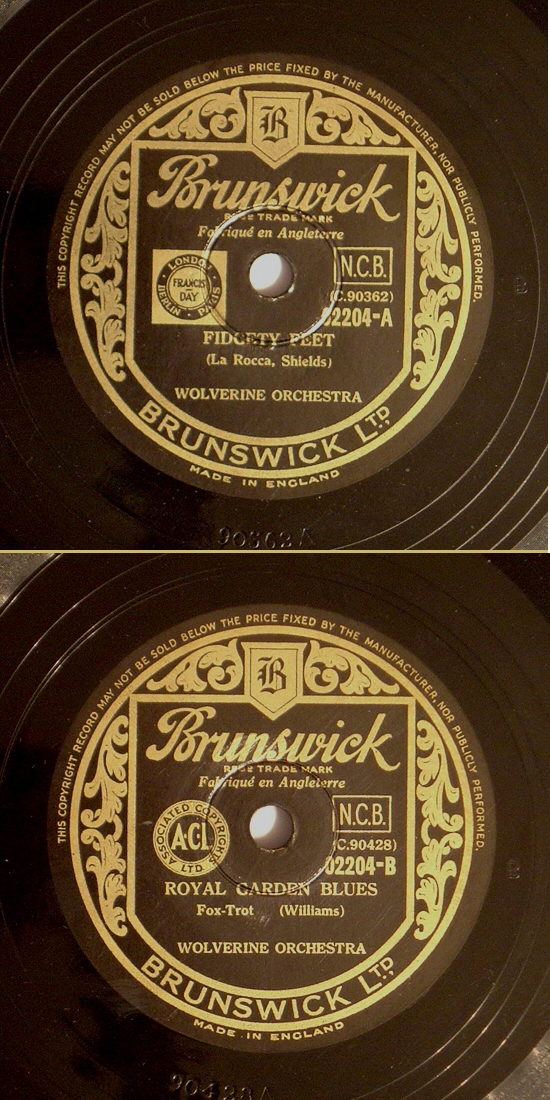 02205 Copenhagen/Tiger Rag Images Courtesy Bixography and Joe Giordano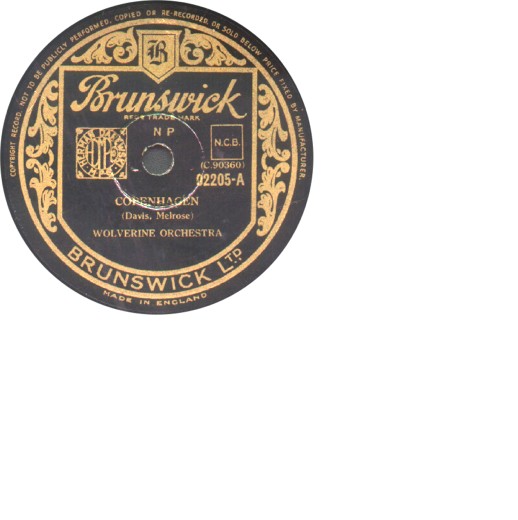 (does anyone have a better image, pretty please!)
Records were sold either as singles or as complete albums. You can see that the records were made for distribution in England and in France. Neither the individual records nor the records in the albums carried any information about volume number or disc number. In contrast, the English Brunswick series 21 Years of Swing Music provided labels with the album title, volume number and disc number. Only one Wolverine record was reissued in this series, Oh! Baby.
Courtesy of Norman Field
According to Edwin Squirrel Ashcraft (letter to Phil Evans, 10/07/1960), I was given the controversial test record of Tiger Rag by Vic Moore. Several years later I gave it to Dick Voynow who was running the Brunswick studio in Chicago. One of us dropped the Tiger Rag test record on the floor of the studio, it has since been at lest two-thirds unplayable. I dont recall a crack it in [sic] before that. Virtually, the same account is given in Sudhalter and Evans, except that Voynow is not mentioned and Ashcraft is given as the man responsible for dropping the record.  
Wheeler disagrees and points out that the test record was brought in into the Decca recording studio in Chicago, not the Brunswick studio. Wheeler writes, While Brunswick did have recording studios in Chicago in 1935, they were part of the American Record Corporation conglomerate, not Decca. After its startup in July 1934, Decca opened its own studios in Chicago. The recordings issued in the two albums were all dubbed in Chicago at the direction of Jack Kapp, formerly of Brunswick and now the new president of American Decca Records Inc. and then taken to England where they were mastered. The 28 sides included in the two English Brunswick albums all came from Gennett. Decca Records had licensed exclusive rights to the catalog of the by-now-defunct Gennett Record Company and its subsidiary label, Champion. Not included in the deal were Gennetts recordings of special sound effects and birdcalls. The reason for the relationship between American Decca and English Brunswick is that most of the start-up financing for American Decca came from
Decca Records Ltd.
The discs supplied by Jack Kapp to English Brunswick were worn and sometimes cracked. Therefore, the quality of the English Brunswick re-issues was poor. Brian Rust complained in an article quoted by Wheeler. Commenting on these reissues in the September 1950 issue of
Jazz Journal [page 5], Brian Rust writes: The copies from which they
were transferred were undoubtedly badly worn, and they reflect on no
credit on Brunswick, Gennett, or the artists concerned, and all
collectors wishing to preserve the memory of three great jazz bands
will do well to give them a very wide berth. The comparison between the
reproduction of a clean original and these weary, scratched and even
audibly cracked dubbings is a perfect object lesson for those cynics
who sneer that it is the music that counts. Some are worn, and on one
copy, a crack in the source recording is audible, but not all are as
bad as Rust claims.
Jack Kapp had been a Brunswick (USA) record company executive from 1930 to 1933. In 1934 he founded American Decca Records and became its first president. The UK branch of Brunswick records had been purchased by British Decca in 1932. The connection between Kapp and English Brunswick is thus quite apparent.
And here is Bixs mother test pressing of Tiger Rag, now preserved in the Institute of Jazz Studies in New Jersey.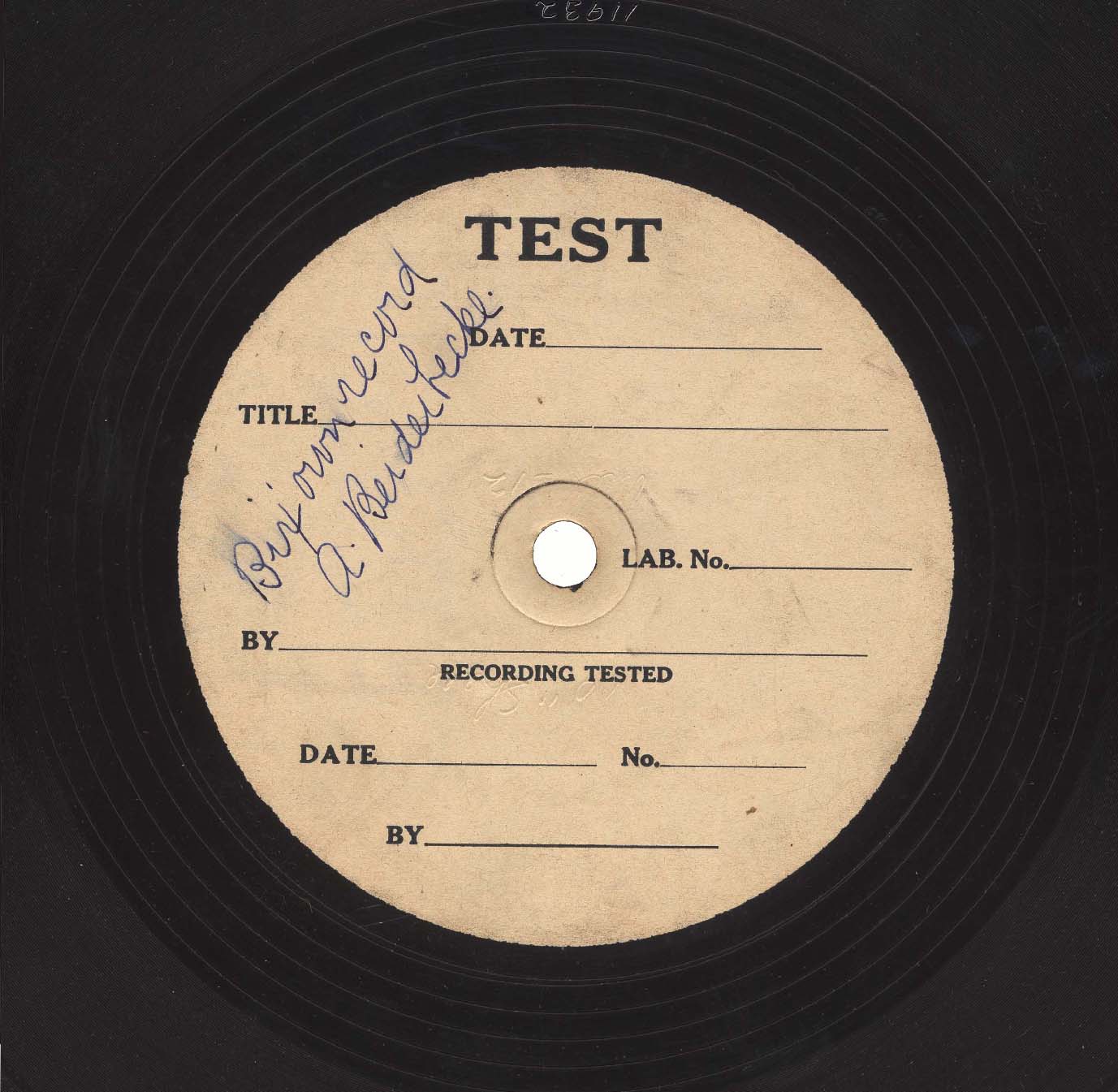 Albert
[1] A third album of Fred Elizaldes piano recordings was issued in late 1936 as volume 3 of Brunswicks Classic Swing series.
This message has been edited by ahaim on Sep 15, 2009 9:46 AM

Posted on Sep 15, 2009, 9:20 AM
Respond to this message
Goto Forum Home
Responses