David Jansen on Rube Bloom and More
by Albert Haim
From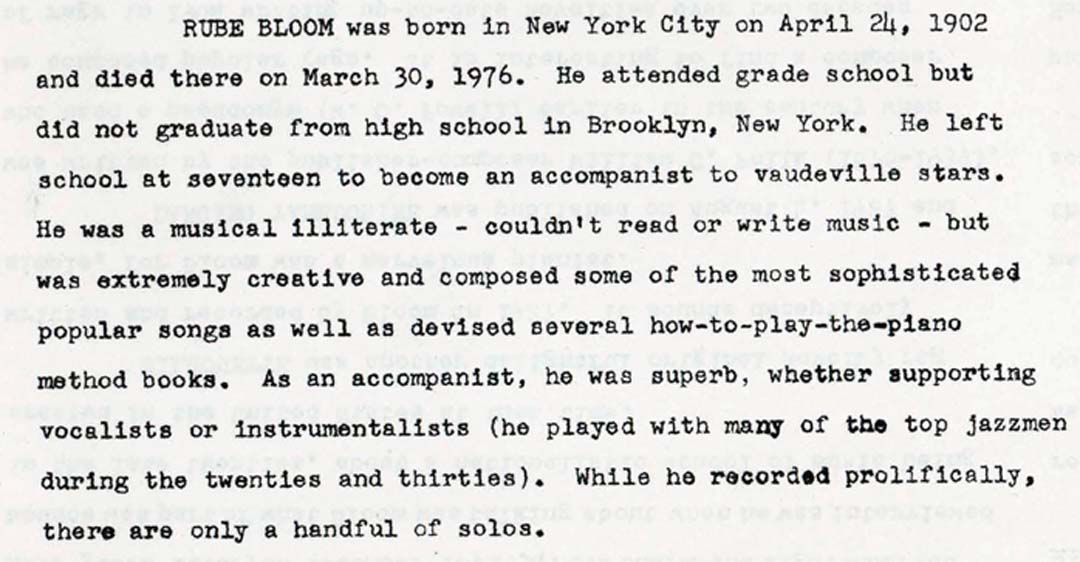 An interesting comment in
http://musicyouwont.blogspot.com/2008_08_10_archive.html
Here are three Paul Whiteman rips I made in the past couple of days--they came out well, I think. Collette is a marvelous Ferde Grofe arrangement which demonstrates Ferde's influence on Bill Challis. (Yes, you read right. I'll be in hiding for the next several weeks while the Bix people hunt me down. [my bold font]) The flip, Broken-Hearted (another Grofe chart) is beyond delightful. Soliloquy may or may not be a Grofe arrangement--sure sounds like it, but I can't prove it. Rube Bloom composed this nice novelty, which I warm up to more every time I hear it. I've yet to love it, but I'm past my initial cold response. (Music appreciation is a process, after all.)
Listen to Collette.
http://www.redhotjazz.com/songs/whiteman/colette.ram
And here is an interesting bit about Grofe and Bloom from
http://music.barnesandnoble.com/The-Roaring-20s/Ferde-Grof/e/884501029735
Quotations of various kinds also crop up along the way; in "Crazy Words, Crazy Tune," Grofé inserts a snatch of his colleague Rube Bloom's piece "Soliloquy" in a slightly altered form.
Here is Rube Bloom's stone in Beth David Cemetery.
ASCAP lists Rube Bloom's Soliloquy as simply Soliloquy. But I suspect (correction to my previous posting) that the complete title that Rube Bloom gave to his sophisticated/complex composition is "Soliloquy (A Musical Thought).
Albert
Posted on Oct 17, 2009, 4:23 PM
Respond to this message
Goto Forum Home
Responses