Gary Giddins Speaks
by Albert Haim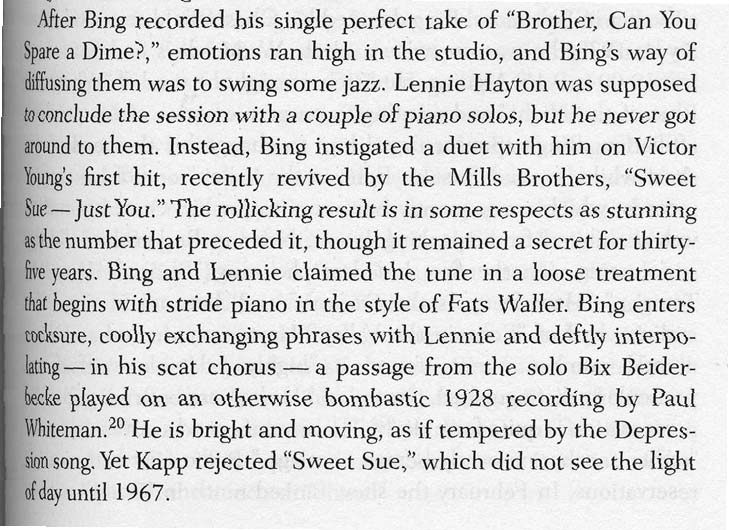 Listen to Lennie and Bing.
http://www.youtube.com/watch?v=nzqp3uMR_Ms
I love the changes in tempo when Bing comes in singing and when he goes into his scatting.
Does anyone know why the recording of Sweet Sue, waxed on Oct 25, 1932 ( in a few days the 77th anniversary), was not issued until 1967 in the CBS LP "The Bing Crosby Story, Volume I"?
The liners tells us, "A hiterto unreleased side with Lennie Hayton on piano in which he and Bing reminise [sic] musically of the Whiteman days with Beiderbecke. Both borrow generously from Bix's solo on the concert record of "Sue."
Something was going on. Bing waxed the following records on Oct 25, 1932. (first  number is matrix #)
B12500-A Linger A Litttle Longer In The Twilight Br 6491 (on the flip side "I've Got the World On A String)
B-12501-A We're A Couple Of Soldiers Br 6696 (on the flip side "Our Bib Love Scene")
B-12502-A Brother, Can You Spare A Dime? Br 6414 (on the flip side "Let's Put Out the Lights")
B-12505-A Sweet Sue - Just You CBS 66210 (UK), Epic EE-22015/6
Note matrix numbers jumping from 12502 to 12505. Ruth Etting recorded on matrix # B-12503 (I'll Follow You) and B-12504 (I'll Never Have To Dream Again).
What happened?
Albert
This message has been edited by ahaim on Oct 20, 2009 9:31 AM
Posted on Oct 20, 2009, 9:26 AM
Respond to this message
Goto Forum Home
Responses