Benny, Guyon, and Jules
by Albert Haim
Benny Goodman joined the musicians' union. in 1923 at age 14.  In 1923 and 1924, Benny had a variety of gigs, including a summer job in 1923 with Bix on the excursion boat Michigan City.
One of Benny's first steady engagements was at Guyon's Paradise Ballroom.
(From the Library of Congress)
According to http://chicago.urban-history.org/ven/dhs/paradisb.shtml,
Throughout the 1910s and 1920s, the center of social dancing on Chicago far west side was Guyon's Paradise Ballroom on the west side of Crawford Avenue about midway between Madison Street and the Lake Street elevated.

Opened in 1916, the Paradise was owned and operated by J. Louis Guyon, who had been promoting dances in Chicago since 1904. Guyon opened his first ballroomthe Dreamlandearlier in 1914 at the corner of VanBuren and Paulina Streets on the city's near west side.

The Paradise had the reputation as being Chicago's most conservatively run ballroom. Guyon shared the concerns of many of the city's leading social reformers and worried that "jazzier" dance music encouraged improper behavior among the youth who visited certain, less well-regulated dance halls. Determined that his ballroom not become place of ill-repute, Guyon forbade any music and dancing which he considered too fast-tempoed or physically charged. During the 1910s and 1920s, patrons were allowed to dance waltzes and two-steps, but not the fox trot or the Charleston. Nevertheless, many Chicagoans appreciated the conservative dance styles at the Paradise, as well as the wonderful opportunity to socialize with other young and often unattached West Siders.

Guyon, whose extensive investments in the neighborhood included a hotel and several commercial properties, made a fortune off the Paradise. Situated close to inexpensive forms of public transportation, the ballroom was within easy reach of thousands of young Chicagoans who lived in the West Side's many rooming houses and apartment buildings. Guyon's huge profits came not through high admission prices, but rather through volume. Said to be the largest dance hall ever built in Chicago, the Paradise's dance floor easily accommodated over 4,000 dancers at a time.

A massive five-alarm fire on the night of 9 September 1972 completely destroyed the ballroom and three adjacent apartment buildings.
The Guyon Paradise band at the time Benny joined was under the direction of saxophonist Jules Herbeveaux.
The Guyon's Paradise Orchestra, directed by the saxophonist Jules Herbuveaux, was the first dance band to broadcast in Chicago. On the evening of January 2, 1922, the orchestra played a selection of dance tunes in the KYW studio on the nineteenth floor of the Commonwealth Edison Building. The band played at KYW only one night, without pay, according to Herbuveaux. From That Toddlin Town: Chicagos White Dance Bands and Orchestras, 1900-1950 byCharles A. Sengstock, Jr., the University of Illinois Press.
To give you an idea of what the band sounded like over the radio in 1922, here is a recording by Guyons Paradise orchestra, Jules Herbeveaux, as, dir, Del Symons, p, remaining musicians unidentified, Nov 17, 1922, I'm Through Shedding Tears Over You.
The redhotjazzarchive has recordings of Jules Herbiveaux and his orchestra from 1926 and 1927.
From  http://articles.sun-sentinel.com/1985-07-15/features/8501290123_1_hull-house-benny-goodman-clarinet
As a consequence, he [Benny Goodman] has appeared many times over the years at benefits to raise money for his old alma mater, Hull House. And so it was that he recently turned up at the Chicago Marriott Hotel for a charity dinner commemorating the 95th anniversary of the founding of the venerable Chicago social agency.
It was quite a PAH-tee. Interspersed among Hull House's socialite benefactors were several old cronies of Goodman's, including Jules Herbeveaux, the man who gave Benny his first steady gig, and tenor saxophonist Bud Freeman, a running partner from the early days.
Herbeveaux, who is now in his 90s and retired from NBC television in Chicago, was in 1924 the orchestra director at a dance hall in Benny's neighborhood called Guyon`s Paradise.
`"I had a fella playing for me, Lemmie Cohen, and we were looking for a clarinet player,`" recalled Herbeveaux. `"He said he knew a kid and it turned out to be Benny, who was 15 years old at the time and had just got his first pair of long pants."
Herbeveaux remembered staring at the eager, dark-haired high school dropout and thinking no way, this kid's too young.
"But after he played a few bars, I didn't give a damn. He was just as good then as he is now. Just fantastic. But no matter how good he played something, no matter how perfect it sounded to you, if he thought he could do better by it, he'd do it different next time. And you know, it would be better.``
Either Herbeveaux is clairvoyant or else he is a world-class packrat, for he still has the canceled paychecks he issued to Benny in 1924. Explaining why he would bother to save checks made out to a 15-year-old nobody, Herbeveaux said, "He may have been a nobody then, but he wasn`t gonna be . . . "
Guess what? Through the infinite generosity of our friend Steve H, here are images of some of the checks written by Jules Herbeveaux to "Ben Goodman."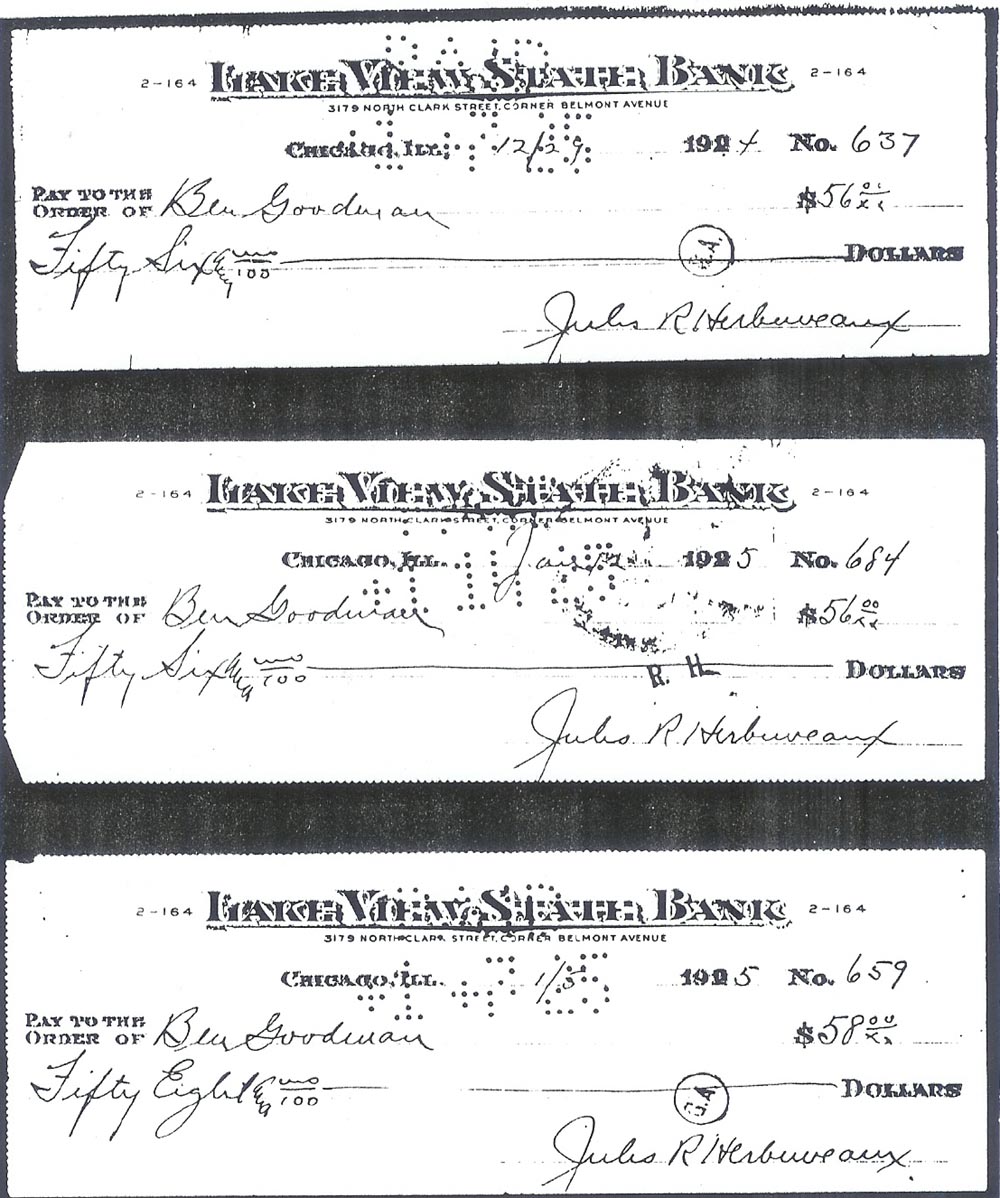 Thanks you very much, Steve! These are fantastic.
Albert
PS There is a sad connection between Frank Teschemacher and the Guyon Paradise Ballroom.
From the redhotjazz archive
"The Paradise was owned and operated by J. Louis Guyon who had been involved in the Chicago dancehall scene since 1909 and had opened the Paradise in 1914. The venue was located on the west side of N. Crawford Avenue (now Pulaski Road) about a block north of W. Madison Street. It was just two miles east of Austin High School where Tesch had attended with other members of the "Gang."

On the blustery evening of February 29, 1932 Tesch invited Davison to spend the night at his apartment to prepare for a band rehearsal the following day. They took Davidson's Packard Phaeton convertible and made a few stops on the way, one of which was in the company of drummer George Wettling at bandleader Charlie Straight's speakeasy. At about 2:00 am Davison was northbound on Magnolia Avenue in the city's Uptown neighborhood approaching Wilson Avenue with the Packard's top down. Tesch was hunched down against the wind and cold in the front seat with his hands thrust deeply into the pockets of a heavy overcoat. As Davison began to cross Wilson Avenue, his car was struck broadside by a Yellow Cab travelling on Wilson Avenue with its headlights off. The Packard was spun into a tree and both occupants were thrown over the windshield. Tesch struck his head on the concrete curb, suffering a very severe skull fracture. He was transported to Ravenswood Hospital (about a mile west of the accident site) where he died four hours later. The doctors believed that Tesch's chances for survival would have been much improved had his hands been free to protect his head.
This message has been edited by ahaim on Jan 7, 2010 5:57 AM
Posted on Jan 7, 2010, 5:53 AM
Respond to this message
Goto Forum Home