Speaking of Red Nichols.
by Albert Haim
From "Reminiscences of Black Musicians" by James A. Standifer, American Music, Vol. 4, No. 2 (Summer, 1986), pp. 194-205, Published by: University of Illinois Press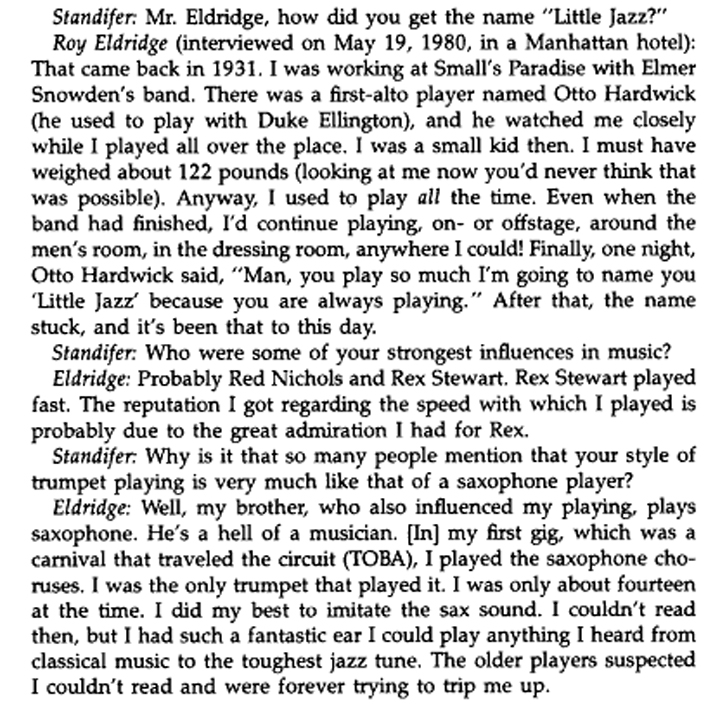 You can see that Roy mentions Red Nichols and Rex Stewart as his influences.
In http://www.jazz-music-history.com/Roy-Eldridge.html
"His early influences were Red Nichols, Jabbo Smith, Bix Beiderbecke and more importantly Coleman Hawkins and Benny Carter. Coleman Hawkins brought a fluid legato up-tempo style to the saxophone. While Louis Armstrong was playing a trumpet with lots of arpeggios and vertical melodies, Roy Eldridge playing in a more linear fluid style in the manner of a saxophone. Eldridge stated: "The sax players would run changes, would run through all the passing chords and things" He also said "I play nice saxophone on the trumpet"."
Red Nichols again, but also Jabbo Smith and Bix. The sax-like playing theme shows up here also.
The last point reminds me of what I have mentioned often, namely, that Bix played the cornet like a clarinet. I believe Richard Hadlock makes the same point in his excellent book "Jazz Masters of the Twenties."
Albert
Posted on Feb 18, 2010, 7:37 AM
Respond to this message
Goto Forum Home
Responses