"Me and the Boys Featuring Estelle Brody" ....
by Albert Haim
....  is the title of a 1929 short film (6 minutes) directed by Victor Saville for British International Pictures.
Russ kindly scanned the review of the film from the Sep 1929 issue of Melody Maker. Thanks a lot, Russ.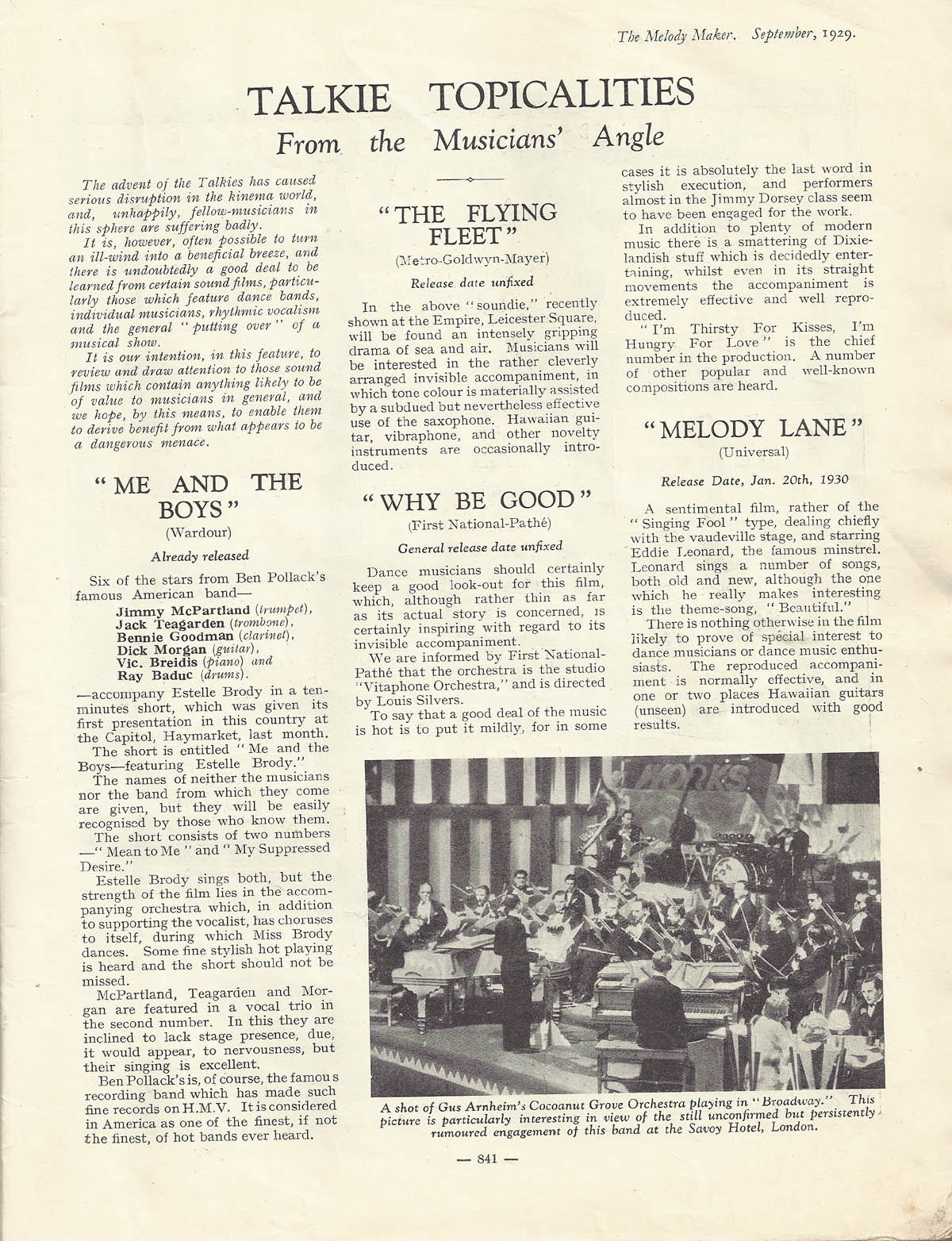 Estelle Brody was born in New York City

 

on Aug 15, 1900, died in Malta on Jun 3, 1995. She starred in several silent British films in the mid-twenties. According to

 

http://www.independent.co.uk/news/people/obituaryestelle-brody-1585164.html

 

When sound arrived, she was playing a working-class London girl in a silent film called Kitty (1929). It was decided to convert the last three reels into sound, but the studio, BIP, had no facilities. The director Victor Saville rushed Brody and her co-star John Stuart to New York and, using RKO's experimental sound studio on 7th Avenue, he reshot the final sequences.

While in New York, Saville directed a short called Me and the Boys in which Brody sang two songs with the Ben Pollack Orchestra, which included Benny Goodman on clarinet and Jack Teagarden on trombone. Teagarden, whose first film this was, also sang with Brody. Alas, the film, released in 1929, has been lost.

 

How sad. Can you imagine seeing and hearing these talented musicians as young men? The songs in the film are among my favorites, Mean to Me and My Suppressed Desire. It is interesting that the title of the short is Me and the Boys because a Ben Pollack group recorded a few numbers on Jan 22, 1929 as Bens Bad Boys. The group in the film short is almost identical to Bens Bad Boys: Glenn Miller is replaced by Jack Teagarden and Harry Goodman is absent.

 

Victor Saville, the director of the short has several films to his credit as director and producer. The last film he directed was The Silver Chalice, recently shown on TCM. To me, his most memorable contribution to cinema is the fact that he produced the great film Goodbye Mr. Chips.

 

This is how Estelle Brody looked like in the 1920s.

 
And this is how Bens Bad Boys sounded like in 1929.
http://www.redhotjazz.com/Songs/pollack/wangwangblues.ram
http://www.redhotjazz.com/Songs/pollack/shirttailstomp.ram
http://www.redhotjazz.com/Songs/pollack/yellowdogblues.ram
Albert
Posted on Apr 7, 2010, 8:12 AM
Respond to this message
Goto Forum Home
Responses