Damon "Bud" Hassler's brother was a professor of ....
by Albert Haim
.... Mineral Industries at Penn State. Here is a short piece from the Nov 6, 1936 issue of the Penn State Collegian.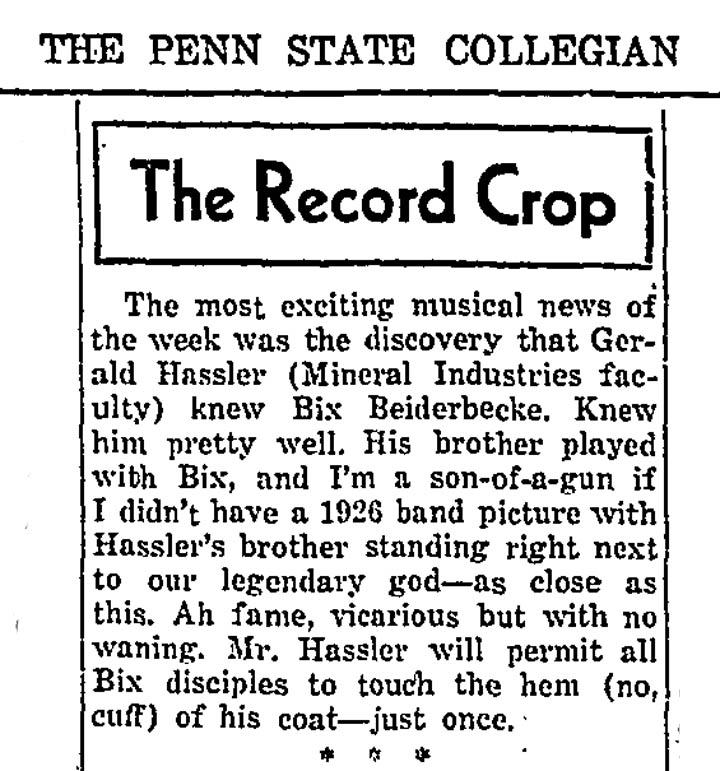 I am sure you all remember that Bud Hassler was, beginning on Nov 8, 1925, one the reed players in the St,. Louis 1925-1926 Arcadia band under the direction of Frank Trumbauer. He is to the right of Tram in the following photo,
Bix, Pee Wee and Bud attended regularly the concerts of the St. Louis Symphony in 1925-1926. Bud had been a violinist with the St. Louis Symphony. Bud played mostly tenor sax with the Trumbauer St. Louis band. Bix's attendance to the St. Louis Symphony must have been quite a musical education for Bix. The concerts covered a wide variety of styles, from the baroque era to he 20th century. With Bud Hassler to guide and explain, I would guess that Bix learned a lot about classical music during the St. Louis Symphony season.
I found the Hassler family in the 1920 US Census for St. Louis, MO. The family consisted of
Robert, 52. druggist, owner of his store
Francis, 41, druggist, co-owner
Karl, 21, student
Damon B., 16
Gerald L., 14
Helen F, 10
Joe M, 6
In his book, "City of Gabriels: The History of Jazz in St. Louis, 1895-1973" Dennis Owsley writes,

"There is a very interesting recording by the Palladeo [sic] Orchestra for OKeh on October 25, 1925, called the What-Cha-Call-'Em Blues. No one knows the personnel. There is no record of a "Palladeo" dance hall in St. Louis. This recording features a trumpet player who has listened very closely to Bix Beiderbecke. The Arcadia engagement of the Trumbauer Band started September 8, 1925."

Rust's Jazz Records lists the recording (OKeh 40521; it really is 4051), and gives the name of the band as Palledo. A streaming audio file is available from the amazing red hot jazz archive website. Listen

http://redhotjazz.com/songs/misc/whatchacallemblues.ram

I don't think the horn player sounds much like Bix, but this is late 1925 and the last time we heard him was early in 1925. But the guy does not sound like I guess Bix would have sounded on his way from early 1925 to the Fall of 1926, when he recorded again. Moreover, he plays the melody straight -no improvisation- and too many notes. Still, an interesting recording, rather advanced for its time, no? The recording is included in a Timeless CD, Jazz in St. Louis with notes by Brian Rust. He writes.

Palledo Orchestra Of St. Louis

Personnel unknown: 2 t; tb; 2 cl/as; cl/ts; vln; p; bj; bb; d. [there is a bass sax at 1:53; the instrument at 1:44 is, I believe, a violin; doesn't it sound a bit like an ocarina? ]
c. 26 October 1925; Okeh
9405-B Close Your Eyes OK 4051
9406-B What-Cha-Call-' Em Blues OK 4051,
Timeless CBC 1-036
"The other white group here is the mysterious Palledo Orchestra of St. Louis of which we know nothing beyond what the one record they made tells us (the first side of the session contains nothing in the way of jazz). A few years ago, a young friend living in St. Louis as a student did his best to find out what and where the Palledo was. There was no longer any trace."
Albert
Posted on Apr 9, 2010, 9:33 AM
Respond to this message
Goto Forum Home
Responses
PS. Albert Haim on Apr 9, 2010