Bessie Couldn't Help It . . . while on the subject
by Ken Bristow
It's interesting to note that when take -2 of "Bessie Couldn't Help It" was issued in 1936, the Victor label gave the soloists as BIX BEIDERBECKE in large type, with Bud Freeman and Jack Teagarden on the second line in a size smaller. In fact, even 'Hoagy Carmichael and his Orchestra' is in a smaller typeface too.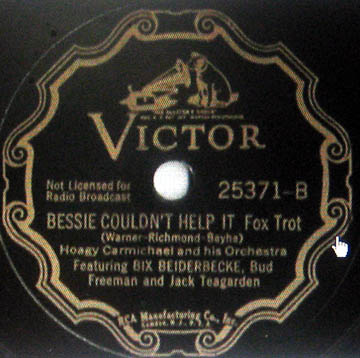 All this is explained of course, that by this time, Bix had become a national hero, a legend already but not quite in his own lifetime.
**************************
Added by AH: I don't have a scan of the original take. But here is the label of "Georgia" recorded during the same session as "Bessie." Bix is not mentioned in 1930. Hoagy's vocal is not mentioned in the 1936 issue.
This message has been edited by ahaim on Apr 16, 2010 8:18 AM
Posted on Apr 16, 2010, 2:56 AM
Respond to this message
Goto Forum Home
Responses