"Betty" by the Honey Swamp Stompers.
by
Rob R kindly sent an mp3 file of "Betty" by the Honey Swamp Stompers.
Here is the record label.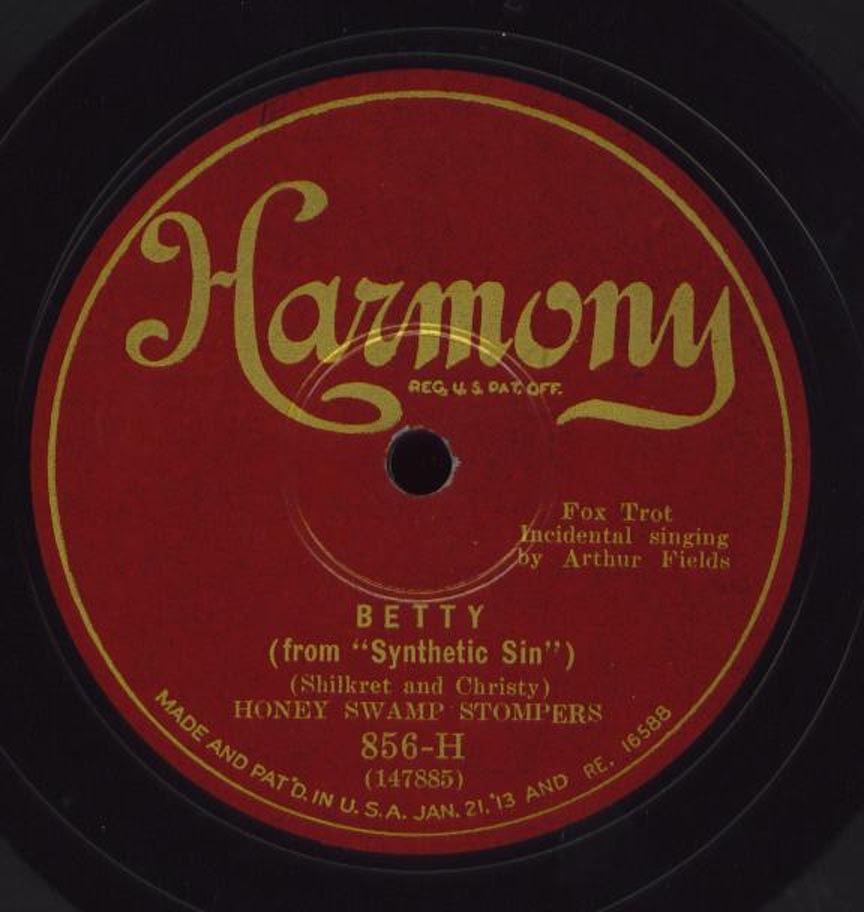 To hear the recording, copy and paste  bixbeiderbecke.com/Betty/BettyHoneySwampStompers.mp3
After the vocal by Arthur Fields you hear a harmonica and a four-string violin a la Venuti. Fred Hall has such solos in several of his recordings. The big question, though, is: who is the Bixian trumpet player? Rust and Lord list only one recording session by the Honey Swamp Stompers.
Mike Mosiello (tp)Eddie Grosso (cl,as)Philip d'Arcy (vln,hca)Fred Hall (p,cel)Al Russo (bj)Al Morse (tu)Joseph Mayo (d)Arthur Fields (vcl) + other (vcl duet)
| | |
| --- | --- |
|   | New York, January 25, 1929 |
| | | |
| --- | --- | --- |
| 147884-3 | | Har 856-H, Velvet Tone 1856-V |
| 147885-1 | Betty  (duet vcl) |    -                  - |
 

The name "Honey Swamp Stompers" was used by Fred Hall on Harmony. I think Hall does the scatting. Certainly the trumpet player is not Mike Mosiello.

  A possible answer in this page, kindly sent by Rob,  from the Tri-State Skylark Stutter (http://www.tristatejazz.org/strutter_archive/Strutter_2009_08.pdf )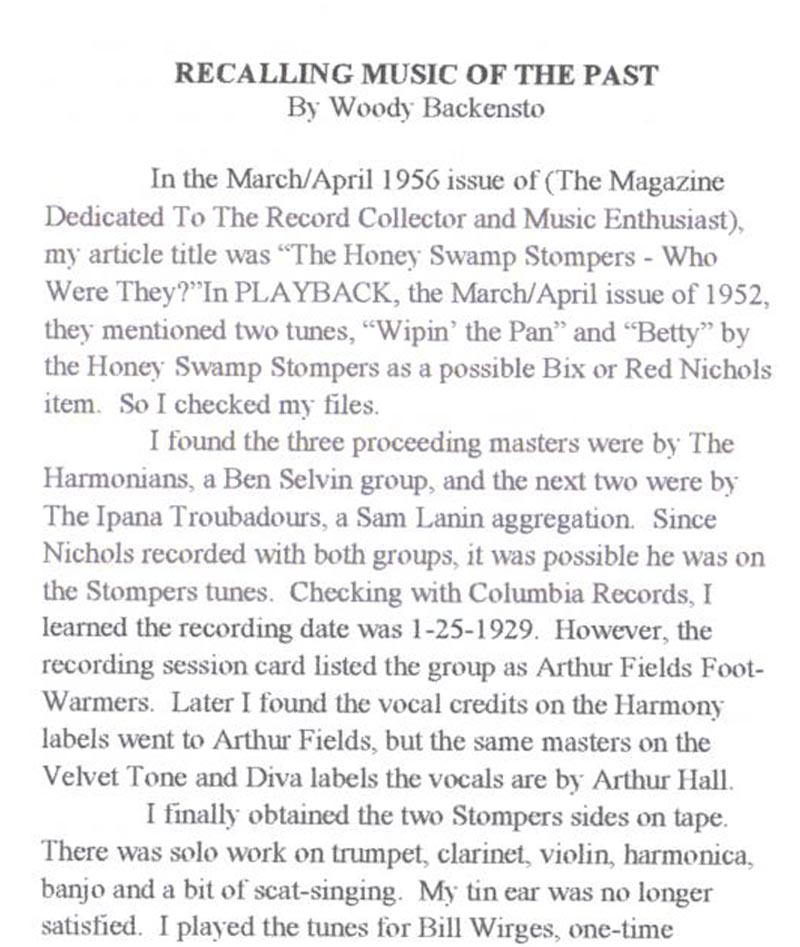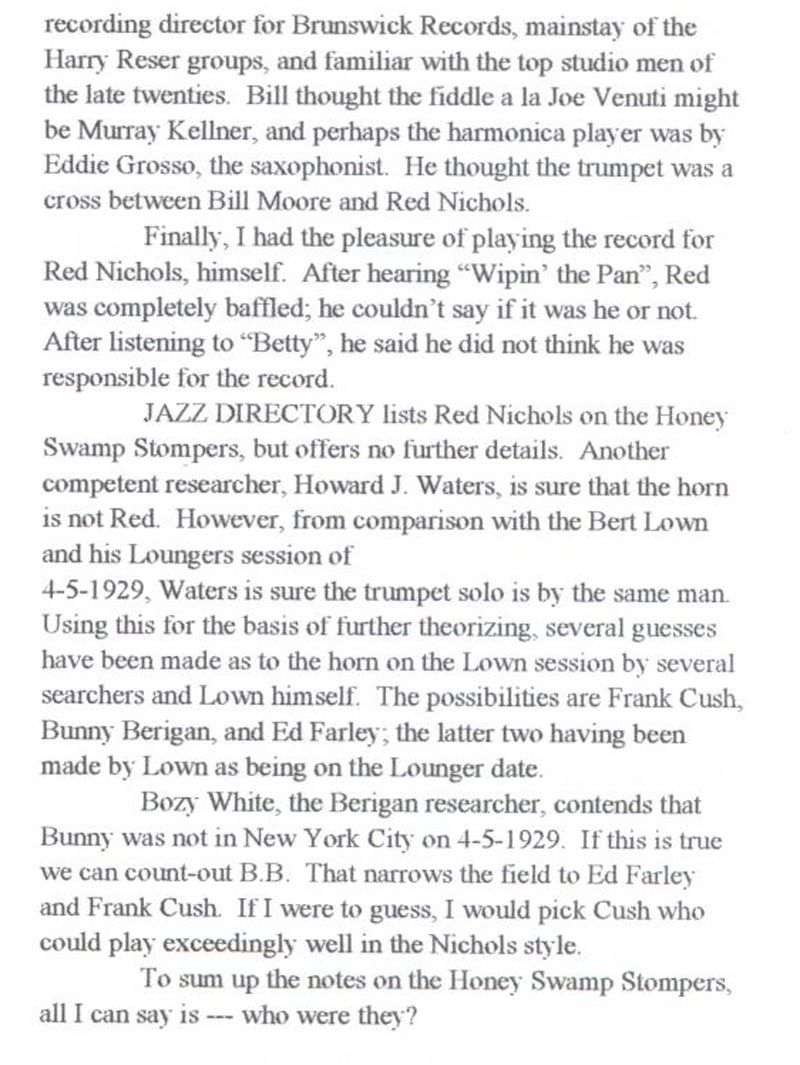 The reprinted article by Woody Backensto is fascinating.
1. The recording could be a possible Bix or Red item.
2. Bill Wirges thought "the trumpet was a cross between Red and Bill Moore."
3. Woody played the records for Red Nichols. Red could not tell about  "Wipin' the Pan" but did not think he was the trumpet player in "Betty."
4. Howard Waters was sure the trumpet was not Red Nichols, He says the trumpet in "Betty" is very similar to the one in the 4/5/1929 session of Bert Lown and His Loungers, presumably Frank Cush.
Here are links to the Lown sides.
There is some similarity, but I don't think it is Frank Cush. Besides, what the heck was Cush doing with Bert Lown when, at the time, Frank was a full time member of the California Ramblers and recording with them and with the Goofus Five. The trumpet player with Fred Hall in 1928 was Jack Mollick. He played in a Bix and or Red influenced style in several Hall recordings Check out
According to Randy Skretvedt in the liners for the CD  Fred Hall's Sugar Babies featuring Arthur Fields (TOM mb 106), Mosiello did not replace Mollick until March 1929. If I had to put my money on a trumpet player as the guy who dominates the recording of "Betty" I would put it on Jack Mollick. 
Albert
This message has been edited by ahaim on Jul 18, 2010 9:06 AM

Posted on Jul 18, 2010, 8:27 AM
Respond to this message
Goto Forum Home
Responses