Phil Hart, Bill Moore and Donald Bryan. Who's who?
by
In Aug 1929, Ben Bernie and his orchestra recorded "Bigger and Better than Ever." According to Rust's Dance Band Disco, there are two trumpet players, Donald Bryan and Phil Hart. Listen
bixbeiderbecke.com/BiggerAndBetterThanEverBenBernie.mp3
There is a muted trumpet solo that reminds me  of that by the mystery cornetist in "Cradle of Love." Agree, disagree?
Speaking of Ray Miller's"Cradle of Love" and Ben Bernie, here is a connection, an ad for a bunch of Brunswick recordings in the Mar 21, 1929 issue of the Chicago Tribune. The Ben Bernie recording of "Button Up Your Overcoat" is highlighted and Ray Miller's "Cradle of Love" is advertised in small print.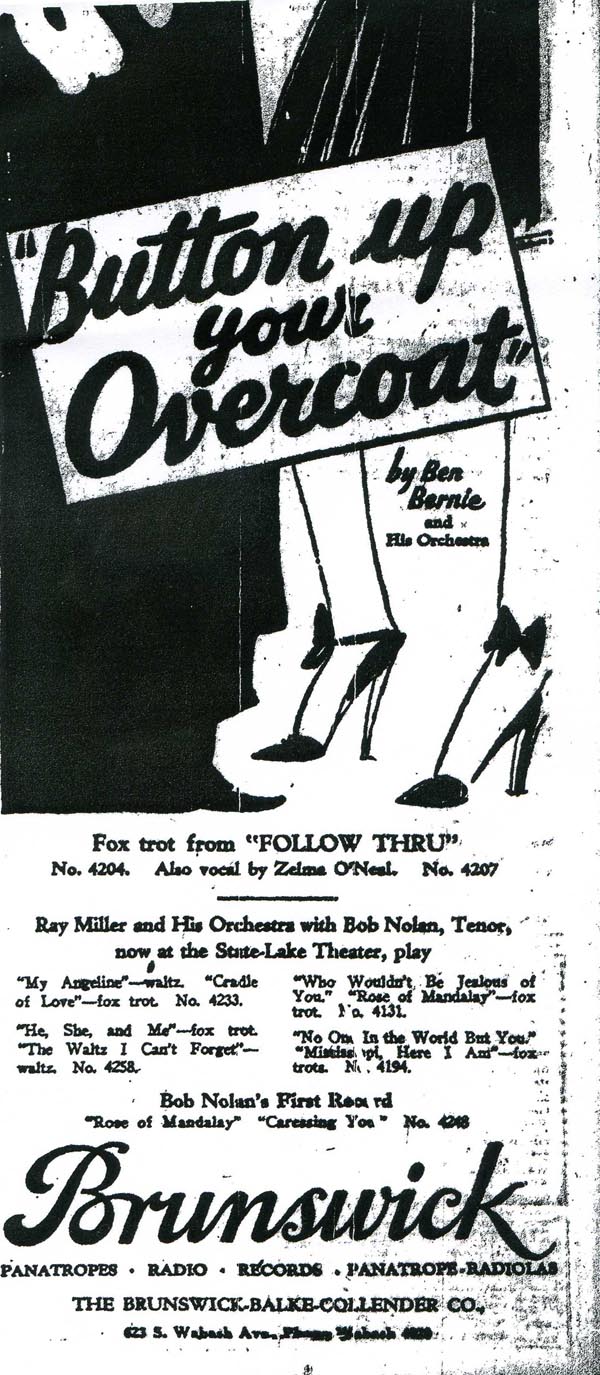 As I said above, there are two trumpet players in Bernie's "Bigger and Better Than Ever." Who takes the muted solo? Bryan or Hart? 
In trying to answer this question, I am bringing up the "Ten Black Diamonds recording of "Freshman Hop." This is Mills Musical Clowns and the tune was recorded on Romeo 1125/Banner 0508 either on Feb 14 (Rust) or Feb 8 (Lord) 1929. The online discography gives a date of  Feb 14, 1929 for Bannner 580 (yes 580, not 508!) and Oct 29, 1929 for Romeo 1125. Weird discrepancies.. There are two trumpet players here also, Bill Moore and Phil Hart. (In addition, Benny Goodman and Jack Pettis). Listen
http://www.youtube.com/watch?v=m8KDM3mHVdc
There is a muted trumpet solo here, too. Moore or Hart?
Bottom line, who are/is the trumpet players who play the muted solos in the two recordings?
Albert
This message has been edited by ahaim on Oct 6, 2010 6:39 AM
This message has been edited by ahaim on Oct 5, 2010 4:44 PM
This message has been edited by ahaim on Oct 5, 2010 4:43 PM

Posted on Oct 5, 2010, 4:43 PM
Respond to this message
Goto Forum Home