Paul Whiteman and His Ambassador Orchestra
by Albert Haim
In his first recordings for Victor, Whiteman adopted the name "Paul Whiteman and His Ambassador Orchestra." This can be seen in the label of Victor 18690.
Whiteman used the Ambassador name in his first five recording sessions, Aug 9- Oct 28, 1920. Beginning on Nov 3, 1920 he started using "Paul Whiteman and His Orchestra."
Although "Wang Wang Blues" was the first recording that was mastered, it was not the first to be issued (it was issued in Dec 1920 with "Anytime, Anyday, Anywhere" on the flip side, Vic 18694). The first two recordings that were issued (Nov 1920) were "The Japanese Sandman'/"Whispering", Vic 18690 (10-inch) and "Best Ever Medley"/"Avalon/Just Like A Gipsy-Medley", Vic 35701 (12-inch).
The newspapers across the country in Oct-Dec 1920 were plastered with ads for these two records. Here are just two examples.
From the Trenton Evening Times, Oct 8, 1920.
Ready at Barlow's
Paul Whiteman and His
Ambassador Orchestra
on Victor Records
Paul Whiteman is the new orchestra;-leader
who is creating so much talk in musical
circles. He is now playing at the Palais
Royal, New York, and is meeting with
remarkable success.
Mr. Whiteman played at the Fairmount Hotel, San
Francisco originally. Later he was- engagedto .play,
at the Ambassador Hotel in Santa Barbara, and the
Alexander Hotel, Los Angeles..
In the early part.of the. Summer of 1920, Mr.
Whiteman came East to play an engagement at the
Ambassador Hotel in Atlantic City. He remained
there the entire Summer. While playing there, Gill
Boag, of the Palais Royal restaurant, made a special
trip to Atlantic City, to hear Mr Whiteman's organization.
He immediately offered them an engagement at
the Palais Royal, where they are now playing. Mr.
Whiteman and his orchestra are also making records
exclusively for the Victor Company.
Here are two of the first:
AVALONMedley Fox-trot
BEST EVER MEDLEY-One-step .
WHISPERING-Foxtrot
THE JAPANESE SANDMAN-Fox-trot
Paul Whiteman's Orchestra exhibits a new type of dance record
When you hear .It, you'll surely agree that It is one of the best
dance orchestras you have ever heard.
Barlow's Music
130-132 East State Street
Comment: Whiteman's engagement at the Palais Royal, at this time, lasted from Sep 16, 1920 to Jul 2, 1921.
From the Marion Daily Star, Oct 14, 1920.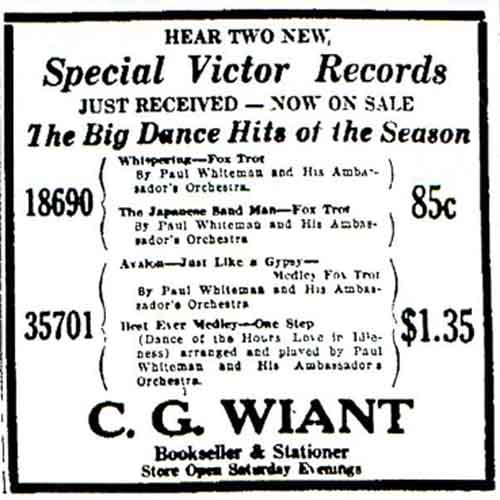 Note that Whispering/The Japanese Sandman is in the 18000 series and costs 85c, whereas Avalon-Just Like A Gipsy/Best Ever Medley is in the 35000 series and costs $1.35. The former is a 10-inch record, whereas the latter is a 12-inch record.
Albert
Posted on Dec 11, 2010, 8:16 AM
Respond to this message
Goto Forum Home
Responses