"From Bix To Ballet" is the title of an article about Lennie Hayton ….
by
.published in the Melody Maker, 22 Nov1 947. The scan that follows at the bottom of this posting comes to you via the unending generosity of Nick, a friend and great supporter of the Bixography Forum. Thanks a lot, Nick!
On Oct 7, 1928, the Paul Whiteman orchestra presented the Third American Music Concert. in Carnegie Hall (the first had taken place in Aeolian Hall on Feb 12, 1924 where Gershwin's Rhapsody in Blue had its premiere).
After the intermission of the Oct 7, 1928 concert, the second number was a rendition of Bix Beiderbeckes In A Mist for a piano trio: Bix was the principal pianist and he was accompanied by Leonard George Lennie Hayton and Roy Frederick Bargy, two talented pianists, arrangers, conductors and composers.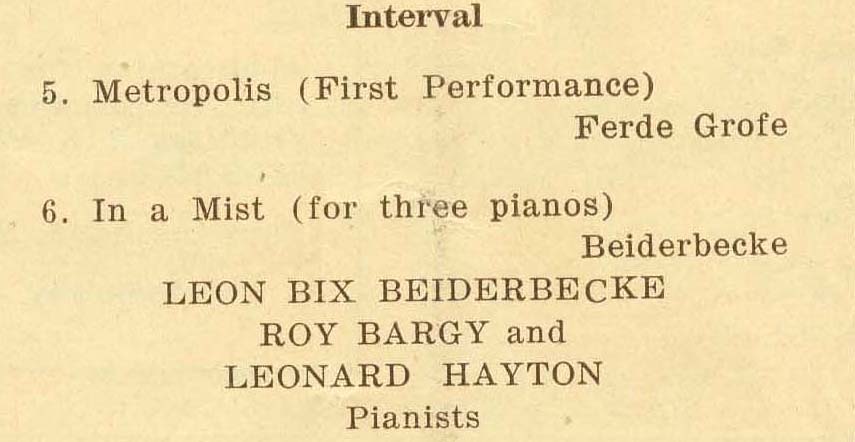 Here I focus on Lennie Hayton. He was born in New York, NY on Feb 13, 1908 and died in Palm Springs, CA on Apr 24, 1971. According to Don Rayno, Lennie joined the Paul Whiteman orchestra at the end of March 1928. [Note that this date is in disagreement with the date given in the Melody Maker article, Nov 1947. From an examination of Haytons discography, it is clear that Rayno's date is correct]. By then, although only 20-years old, Lennie was a veteran of recording studios: when he was 18 he recorded with Cass Hagan, and by the time he was 20, Hayton had recorded with Red Nichols, the Original Memphis Five, the Charleston Chasers, Don Voorhees, the California Ramblers and Frank Trumbauer. Lennie Hayton recorded about 30 sides with Bix. Lennie left Whiteman in May 1930, when Whiteman discharged several of his musicians (some of them, Bill Challis, Min Leibrook, Joe Venuti and Eddie Lang.) Hayton was a member of the Camel Pleasure Hour orchestra. After Whiteman, Lennie spent some time as director of the band that accompanied Bing Crosby. Hayton recorded with Artie Shaw's orchestra in the early 1940s. From 1940 to 1953, Hayton was musical director for MGM where he contributed original music to my favorite movie musical, Singin' in the Rain, and picked up a couple of Oscars. After 1953, Hayton was musical director for Twentieth Century Fox and for his wife, singer Lena Horne.
I want to bring in music from two of my favorite Haytons arrangements:
Ida for Red Nichols    http://www.youtube.com/watch?v=9QxvBUc6Wi8
China Boy for Whiteman.    http://www.youtube.com/watch?v=rdELbOdTX3A
Also, WBIX radio programs # 114   http://www.bixography.com/wbix114.ram 
and 185   http://bixography.com/WBIX185.ram 
were devoted to Hayton's recordings.
On Nov 22, 1947, the Melody Maker published an article by Ralph Venables titled From Bix to Ballet.
I call your attention to what Hayton has to say about Bix and to the section about strings, which I enjoyed very much.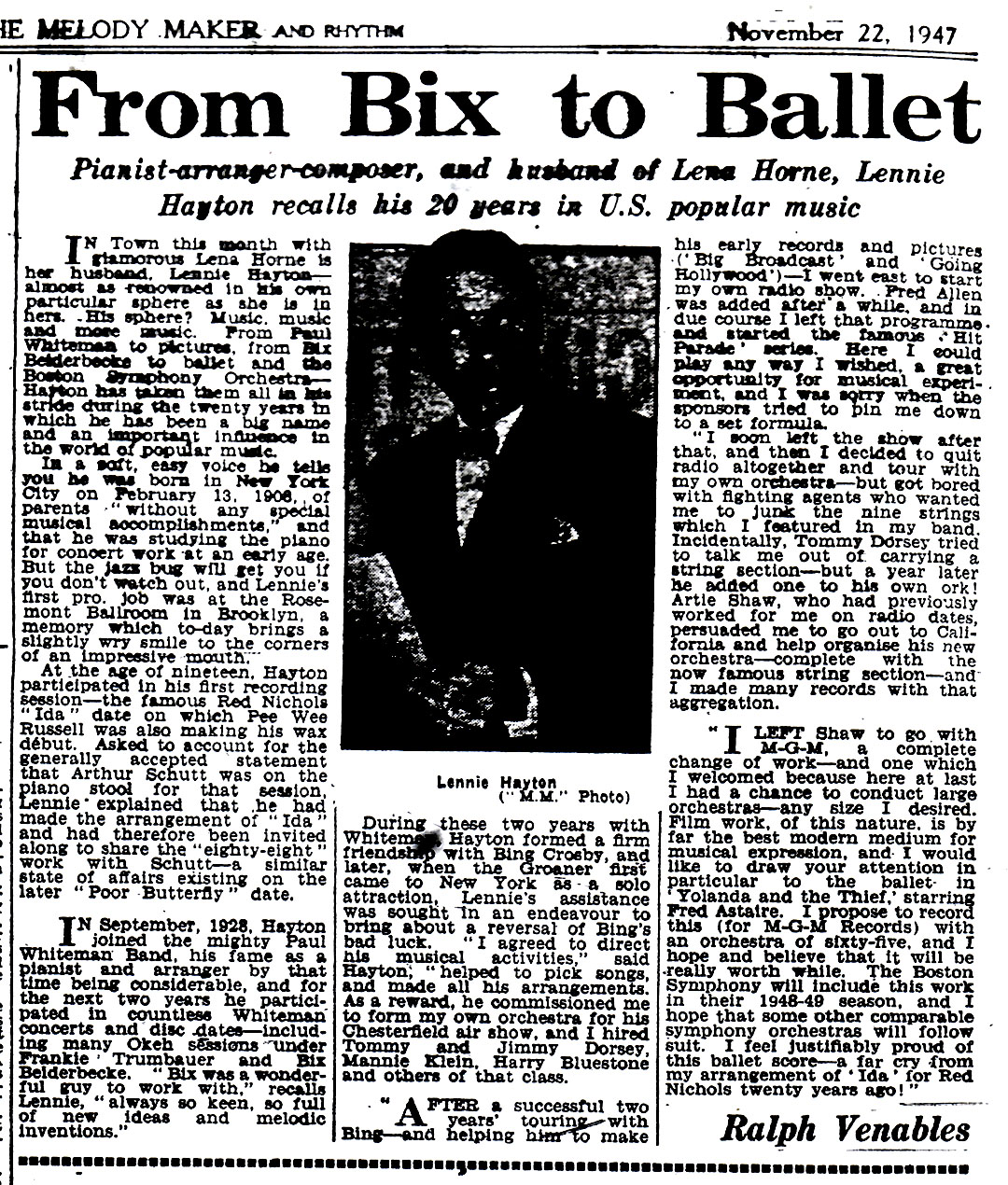 Albert
This message has been edited by ahaim on Jul 27, 2011 5:26 AM
This message has been edited by ahaim on Jul 27, 2011 5:24 AM
This message has been edited by ahaim on Jul 27, 2011 5:23 AM

Posted on Jul 27, 2011, 5:20 AM
Respond to this message
Goto Forum Home