Toots Mendello.
by Albert Haim
Toots Mendello recorded several sides from July to October 1928. Six of the sides were issued on dime-store labels. These are the only known recordings of Toots Mendello. Nothing else is known about him: not even his first name! Searches in jazz books and the internet only provide information about the recordings: no biographical information has been uncovered until to now.
The following are the recordings by Toots Mendello listed in Rust's and Lord's discographies.
Mendello and his Five Gee-Gees
Toots Mendello (cnt) Glenn Miller (tb) Fud Livingston (cl) Arthur Schutt (p) Carl Kress (g) Vic Berton (d) Dick Holmes (vcl) [ Jack Kaufman (vcl) ]
| | | |
| --- | --- | --- |
| 8071 | | (unissued)   ARC |
| 8072 | |      - |
| 8073 | |      - |
| | |
| --- | --- |
|   | New York, August 15, 1928 |
| | | |
| --- | --- | --- |
| 8148-1 | | Or 1371, Ban 6206 |
| 8149-1 | |    1387,     7248 |
| 8150-1 | |    1363,     6213 |
| | |
| --- | --- |
|   | New York, October 16, 1928 |
| | | |
| --- | --- | --- |
| 8260-1 | | Broadway 1213, Ban 7246, Or 1368, Para 20754 |
| 8261-1 | | Crown 81020 |
| 8261-2 | | Ban 6241, Jewel 5446, Apex 8877, Or 1396, Harrison |
|   |   | LP-M |
| 8262-1 | | Ban 6205, Or 1360, Chal 919, Jewel 5405, Dom |
|   |   | 31010, Apex 8863, Micro 23368 |
| | |
| --- | --- |
| Note: | All Banner's as "Mendello's Dance Orchestra", Challenge 919, Jewel 5405 & 5406; all Oriole's as "Dixie Jazz Band"; Broadway 1213 & Paramount 20754 as "Marks and his Five Oh My's"; Crown 81020 as "Pierrot Syncopators" and Microphone 22368 as "Jenkins' Black Aces". |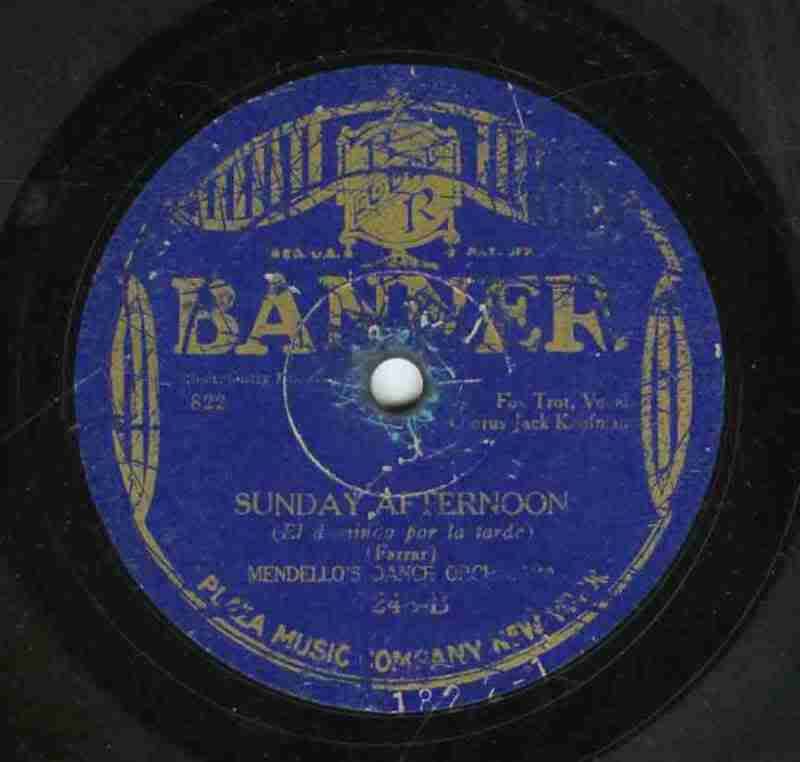 It will be seen that the instrumentation is exactly that of early recordings by Red Nichols and His Five Pennies. In fact, all the musicians except Toots Mendello were members of the Five Pennies at one time or another, two of them Schutt and Berton were with the Five Pennies through most of the 1920s.
The six issued numbers are included in the Jazz Oracle CD BDW 8060, "The Story of Joseph Fud Livingston." Brad Kay writes in the liners, "A special feature of this collection is all six titles by Mendello and His Five Gee Gees. These are among the least known of  Fud Livingston's records. This hot sextet did three sessions (one unissued) for the cheap dime store Regal Record Company. The songs are bottom-shelf, non-copyright affairs, primarily the work of Regal's house composer Redmond Farrar. They were intended as filler to back the Tin Pan Alley hit songs released on the A sides of the original 78s. These Gee Gees feature the front line of Fud Livingston, clarinet; Glenn Miller, trombone; and the otherwise unknown Toots Mendello on cornet (not the alto man Toots Mondello, of Benny Goodman fame). They are supported by the formidable Five Pennies rhythm team of pianist Arthur Schutt, guitarist Carl Kress and drummer Vic Berton. Toots turns out to be a capable and sturdy cornetist of the Bix school on these, his only records. This jolly ensemble rolls along crisply and unpretentiously, more relaxed and carefree than the often intense Five Pennies. The arrangements are neatly turned out not surprising, with the writing talent on hand. Everyone has fine solo moments, nobody predominates. It's especially rewarding to hear both Fud and Glenn at such length and such ease, particularly Miller, whose hot trombone is a scarce commodity on records."
We discussed some of the Gee Gees recordings in the forum in early 2008.
http://www.network54.com/Forum/27140/message/1201047552
There is no biographical information about Toots Mendello in the jazz literature (printed or internet). Now, thanks to the generosity of Gina Mendello, Tootss granddaughter, I am happy to provide some biographical information about cornetist Toots Mendello and one photograph.
James Mendello was born in Patterson, NJ in 1904. He is listed in the 1930 US Census with his name spelled Mandello, living at 1770 West Sixth Street, Brooklyn New York, age 26, born in New Jersey of Italian parents, with his wife Mildred, age 25, born in New York of Italian parents, and son Vincent (Ginas father), age 2, born in New York. James Mendello's occupation is described as musician in a theater.
Gina tells me that, early in his career, Toots played with the bands of Frankie Pope, Al Barone and Jimmy Love. He was a member of the band that accompanied comedienne Eva Shirley [Note 1]. Later Toots played with the bands of Ben Bernie, Ross Gorman and Vincent Lopez. At the end of his career, Toots used the name G. G. Mendello and played with Grossinger's Orchestra.
Toots Mendello composed three songs, Heartbeats, Always On My Mind and Ive No Right. He was musical director for two Broadway musicals, Three's A Crowd and Heads Up. Toots was featured in Ben Bernie's phonofilms  http://www.redhotjazz.com/berniephonofilm.html
James Mendello died in Brooklyn, NY of viral meningitis, at age 27.
Here is a magnificent photo of James Toots Mendello.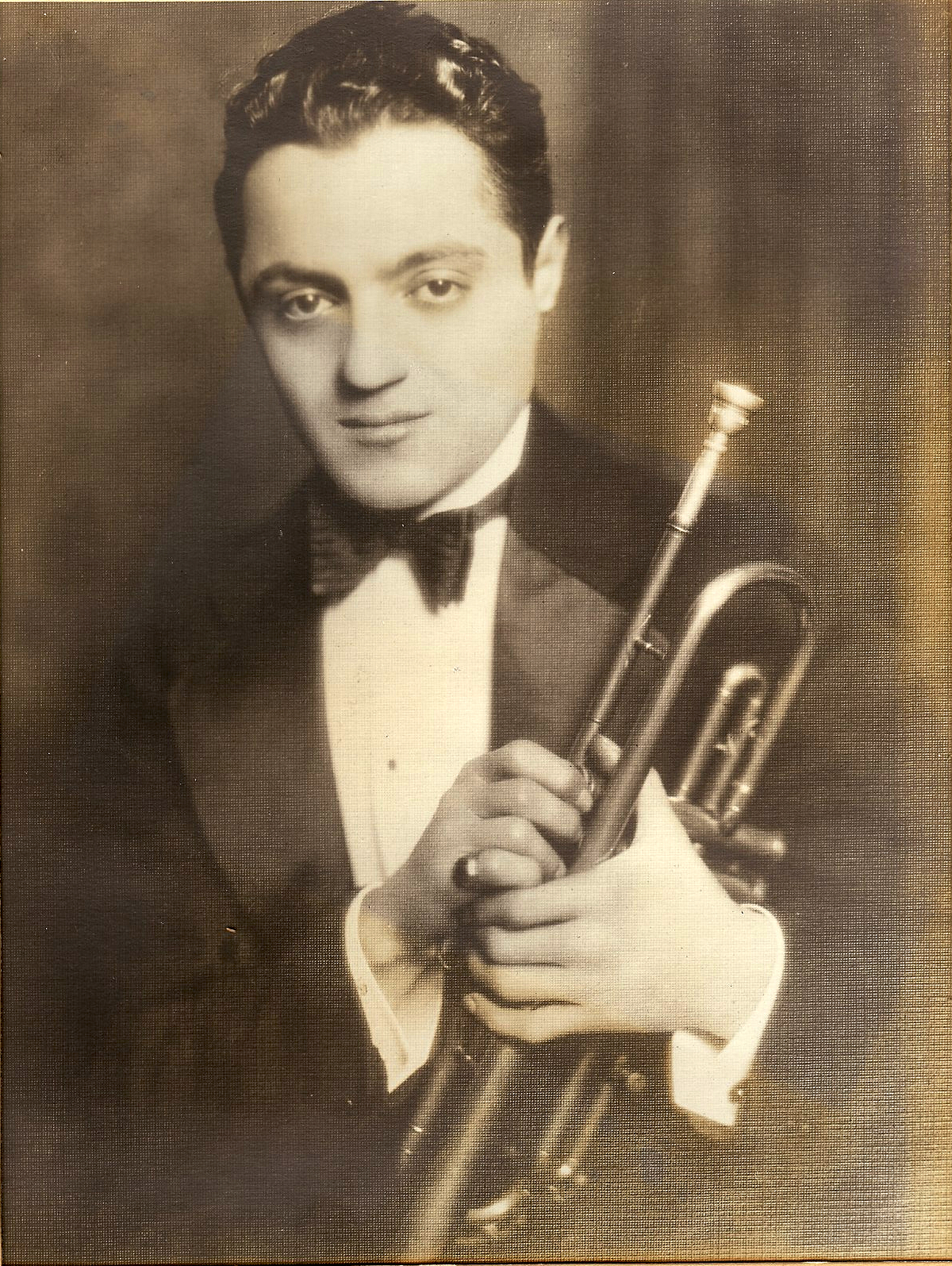 I am grateful to Gina Mendello. 
Albert
Note 1. From the New York Times, Eva Schainbaum, 92, Is Dead; Sang on Stage as Eva Shirley.
Published: November 23, 1982
Eva Schainbaum, who sang in vaudeville in the early years of this century as Eva Shirley, died in Doctor's Hospital Saturday. She was 92 years old and lived in Manhattan.  Miss Schainbaum, whose career began on the Lower East Side, appeared at the Palace Theater with her own orchestra and presented songs ''from grand opera to syncopation.''
According to the Providence News of Feb 6, 1923, Eva Shirley appeared with the California Ramblers at the E. F. Albee Theatre on Feb 5, 1923.
This message has been edited by ahaim on Nov 7, 2011 4:21 PM
Posted on Nov 7, 2011, 11:54 AM
Respond to this message
Goto Forum Home
Responses