Dixie Drag, Not Dixie Rag.
by
Rob points out that the one of the titles in the Mendello discography I gave in my previous posting is listed incorrectly as Dixie Rag. As the record label shows,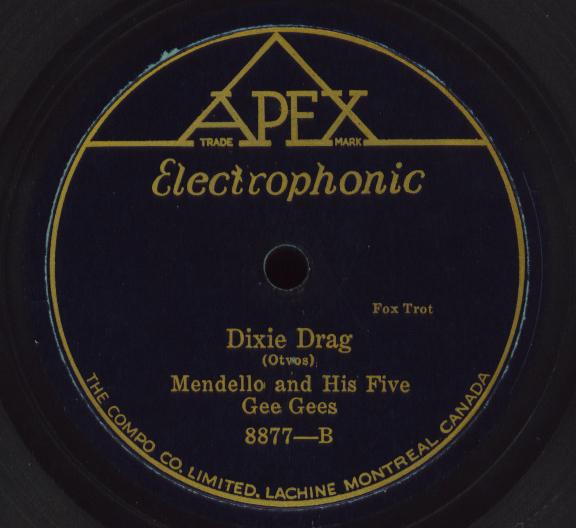 the correct title is Dixie Drag. The discography I gave was a cut and paste job from Lord. Rust gives the correct title. You can hear the recording in youtube.
http://www.youtube.com/watch?v=DcWzzdJi-fY
Excellent piano solo by Arthur "The Baron" Schutt and Fud sounding like Pee Wee. Toots obviously informed of what Bix was doing in the 1920s. And a good jazz contribution by Glenn (he was highly maligned as a guy who couldn't play jazz). Five Pennies sound.
Both Lord and Rust give Blue Bottom in parenthesis after Dixie Drag. I don't know what this means. The record labels do not.
The composer of Dixie Drag is Otvos. I was intrigued by he name and did a bit of googling. I think the full name was A. Dorian Otvos, born Oct 11, 1893 in Budapest, Hungary, died Aug 30, 1945 in Hollywood, CA. He came to the US in 1921. He was a writer and a composer. Several of his songs were featured in Broadway productions: Battling Butler, 1923-1924, Paradise Alley, 1924, Rufus Le Maire's Affairs, 1927, Calling All Stars, 1934 1935, George White's Scandals, 1935-1936. He also cowrote with Curt Goetz the play It's A Gift, 1945.
The only other song by Otvos in the 78 online discography is "I Don't Mind, You Don't Mind the Rain," recorded in 1927 by the Hollywood Dance Orchestra (Adrian Shubert).
Thanks to Rob for sending the scan of the record label.
Albert
Posted on Nov 8, 2011, 5:57 AM
Respond to this message
Goto Forum Home
Responses
OTVOS !. vince giordano on Nov 8, 2011