Whiteman's Obituary in the New York Times and More.
by
Here is the Whiteman obituary published in the New York Times on Dec 30, 1967. [Note 1].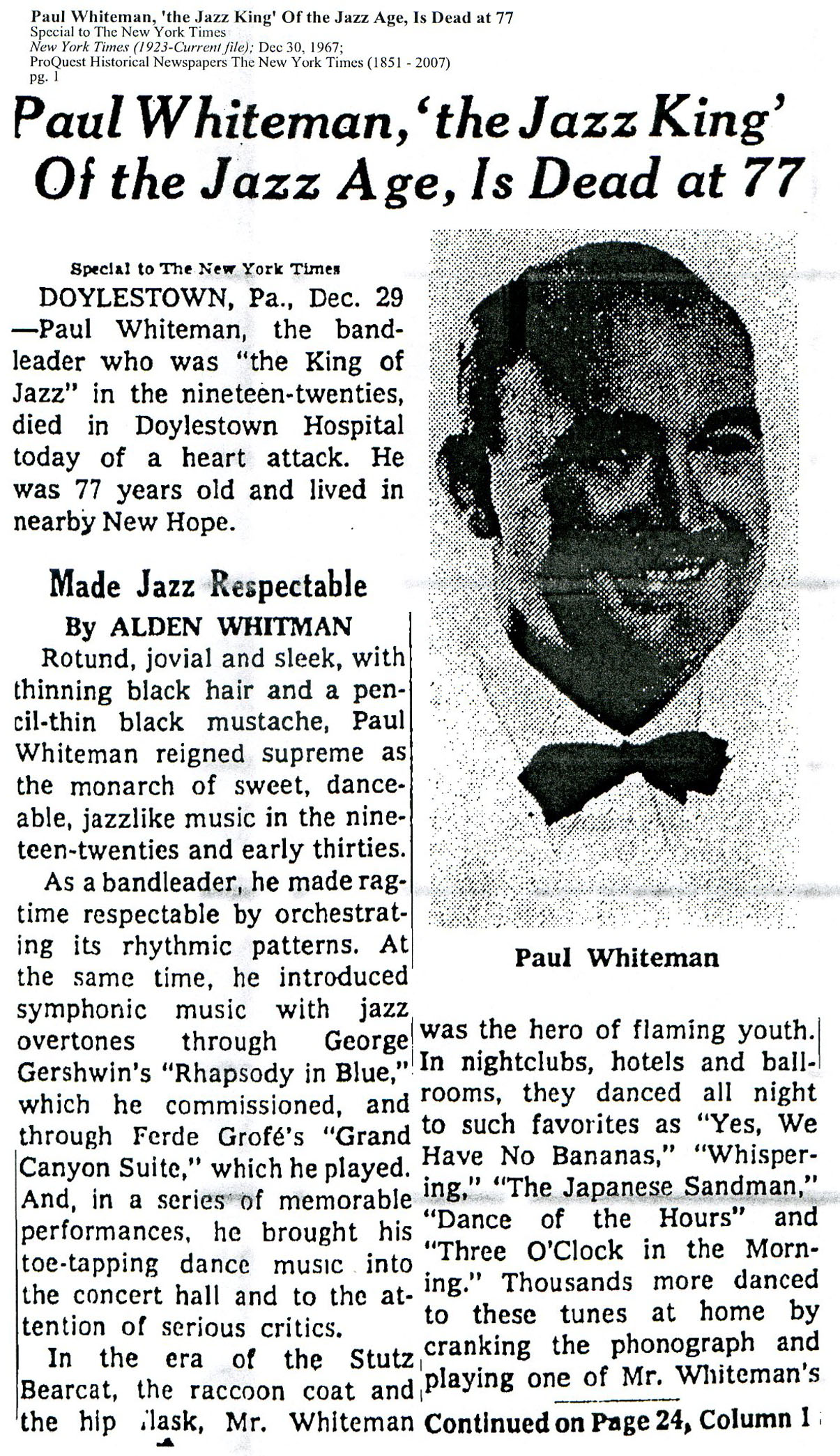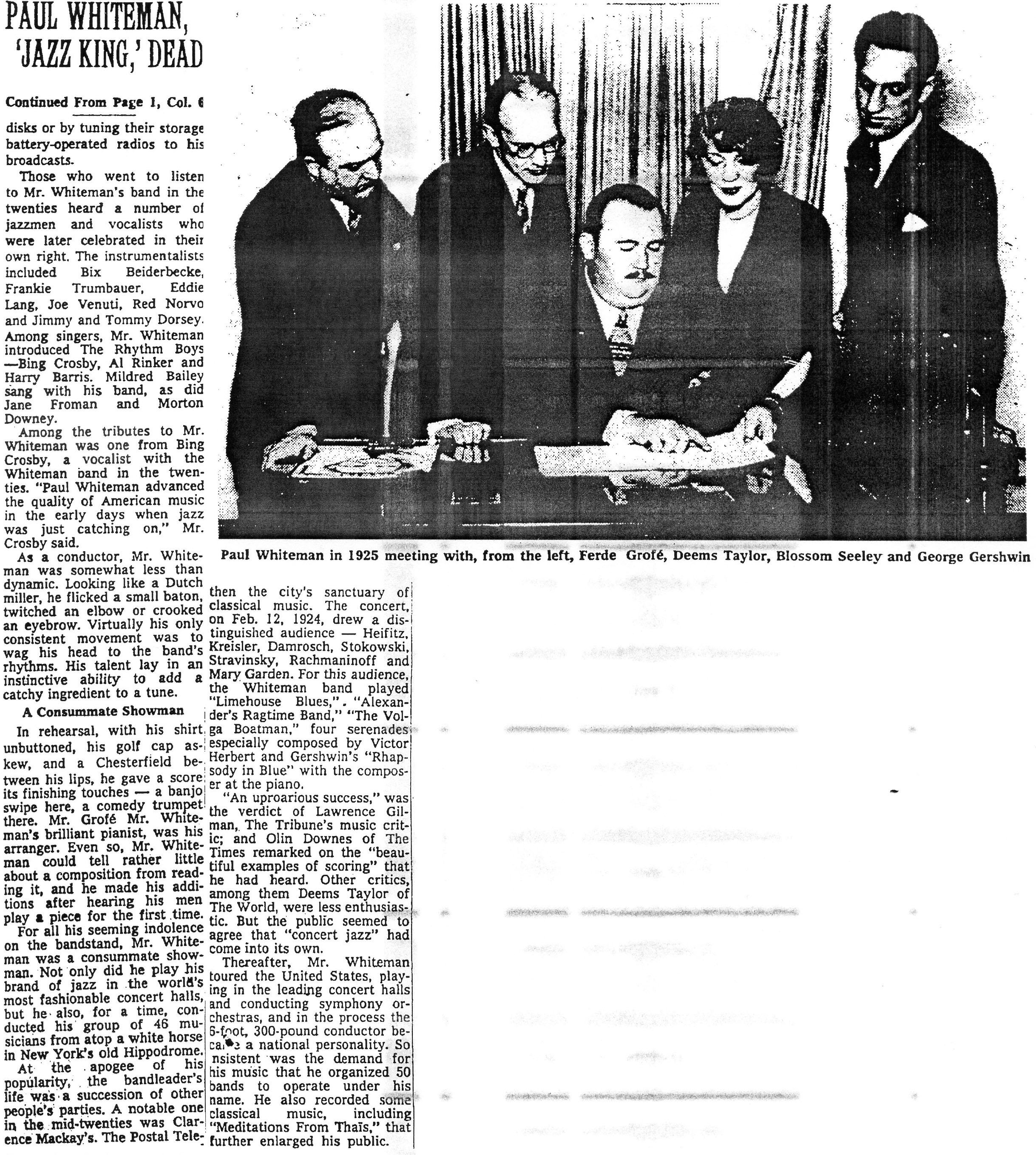 In the same issue of the New York Times, there is a very thoughtful essay by the music critic John S. Wilson.

Whiteman's band was not a jazz band as we understand the word today. However, in the 1920s, dance band music was considered to be jazz. And in that sense, I would assert that, indeed, Paul Whiteman was the King of Jazz, his orchestra was composed of superb musicians, some classically trained, others what we consider today jazz musicians. The arrangements utilized by Whiteman were phenomenal, each exploiting the strengths of the orchestra and of the individual musicians. He invented, or at least help inventing, symphonic jazz. Whiteman was a pioneer who influenced American music and changed its course. He understood what has been called "real jazz," and incorporated it into his music. The bottom line: Whiteman achieved his immense, world-wide popularity by creating a unique blend of dance music, sweet numbers, specialty numbers, semi-classical numbers, and jazz-oriented numbers. Here is what Vince told us about "Whiteman and jazz: the early days."
Paul Whiteman had musicians in his band who were able to play written scores and improvise jazz solos.
In listening to the Whiteman sides for many years here are some of my thoughts. In the early [ pre Bix days], Whiteman used reed players like: Gus Mueller and Ross Gorman who would play improvised hot solos over the ensemble playing [Wang Wang Blues, Way Down Yonder In New Orleans and other titles]. Trombonists Buster Johnson, Sammy Lewis, and Roy Maxon had many passages of improvised solo work on those early Whiteman sides, too.
My favorite example of jazz in the early days of Paul Whiteman is "I'll Build a Stairway To Paradise" where Tommy Gott [tpt] plays a two chorus solo of blues on Sept 1, 1922. This solo is right up there with other hot trumpet players of those days. Please check it out. This record came out 1 year before the classic King Oliver sides of 1923.
The 1924 concert had his musicians playing both the written scores and improvised jazz solo passages as they did on their recordings.
Whiteman did not set out to be a jazz band. His hot players that he used in all periods of the Whiteman band provided improvised jazz solos to give real jazz elements to his band.

The two articles presented above elicited a strong response from Floyd McKissick, the National Director of  CORE in 1967.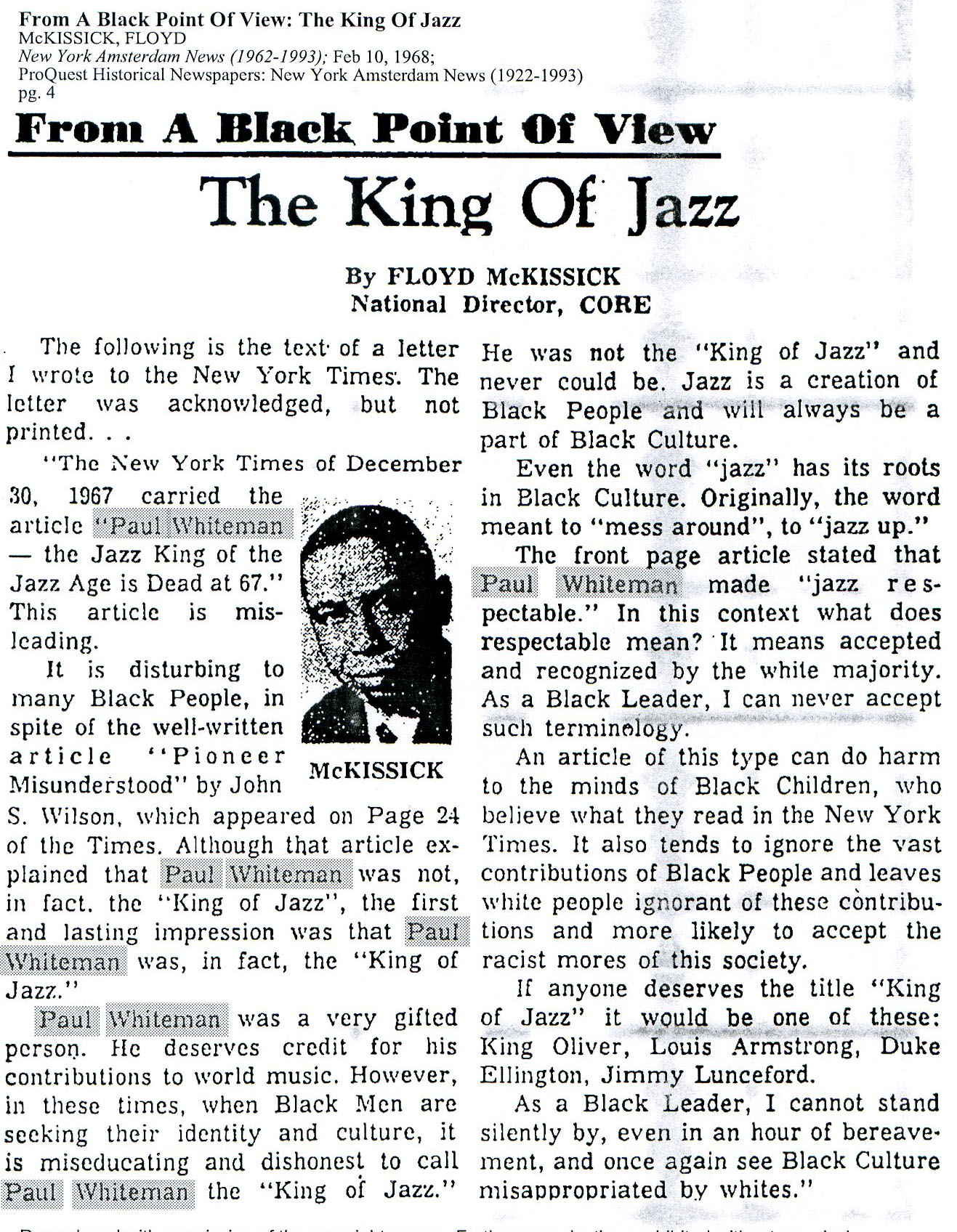 I believe Mr. McKissick did not understand or did not want to understand some of the points made by John B. Wilson. Paul Whiteman was the King of Jazz in the sense that jazz was used in the 1920s. Furthermore, Whiteman did use elements of jazz (as we use the word today) in his music. It is deceitful on the part of Mr. Kissick to claim, in the 1960s, when the word jazz had changed its meaning, that "it is miseducating and dishonest to call Paul Whiteman the King of Jazz."
I remind everyone, that the first mention of Whiteman as the King of Jazz was in 1919, in the Pasadena Evening Post: "the friends of Mr. Whiteman have with much enthusiasm bestowed the title of "King of Jazz" upon him."
Let me end by quoting from my article in the doctorjazz website about Paul Whiteman.
 Go to http://www.doctorjazz.co.uk/draftcards4.html#banddc and scroll half way down the page.
Paul Samuel Whiteman (1890-1967), known as the King of Jazz and credited as the inventor of symphonic jazz, was the most popular pre-swing orchestra leader. Whenever Whiteman came into a city with his famous band, the red carpet was rolled out in his honor. Mayors, governors, and even presidents, kings, princes, and other prominent officials welcomed him ceremoniously. [PW]  Whiteman also was the most maligned musician in the history of jazz. Paul Whiteman, of the king-size orchestra, held court there. In a couple of years he would crown himself King of Jazz by adding a couple of bored hot men to his elephantine band. (Alan Lomax)  With this one concert, Paul Whiteman will become the biggest grave robber in history. Worse. He will steal a living, breathing style from black musicians. And it isnt out of ignorance. Its out of a murderous self promotion. (Jerome Charyn)  . . . he (Whiteman) had the worlds worst rhythm section, and horrible, screeching strings, playing the most appalling arrangements you could conceive of. (John Hammond)  Whiteman never played jazz, not even when his band employed men like Beiderbecke and Teagarden. Beginning in the early 1920s, he has played inferior music which dates immediately. He merely added to the confusion of the various decadent, inferior imitations of the Negro music. (Rudi Blesh)

The virulent criticism is unwarranted. Whiteman did not confer the title of King of Jazz upon himself, as commonly stated. In fact, he did not like the sobriquet. The first mention was in 1919, in the Pasadena Evening Post, . . . the friends of Mr. Whiteman have with much enthusiasm bestowed the title of king of jazz upon him. [PW] The title, revived in 1923, was in ads for appearances of Whitemans orchestra after the legendary February 12, 1924 Aeolian Hall Concert, An Experiment in Modern American Music. Moreover, there was slender difference between jazz and dance band music in the parlance of the 1920s, . . . to the majority of Americans of the time, the arranged music of his and similar bands, playing with a rhythmic bounce, and offering jazz-like solos, was jazz. [CHT]

In contrast with these vitriolic attacks, Duke Ellington wrote in Music Is My Mistress, Paul Whiteman was known as the King of Jazz, and no one as yet has come near carrying that title with more certainty and dignity. Whiteman understood and appreciated jazz: The first sentence in his autobiography reads, Jazz came to America three hundred years ago in chains. [JAZ]  Many great white jazz musicians, singers, and arrangers Bix Beiderbecke, Frank Trumbauer, Eddie Lang, Joe Venuti, Tommy and Jimmy Dorsey, Red Nichols, Miff Mole, Jack Teagarden, Bunny Berigan, Steve Brown, Bing Crosby, Mildred Bailey, Bill Challis were members of his band.
Albert

Note 1. To understand the connections between the five people in the photo, see
http://www.network54.com/Forum/27140/message/1304172216
See also
http://www.network54.com/Forum/27140/message/1304208437
This message has been edited by ahaim on Nov 10, 2011 11:18 AM

Posted on Nov 10, 2011, 11:15 AM
Respond to this message
Goto Forum Home