J'ai deux amours.
by
I grew up with Josephine Baker's recording of this tune. It was one of the few records that my mother bought in Paris a few months before I was born. J'ai deux amours is probably the most famous of Josephine's recordings, her signature song, waxed in July 1930.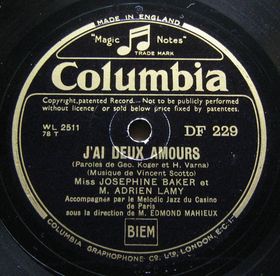 Listen  http://www.youtube.com/watch?v=xHrCvzj0MiQ
I love, in particular, Josephine's variations behind the vocal by Adrien Lamy.
See my previous posting in http://www.network54.com/Forum/27140/message/1245849292/
Today I want to highlight two recordings of the tune.
Sam Wooding. Recorded in Paris as "I Have Two Loves" in June 1931. A magnificent rendition and video. In my opinion, what a youtube video ought to be, information about the recording and musicians, images associated with the recording and the text.
http://www.youtube.com/watch?v=N_jTjP2XgoA
Georges Sellers. Recorded in 1931  in Paris. Listen
http://www.youtube.com/watch?v=_zcr1Epohdc
Pretty good recording. The thing that really got me is the short trombone solo (with cymbals). Here it is, in isolation.
bixbeiderbecke.com/TromboneSoloJaiDeuxAmoursGeorgeSellers.mp3
I have been playing it over and over. I don't know, something that appeals to me enormously, why? Maybe shades of Tommy Dorsey and through Tommy of Miff Mole? Maybe Bixian? I am interested in how it strikes you.
Who is the trombonist? Could it be Guy Paquinet?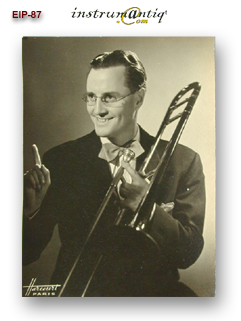 Paquinet (1903-1981) played with the orchestras of  Fred Mele, Gregor, Michel Warlop, Django Reinhardt, Lud Gluskin, Ray Ventura, Philippe Brun, and with his own band. Unfortunately, there is no French equivalent to Rust's British band discography, or is there? Guy Paquinet was the trombonist in the 1935 recordings of Coleman Hawkins with Michel Warlop: Blue Moon, What A Difference A Day Makes [Note 1] and Avalon. Paquinet does not have any solos in these three recordings.
Albert
Note 1. Does Coleman Hawkins quote Stardust in the coda to What A Difference A Day Makes or is it just accidental coincidence of a few notes?
http://www.youtube.com/watch?v=QwurlY_WUSE
This message has been edited by ahaim on Nov 19, 2011 12:43 PM

Posted on Nov 19, 2011, 7:12 AM
Respond to this message
Goto Forum Home
Responses